I sit on the bench outside of my daughter's nursery school classroom, patiently waiting for dismissal. The other moms and I make small talk and I check my iPhone. When the door opens, my daughter comes bolting out of the classroom with an enormous smile on her face. She is flushed from being outside in the playground and the excitement of school.
"How was your morning?" I ask nonchalantly, while secretly wanting to hear every single detail.
"It was so good Mommy!" my daughter replies.
That's it. That's all I get.
On the car ride home, I pepper her with questions.
"What did you have for snack?"
"Did you play with some different toys today?"
She answers me with a few words, but never goes into much detail. Usually she tells me that she wants to talk about something else.
It has only been a few weeks, but I still find it so strange that my daughter has a whole morning in school without me. I always ask the teachers for details and am often provided with the same short answers that my daughter gives. I know the general structure of her class, but I don't know which kids she plays with or what she likes to do on the playground. I wonder if she drinks out of cup without a straw or tries different foods at snack time.
For two and half years, I have known every detail of my daughter's life. Now, three mornings a week, I close her classroom door behind me and she has her own experience. I am given shreds of evidence of her days like apples glued onto construction paper trees and paint stains under her fingernails.
I know she deserves this privacy and the time to explore a new environment and meet different kids. Still, I can't help but want to know about the details of her days. The ride home is the only time that she will provide me some information about her morning.
When we pull into the driveway, I shift the conversation to something else, like what I am cooking for lunch or our plans for the afternoon. I am sure that my constant questions annoy her, so I try to limit them to the car ride after school.
I am grateful that my daughter doesn't quite know our driving route yet; she can't tell that I sometimes take the long way home, just so we have those few extra minutes together.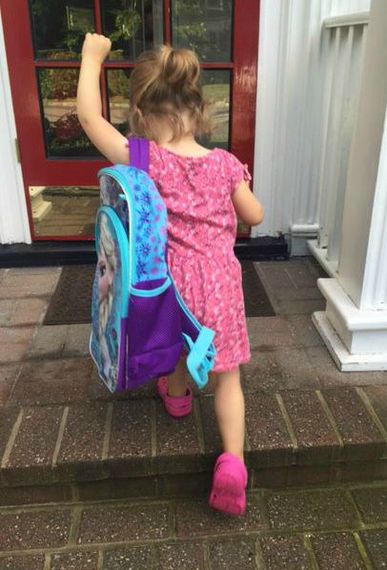 Related