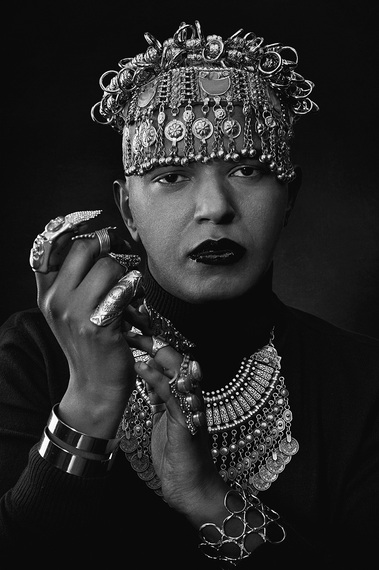 (Diriye Osman is photographed by Jaroslav Scholtz)
For a writer whose work and aesthetic sensibility has a performative quality, I have a fear of performing my writing in public. The reason for my performance-related panic is due to the fact that I suffer from severe anxiety disorder, which makes simple interactions like going to the corner shop for milk or strolling down the street a disproportionately tensile experience. One of the signifiers of social anxiety is a heightened sense of alertness: everything from a squirrel scrambling up a tree to the sight of small children enjoying football in the park creates a sliver of unease. It's essentially unfiltered paranoia and, of course, it has the adverse effect of transforming the body into a self-erected prison.
I have lived like this for a decade and it is a limiting life, albeit one aided by medication, which allows for brief moments of release and clarity. In terms of my professional life as a London-based writer, one of the organizations that I value most is The Word Factory, a monthly literary salon that has an offshoot in Leicester. The most heartening thing about The Word Factory for me is not that it is an exceptional gathering of new and veteran writers, which it is; or that it is the one of most superior literary events in the UK, which it is; or that it is one of the only London-based establishments dedicated almost exclusively to the short story, which it is; or that it runs superlative creative writing courses, which it does. These things matter, and they contribute to the magic of The Word Factory.
For me, however, the most amazing thing about The Word Factory is the people behind it. Cathy Galvin, who is an accomplished poet and journalist, is the central unit of the whole system and she embodies a generosity of spirit that galvanizes everyone involved with The Word Factory, whether it is her Associate Director, Paul McVeigh, a novelist whose debut, The Good Son, is a revelatory and stunning coming-of-age story set during the Troubles in Ireland, or Lindsay Waller-Wilkinson, the stylish consultant editor who runs the Leicester branch, or the writers and volunteers who work tirelessly to make each event special and intimate. When I nervously went to Leicester to perform, Waller-Wilkinson welcomed me and she exuded warmth and, just as importantly, a real sense of fun.
I'm praising The Word Factory team because they have been consistently patient, kind and respectful whenever I have been too petrified to go up on their stage and read. Such acts of empathy have stayed with me, and that is why I'm going to gather myself, put my fears aside and go up on that stage once again. Their next event, at which I'm performing, is headlined by Toby Litt, a writer I admire a great deal. The Staple Singers probably put it best: "Let's do it again".
Related
Popular in the Community