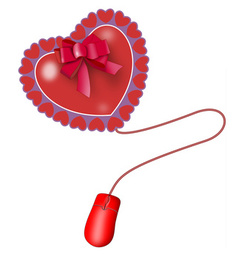 Ever since I was a little girl, I've had my personal love affair with Valentine's Day. Every year on February 14th, with enthusiasm, I watched my very-romantic father bring my mother a large velvet heart-shaped box filled with chocolates that he picked up at the local pharmacy. My father always remembered to bring a miniature version of the same for me. I always knew on that day that I was special and that I was loved. It was a tradition that I remember all the way back to when I was about four years old.
Regardless of my relationship status, as a hopeful romantic, Valentine's was and still is a day that I cherish. I recall a former beau telling me that Valentine's Day was the most important day of the year. Whether he meant it or not, he knew that a woman would appreciate the kind gestures he made while planning the Valentine's Day festivities.
As a woman, I look at Valentine's Day in the same way as man embraces Super Bowl Sunday. A woman will attend a Super Bowl party with her man whether she is interested in football or not. The man appreciates her attendance on one of his most important days of the year. In a conversation that I just had with dating expert, David Wygant, he confirmed my theory of comparing Valentine's Day and the Super Bowl. He calls Valentine's Day the Super Bowl post-depression for men.
So what's a single person to do when they are dateless on Valentine's Day? How do you get through the day without hiding under the sheets?
The answer is to create a community of friends who might feel the same way as you do. There are plenty of singles events scheduled in the upcoming week. Accept every invitation and find your single friends and go.
Attend that Super Bowl party and you will be more likely to meet a man during the half-time show than if you sat home and watched it alone on TV. In other words ladies, go where the men are. It's their special day.
Go online and find singles mixers and Valentine's events to attend to get you in the mood in the days leading up to the 14th. Smile wherever you go as smiling makes you more approachable.
I personally will be at the Lock and Key Valentine's event on February 13th in Santa Monica, CA where I will be providing dating advice, signing copies of my online dating book, and watching singles mingle in a terrific ice-breaking event. Lock and Key Events are held all over the country, so check their calendar to see if there is one located near you. If you meet someone you like at a singles mixer, don't be shy. Ask them out for Valentine's Day. You don't have to go overboard. Try taking your new date to a casual restaurant. Bring a card and perhaps one rose. Pick a color other than red and it won't be too overwhelming to someone you just met.
For those flying solo or already with a date on the calendar, there are numerous dating experts and relationship authors appearing on TV and radio talk shows all week long. Watch bestselling author, Dr. Diana Kirschner on The Today Show on February 9th where she will be talking about the new chapter in her paperback version of Love in 90 Days. There's no shortage of advice, so take it all in.
On Valentine's Day, I will be appearing on a Love Panel along with Dr. Pat Allen, author of one of my favorite books, Getting to "I Do" at An Empowered Woman in Los Angeles. The panel is called, "What's Love Got to Do With It?" and will feature a man panel. It's a co-ed event, so if you are a single male, not only will you get some expert dating advice, there will be an abundance of women attending, so go where the girls are.
If after all of the dating advice, you still find yourself single, gather your single friends and go see the film Valentine's Day, which is scheduled to open with a star-studded cast in the theaters on February 12th.
Valentine's Day will always be my favorite holiday. It's right up there with my birthday. Regardless of my relationship status, I will always remember the velvet chocolate heart-shaped box that was presented to "Daddy's Little Girl" every year on February 14th.
Julie Spira is a dating expert and the author of The Perils of Cyber-Dating: Confessions of a Hopeful Romantic Looking for Love Online. Visit her at CyberDatingExpert.com.