Growing up, movies, music, and books were my window to the world. They shaped the person I became -- and I found them all through friends as we passed around our latest discoveries. REX is the app equivalent to this experience.
As a filmmaker, my work required me to travel and work in many places. I would meet people and I loved seeing what they were reading, watching, and listening to. I always wanted one place to keep these recommendations (that wasn't an email to myself, or a sticky note, or a screenshot).
I wanted one place I could refer back to when looking for friends' recommendations for new books or TV shows, films, new podcasts, articles, or music. A place where everything was organized by category and always there. I wanted a way to see what restaurants, cafes, and bars my friends had been to in a new city.
REX was something I thought should exist, but wasn't something I necessarily wanted to build. It was something I wanted to use. After waiting a while for something like this to come out, I finally decided to try and build it. I enlisted the people that built my film website, and we made the first version of REX.
Over time, more and more friends wanted to use REX, and it began to take more of my time, so I decided to put other projects aside and pursue working on the app full time. I realized early on that I'd need a strong partner. I met Ashley Lent Levinson through a mutual friend, and knew she would be invaluable in helping REX find its place in the world.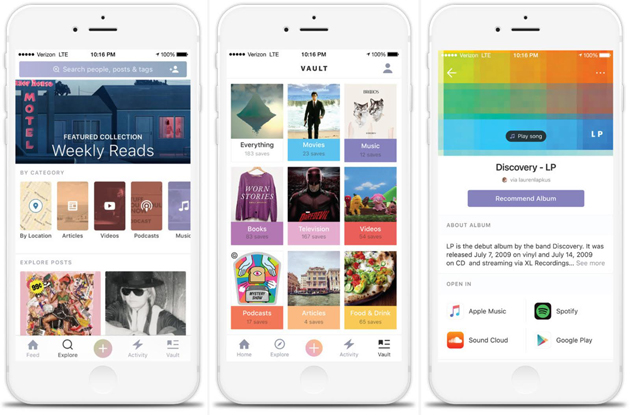 We've spent the last 18 months in beta, iterating on the original idea with a great team of engineers from the Midwest, NY and San Francisco. We've seen close to 50,000 posts from friends and friends of friends. I've found more great things in the past year than I had in the five before. And I've made new friends based on shared interests (one that now runs our editorial team).
The thing I love most about REX is that engaging with a movie, book or song is now always connected to a friend (new or old) -- so they're in my mind as I watch, read, listen to something new.
Working on REX hasn't been easy. I'll often think about a film I could have made during this time and wonder if I made the right decision -- but then I'll remember how life-changing a book can be, or a song that gets you through hard times. We have to celebrate and share these things. And at the core that's what REX is -- a place to easily find and share the things you and your friends love.
REX comes out today. It feels like the end and the beginning all at once. REX.is/here
Calling all HuffPost superfans!
Sign up for membership to become a founding member and help shape HuffPost's next chapter