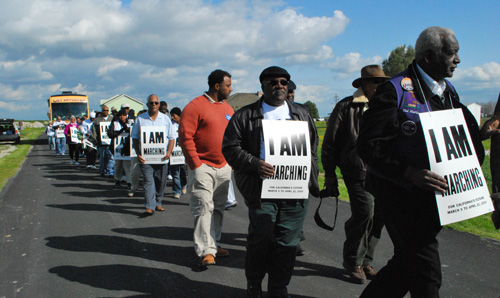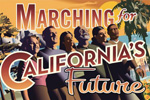 It is a name little celebrated or even remembered today. But in his time, Lieutenant Colonel Allen Allensworth, born into slavery, rose to become the first Black Army chaplain during the Civil War and a nationally-known public speaker who met with President Cleveland. He was also a dreamer and visionary, who would carve his utopian aspiration of freedom, opportunity and prosperity into California's San Joaquin Valley.
In June of 1908, Allensworth and four other men and women forged a new kind of society in the American frontier - the only town in California built, inhabited, governed and financed entirely by Black Americans. The town quickly rose to prominence in the region and would house more than 35 families in its first year, fueled by its close proximity to the railroad.
I joined a demonstration on Wednesday by the March for California's Future at what is now Allensworth State Park, which commemorates those brave pioneers. I stood among many dozens of marchers and supporters who congregated there, some holding signs and shouting slogans, others singing or praying, to highlight how budget cuts are eroding our state parks and quality of life. Standing on a site rich with a legacy of hope for a better future and a fairer society, we called for the governor and legislature to restore public service and public education funding and services for all Californians.
The March for California's Future is a 48-day, 260-mile trek from Bakersfield to Sacramento, to call attention to the urgent need for Sacramento to rebuild a government and economy that work for all and reclaim a fair and equitable tax system that invests in our future. Sponsored by the California Federation of Teachers (CFT) and a coalition of labor, education, community, civil rights and faith-based organizations, including the American Federation of State County & Municipal Employees (AFSCME), the march is the beginning of a broader grassroots campaign to restore the California dream.
As we work to build a brighter future, we must not forget the past. That is why the March is fighting to preserve California's great historic parks.
Allensworth was an agricultural community, with a school, library, church, post office, restaurant, bakery, barber shop, grain storage and livery stable. It was also the site of civic groups, such as the Women's Progressive Improvement Association and the Allensworth Debating Society, which was then loosely associated with the University of California system.
The town's legacy is as complex as it is rich. Allensworth at once represented an effort by Blacks to insulate themselves from Jim Crow segregation, hostile mobs, attacks and outright lynchings, and a tangible, public expression of their aspiration for a free, self-reliant society.
Sadly, the Allensworth experiment was short-lived. The town would soon succumb to circumstances beyond the town's control. In 1914, Colonel Allensworth, while en route to give a speech, was deliberately run over by two white motorcyclists in Monrovia. Farmers to the north who had always been uneasy about this town's existence were now emboldened to have the rail line diverted to neighboring Aplaugh - essentially cutting Allensworth off. At the same time, the company that had provided Allensworth with water abandoned the town, leaving residents without adequate water supplies. Public services began to shut down, and many residents moved to the cities to look for work. Following the Great Depression, the town all but disappeared. It wasn't until the 1970s that Allensworth received official government recognition for its heritage and was christened "Colonel Allensworth State Historic Park."
Today, unfortunately, Allensworth has again fallen on hard times. State budget cuts have curtailed the park's services and hours of operation - and its neglected grounds need a facelift. Restrooms, trash, and water service are no longer available here during most of the week. Like many other state parks, Allensworth's future is threatened by a budget and tax system that drains California of the means to sustain parts of our vital cultural heritage.
It is in our hands now to make sure that Allensworth - both the park and the legacy - will survive. It is up to us to assure that this important chapter in our history is left for the next generation to visit and appreciate. In a state made famous for California dreaming, surely, Allensworth's dream must not die.
Stand up for historic parks like Allensworth. Fight for quality public services and public education. Help take back our state from those who would destroy state government and give the spoils to the wealthy and well-connected. Join our historic march today.
Calling all HuffPost superfans!
Sign up for membership to become a founding member and help shape HuffPost's next chapter