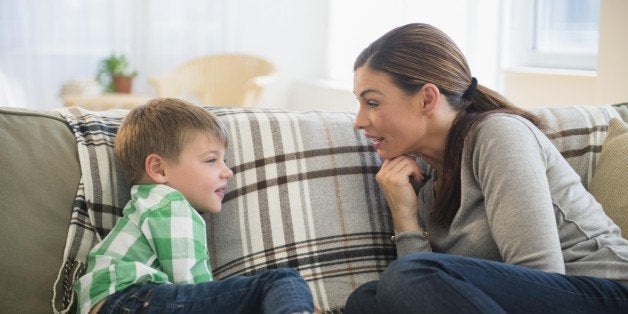 Like many parents, I struggle with setting limits around screens. Once upon a time, as an experiment, I enacted a "no-screens-during-the-week" rule for my son. And it worked. For a while. Until the weekday holiday, when I slid the limit. Then a deadline led to the rule being further overlooked. The final downfall was letting him play with my phone on the way to school to get us out the door in the morning.
My boundary was pretty much toast.
Things were not going well. The ramifications of my lapsed limits became unbearable. I owned the problem and told him we would be going back to our original limited screen week.
The next morning he asked, with a perfect combination of seven-year-old confidence and trepidation,
"So, can I have your phone on the way to school?"
He whined. I told him I understood his upset.
He argued. I explained my reasoning.
He said he was going to find my phone and play anyway. I acknowledged that he wanted to be in charge of my phone.
He demanded the phone. I said "no" again.
He stood by the kitchen table next to his half-eaten cereal, scowled, and said,
"If you don't give me your phone, I'm going to pick up this bowl and throw it at you!"
"I hear your strong feelings about wanting my phone. Please do not throw that bowl."
We stared each other down, and I took a deep breath.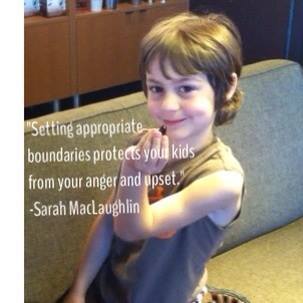 Because I have a good understanding of the triune brain, I knew he was coming from an irrational place. If I had fallen prey to my triggers, I would have ended up yelling, or worse. As tempting as that is when my child acts up, I know it will always escalate the situation, and maybe even bring about that which I'm aiming to avoid. In this case, a bowl flying at my head.
After getting myself calm, I could see his threat for what it was -- just a threat -- and an indicator that he was stuck in his emotional brain. He was not rational, but, he hadn't spiraled into a full-blown meltdown, either.
When he got in the car for the drive to school, he asked a couple more times why he could not have my phone. I explained again, and acknowledged how hard it must be to understand my reasoning. At his age he can't possibly get my grown-up, long-view perspective.
That's when I found myself complimenting him:
"I noticed that you were able to control yourself and NOT throw that bowl this morning, even when you were really mad. That was you learning to stay in charge of yourself even though you were feeling upset."

Because I like to offer a vote of confidence that he will be able to "get to the next level" of keeping himself regulated, I added,
"Next time you might even be able to just say how mad you are, instead of threatening to throw a bowl."
I could have regarded his behavior that morning as "unacceptable." Many would have made sure he knew just HOW unnacceptable by dishing out shame, blame, or punishment. However, the unacceptable behavior of being sassy and making threats was a HUGE step up from previous behavior like aggression and losing it entirely.
I try to remember that raising a human being is a marathon, not a sprint, and that I can always shift my perspective. I have a choice whether to focus on how far he's come, versus how far he still has to go. The former feels better for me, and I'm guessing better for him, too.
A version of this article originally appeared on sarahmaclaughlin.com where you can find resources and support for moms and dads who want to raise respectful, cooperative kids without losing their minds.
Popular in the Community