Sometimes we celebrated Thanksgiving at home -- just me, my little brother and my parents. My mum is not a great cook, but she pulled this meal off pretty well. Sometimes we went to my aunt's house a few miles away. That was more "special," but also strange, because there were so many people and different conversations. I remember wandering from room to room; we were the only kids for years. I would try to sneak off and read, but inevitably some relative would admonish me and drag me into an adult conversation.
But the one thing that was always good was the traditional Kerr Thanksgiving meal: turkey, mashed potatoes, stuffing (normal stuffing, nothing fancy) and dressing, turkey gravy, etc.
Over the years, I've had lots of unusual holiday meals: a San Antonio turkey, an authentic Cajun deep-fried turkey, a goose, and even a poor-grad-student Denny's meal. But I always miss the traditional. And once I was an adult with a job and an income, I decided that I would have my favorite meal of the year for my holiday.
When my partner and I first partnered, we spent a few years divvying up the holidays between her family a few hours north of Pittsburgh and my family here. We both had living grandparents in their 90s, so it seemed the right thing to do for us to make it work, to drive, to eat two meals, to spend half the holiday either on the highway or apart. But as 90-something grandparents are wont to do, mine passed away, and the holiday dynamic shifted with the births of a niece and a nephew. Suddenly we were driving in different directions, but still driving and accommodating and occasionally managing to get all the in-laws into one house.
But you know something? When you are the child-free couple in the family, no one ever asks if you have a stuffing preference or what type of pie they should serve. There's no opportunity to negotiate, because you are automatically the "flexible" ones. Often, you bring the bread. We usually sent a centerpiece. Woo-hoo. We mostly didn't even get leftovers.
It has everything to do with being a same-sex couple who are not married. (We live in Pennsylvania.) It isn't intentional exclusion, but it reinforces this idea that we are essentially two spinster aunts ready to roll on a moment's notice to meet the needs of other people. That's just untrue.
One year, I said, "Enough! Enough, I said. I have Thanksgiving traditions in my heart that I want to experience with my partner, who is my family." So we decided that we would go out for dinner after spending the noontime meal with someone else's family.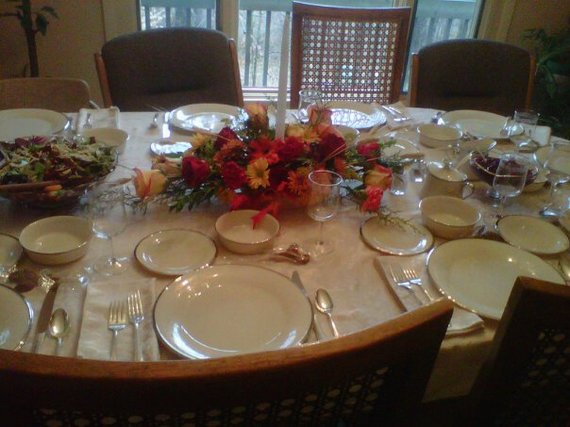 The last centerpiece I purchased, for a family gathering in 2010
Wow, Thanksgiving dinners are either expensive or buffet. But when we are crammed in a corner booth at Atria's restaurant somewhere in the evening hours, eating our much-too-large portions from what I deem a good Thanksgiving menu, it's very sweet. It's our family, and I don't want to give that up -- not the sweetness I feel nor control of the menu.
I appreciate that people invite us to their homes, but I still need my fix. Even my price fixe! (See what I did there?)
I truly am grateful that some establishments are open on Thanksgiving for us and for so many others who simply don't share the typical turkey-extended-family-football holiday tradition. But that's a post for another day.
It is perfectly lovely for you to invite your friends to spend the holiday with you, but might I suggest that you ask them if there's a tradition they'd like to incorporate? If you asked me, I'd ask about your menu and then offer to bring something specific from mine. That's including people in your tradition rather than simply being charitable. It makes a tremendous difference in dignity and respect to do that. Granted, some people do not have a preference, but it is nice to be asked.
This year we are going to see some friends at noon for an undefined, somewhat Buddhist Thanksgiving (I am so unsure what this means) and then hopefully going to dinner together for our family time. A few people have invited us to their homes, so it might be fun to travel around.
One sad note: When you bust free from the family expectations, you pay a price. And the only way back in is to eat humble pie. Or produce grandchildren. For me, that only reinforces why we need to claim some space and time for our family to celebrate and give thanks.
Having fun and having choices is simply a privilege I've never had before in my previous 42 Thanksgivings. It is something I don't take for granted.
REAL LIFE. REAL NEWS. REAL VOICES.
Help us tell more of the stories that matter from voices that too often remain unheard.