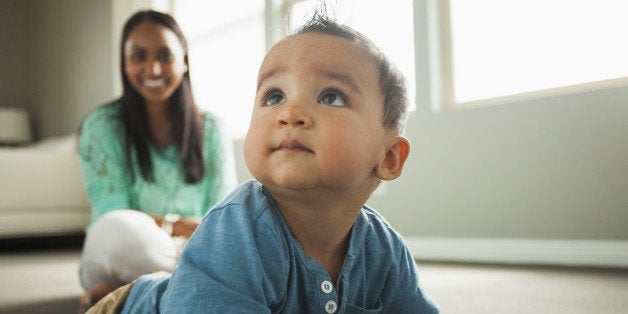 A friend recently posted online: "OMG, I just looooooove being a mom."
My first thought was Wow, that's so not me.
I would never say "I love being a mom" in the same way I would never say "I love being a wife." As I've said before, I don't want to be "just" a mom, or "just" a wife or "just" an anything! I'm me, so much more than all the little parts.
I obviously love my child, but I love being a complete version of me, and sometimes that means looking after myself before I look after him.
Some examples of how I do this?
It's OK for me to go horseback riding while he hangs out in the dirt.

OK, not literally, but a friend and I take turns, two babies at once while the other rides. Sometimes he sleeps in the pram, sometimes he crawls around (the dirt just builds his immunity, right?), sometimes he has some food, sometimes he sings songs with one of us. But he's happy, and I ride.
I use a babysitter.

She's 17, she wants to be a neonatal nurse and she is great with the little dude. She also allows the hubster and me to go out together like grown-ups sometimes, to chat and connect and have child-free adventures.

When I'm with the little dude, I am with him.

So I joke around during meal time, get excited when he learns something new (he's just learned the sign for "finished" so can let me know when he's done with his meal), and love watching him explore the world (he discovered that if he tipped over the pot plant that dirt spills everywhere, and that was hilarious, apparently).
I run my business from home.

When the dude's in daycare, I work like a mofo to get through as much as possible while he's not at home. When he has his long afternoon naps, I work like a mofo to get through as much as possible while he's asleep. Sometimes, when I need to get through something, I work while he plays on his own. But the business means I can be with him when he needs me, and I can build my hours around both our needs.
I'm all about fostering independence.

I want him to love me, but not need me. Obviously while he's only a year old, that looks different than it will when he's older, but at the moment that means I let him explore our house almost however he wants (he's currently loving pulling all the toilet rolls off the shelf and spreading them around the bathroom), I let him amuse himself a lot of the time, and I don't run around in circles trying to entertain him. Except when I'm literally jumping around in circles trying to make him laugh.
Yes, It's OK to put myself first.

A beautiful blogger, Leonie Dawson, recently wrote a stunning article about the birth and early life of her second daughter. She says of her first newborn experience: "I knew what was right for my baby. And I would sacrifice myself on a spear to do the right thing. The problem was... When you sacrificed yourself on a spear.. Who was left to tend to the baby?"
Beautiful. So beautiful. And exactly what I feel of motherhood.
Yes, of course I need to care for the little dude and of course I love him more than I ever thought possible, but I also need to care for myself.
And in fact, I think caring for myself is the only way I can care for him properly.
Love yourself to love others.