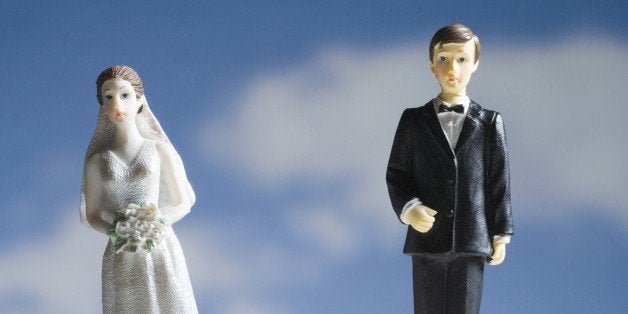 I was a divorce lawyer. Then, I quit.
The straw that broke the camel's back for me was when I found myself billing $250 per hour negotiating the drop off time of a couple's child. Mom wanted 11:00 a.m. and dad wanted 12:00 p.m.
That's no typo... it was a difference of one hour. I won't tell you which side I was representing. It doesn't matter... both parties were being difficult.
As I hung up the phone with my client, my mind was telling me there had to be a better way.
When I first started my career as an attorney in family law, I kept hearing the same phrase over and over again from fellow matrimonial attorneys:
"In family law, people are at their worst. In criminal law, people are at their best."

It rang true.
We have heard the statistics about the high divorce rate. How many people do you know who are divorced, or are in the middle of a divorce right now? One, two, 10? Divorce is not a foreign topic to us.
Let's face it; divorce is rampant. If you don't think so, visit your local courthouse and see how busy the matrimonial section is.
Family courts are backlogged. I saw it firsthand as an attorney. Seems like everyone is getting divorced these days, whether they were married for one year or 25.
It's not just divorce cases. Domestic violence, post judgment cases and people who aren't married but have children and custody issues take up a big percentage of the family court docket.
The Reason I Became An Attorney
I went to law school to be a family attorney. I wanted to help people get through what is one of the toughest periods of their lives, a divorce. Growing up, I witnessed my share of drama so maybe this was why I was attracted to this area of the law.
As the middle of three boys, I know how to deal with conflict. With our family dynamic, I often found myself as the mediator. I enjoy settling disputes and helping people get past the "muck" of their relationships so they can move forward with their lives.
Being a family lawyer was who I thought I was meant to be, until I did it. And, I just happened to be decent at it. Hey, a little ego is healthy, right?
When I began practicing, I realized something pretty quickly - I could do without the drama and bickering and baggage that people were bringing into their case. I found myself using my psychology skills just as much as my legal skills.
I actually enjoy psychology (perhaps I should have gone that route), but I had a problem with people spending their kids' college education fighting over trivial issues just so they could "win." What does it mean to win in a divorce anyway? I digress...
Being a traditional divorce lawyer, I didn't get the satisfaction I craved and I didn't feel I was helping people in a positive way. Frankly, I felt like an overpaid babysitter most of the time. (Who am I kidding, have you seen what babysitters make these days!)
Then, there were the people who walked through the door for a consultation, but didn't have the money to retain the firm to represent them.
It was hard for me to turn them away, but it wasn't my call. I didn't choose which cases the firm accepted.
It's Hard Representing Yourself In Court
If that wasn't hard enough, I often saw these same people at the courthouse without an attorney because they couldn't find one to take their case.
I would see these people representing themselves... and not well. Technically, the court is not supposed to give lenience or special treatment to people who represent themselves.
If there is an attorney on the other side, often the court tends to go easier on the self-represented party, but it really depends on the judge.
So, getting back to the moment that changed it all for me. I was sitting at my desk trying to negotiate the pick up time for Junior when I had an epiphany.
People without attorneys need help.
Not exactly novel I know.
But, I had the idea that I would provide the legal education to those who couldn't afford to hire a private attorney and I would help them get through their family law case.
Public legal services programs often offer limited assistance and you have to be practically broke to qualify for any public legal services. What if I took all the knowledge I had and used to help the people that needed it most?
I was tired of spending the majority of my time dealing with the nonsense. I wanted to really help, provide value, but not deal with the drama and the litigation.
It was in that vein that I created a divorce resource specifically designed for people who couldn't afford an attorney.
What better way to reach a large group of people than using the Internet!
Everyone is online these days, right?
It was "go time" and so I developed a web site where I would teach people how to represent themselves in family court. I was going to be a coach on the law and procedure they needed to know for their case.
Knowledge is power and why shouldn't people who can't afford the thousands of dollars for a matrimonial attorney be the best prepared they can be?
Don't get me wrong, there is no substitute for an experienced attorney, but what if the playing field was leveled, even if just a little bit, from the information I could teach them? Wouldn't that be in the best interest of everybody?
So far I am receiving lots of positive feedback from people who are dealing with divorce issues and looking for help.
Will it make a difference?
That remains to be seen, but it sure beats bickering over whether Junior will be dropped off at 11 or 12.