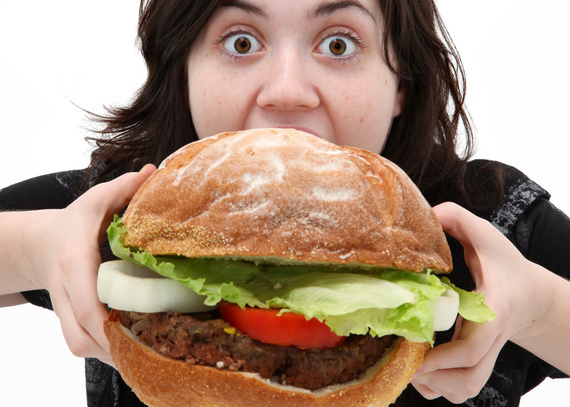 The other day, I met with an 18-year-old woman. Her mom sent her to me, hoping to instill some healthy habits before she heads off to college in the fall. At first, I was reluctant, because I usually work with busy, stressed adults who come to me of their own volition and are self-motivated to make life changes. I was skeptical, but since I too have a daughter heading to college, I clearly understood the issues and decided to try it.

My new client was adorable and friendly, and I instantly became enthusiastic about helping her navigate the unchartered and unhealthy waters of college life.

We started by discussing the food piece. She set goals around avoiding too many late-night Domino's pizza-fests with friends and finding ways to add in some vegetables other than french fries.

We talked about alcohol and the temptation to party every night, and how that would affect just about everything, including her much-needed sleep.
We talked about exercise and stress. We even practiced some one-minute breathing techniques that she could start using immediately to stay calm and focused.
She said she was afraid of gaining the infamous "Freshman 15." I assured her that being mindful of all the things we talked about would set her up for success. I gave her a hug and sent her off with a list of goals and healthy snacks.
After the session, I started thinking about my own freshman year and my own "Freshman 15," which was actually 20 lbs. and was gained entirely within the first two months of school!
I started college as an underweight, confident girl and returned home for Thanksgiving, only two months later, with an extra 20 pounds saddled on my confused and downcast body. I had always assumed that my sudden increase in size was due to less walking, more hanging out in the cafeteria, and the absence of scales or mirrors in my college dorm. It is only recently, through my work as a healthy living strategist, that I started understanding what really had caused this rapid weight gain.
A few weeks before I left for college, my parents forbade me ever to see or speak to my boyfriend because he wasn't "our religion." Despite the fact that he was my first love and was kind and caring and everything you would want in a boyfriend for your daughter, they forced me to break up immediately and cut off all contact.
During the first week of college, while my friends were receiving chocolate-covered dried fruit baskets and fluffy teddy bears, I received a letter from my mother warning me to never make any contact with my boyfriend ever again. Didn't she realize I did not intend to marry him or anyone else for many years?
My parent's insistence that I break all ties left me in a Romeo-and-Juliet-style tragedy for which I was not emotionally prepared. They told me they would not pay for my college if I had any contact whatsoever.
To get even, I decided to flunk out of college instead, successfully failing every midterm exam.
I was scared and heartbroken. I loved my boyfriend but I also loved my parents. I needed my parents, but was feeling abandoned, at a time when I needed them desperately. As much as my heart ached for my boyfriend, I knew that I could not survive the new college experience without my family. I fell into a deep depression.
I numbly went through the motions of parties, and boys, and making new friends. And I started to eat.
Though I wasn't aware of it, I was feeding my loneliness. I was feeding my fear. I was feeding my anger and my abandonment and my broken heart. For the first time in my young life, I was using food for something other than sustenance.
My dad pinched my double chin on the day I arrived home for Thanksgiving. I was ashamed and horrified.
I decided failing out of college was probably not the best decision because I would have to move home. So instead, I studied hard, got A's on all my finals, and ended up with a report card full of C's for my first semester.
As time went on, I lost most of the physical weight; but I never quite lost the emotional baggage of my broken heart and the disappointment in my parents. Despite forgiving them, I still felt the pain more than 30 years later.
Here is my advice to you parents, as you send your kids off to college: a little chocolate-covered dried fruit basket and a fluffy teddy bear might be exactly what your college-age kids need to stay healthy. Knowing they have your love and emotional support as they make this difficult transition may help them way more than any food or exercise plan.

Learn more about Lisa Lewtan's Healthy Living Programs including the upcoming online group program Ditch Your Sugar Itch: A 10-Day No Sugar Challenge starting September 13th - HERE