A week or so ago Shape magazine online reached out to me. They wanted to do a "Success Story" feature on their site about me. Being someone who enjoys putting herself out there and finding new ways to reach people, I agreed.
We set up a time for an interview and I sent them the following after picture to include.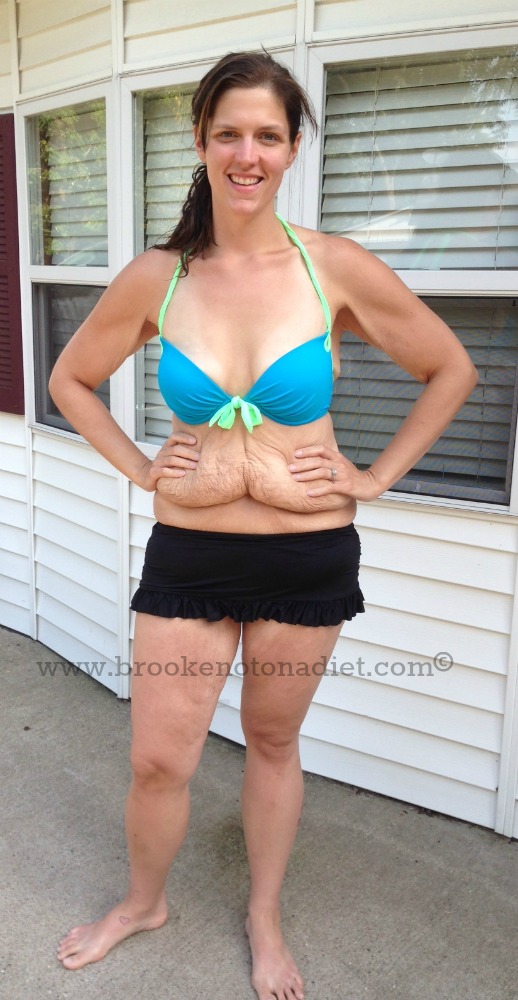 The reporter got back to me and said: Thank you! These should work but I'll let you know if my editor needs anything else. Talk to you soon!
We did the phone interview and chatted for about a half hour about my journey, my weight loss tips, and other things. She was super friendly and I enjoyed talking to her. She let me know that she would work on my piece and get back to me as soon as she knew when it would be published. I figured I'd hear back in the next week or so, when only a couple of days later, I got the following email:

Really? Have you logged on to Shape's website lately? You can find MANY women in bikinis on the site.
I'm not going to lie, I was absolutely furious with the email and while I wanted to call them every name in the book and tell them how they were wrong. My inner lady (and help of Emily) spoke up and conducted a response: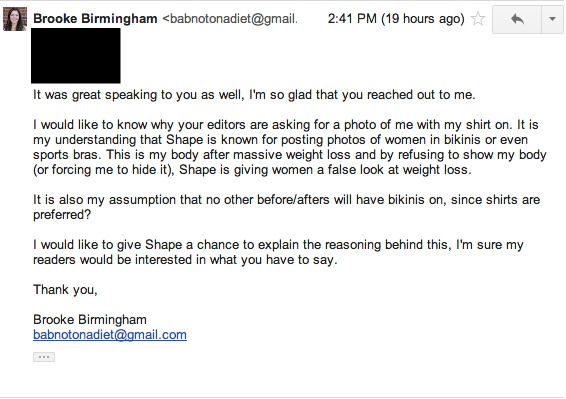 I awaited a reply and received the following the next day:
Again, not happy about it. I was to be a part of their "Success Stories" feature on the website, where there are women in bikinis. Why all of the sudden was it 'their policy'?
I sent another email stating the following: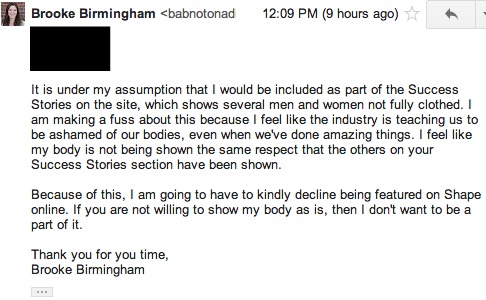 A few hours later I received a phone call from the woman who interviewed me. She explained that she was just the 'in-between' person between Shape and me, and that she had not meant to offend me in any way. She then went on to say that this had nothing to do with me and not wanting to celebrate women's bodies. That they had just stated it was their policy now to include fully clothed photos for the feature.
She then asked me to reconsider my choice to no longer be featured, that my story is great and I would get a lot of exposure from it. I told her that the exposure wasn't worth it to me, that I'm an honest person and I didn't feel like the story was letting me be honest if I couldn't share that photo. I told her that if their policy was to have fully clothed people, then they needed to do that with the rest of the site as well. She said she understood and that was that.
The whole thing still really frustrates me because I don't feel like my body was given the same respect as others on their site. Why all of the sudden is it their policy to have fully clothed people? The reporter stated that she wasn't sure if someone had complained about the previous photos to Shape or not. But in my eyes if someone is complaining about them featuring women in bikinis, then again they shouldn't have them anywhere on the site.
If anything, they should want my picture on their site. My body is real, not photoshopped or hidden, because I feel like I should be ashamed. This is a body after losing 172 pounds, a body that has done amazing things, and looks AMAZING in a freaking bikini.
This is the type of body they should have featured because it can give people hope. Hope that they can lose weight healthfully and even if they don't end up with airbrushed abs of steel, they're gorgeous and shouldn't be ashamed of whatever imperfection they believe they have.
Women today are exposed SO MUCH to what society sees as the ideal body. The perfect hourglass shape with no arm flab, a thigh gap, full lips, perfect breasts, and a flat tummy. We believe from the time we are little girls that to be beautiful we must have these things. If we're not the ideal beautiful, then we should be ashamed and not feel like we are good enough.
I spent MANY years hating and hiding a body I was ashamed of because it wasn't society's ideal of beautiful. Being asked to send a photo of myself with a shirt on made me feel like I again should be ashamed of my body. That since I have the loose skin, I shouldn't be in a bikini.
I wasn't willing to do that though. I've always been real and honest with you guys around here. That's what I do.
If I couldn't have the picture of me in my bikini to go along with my story, then it wasn't MY story. The story I wanted to tell and shout out to the world, not their ideal story. So, if I couldn't tell it my way, then they weren't going to be able to tell it at all.
I was raised to stand up for what I believe in and I believe that if a website posts pictures of women in bikinis, then I should be given that same right. I wasn't given that, so I decided to decline. Like I said before, the exposure I would have gotten wasn't worth it to me.
Nothing is worth compromising my beliefs.
I want to know YOUR thoughts on this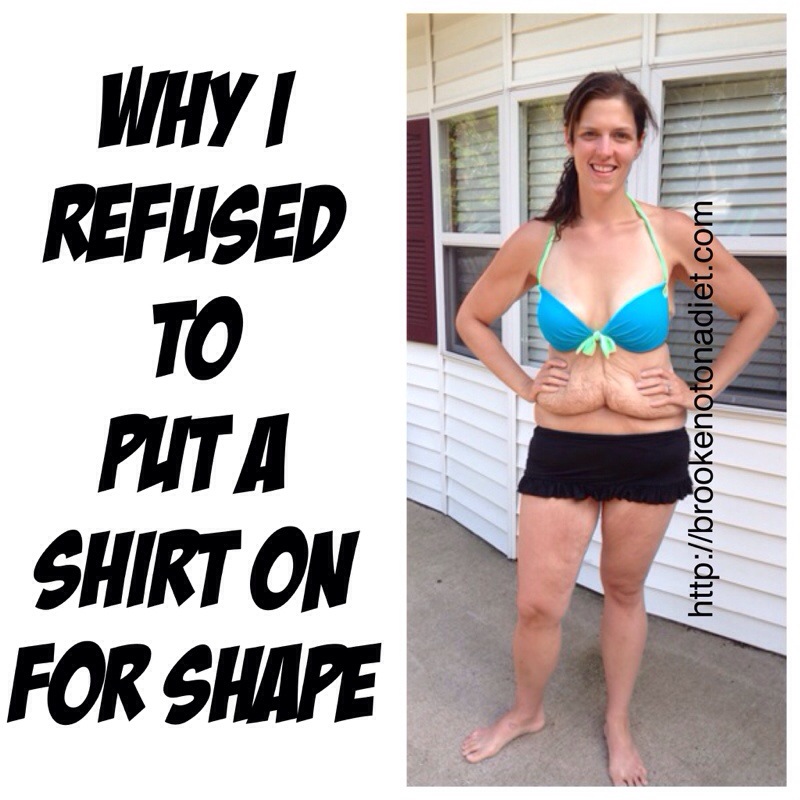 Brooke Birmingham is a 28-year-old healthy lifestyle blogger and Weight Watchers leader from the Quad Cities, Illinois. Her blog, Brooke: Not On a Diet, details her life after losing 172 pounds.
Popular in the Community