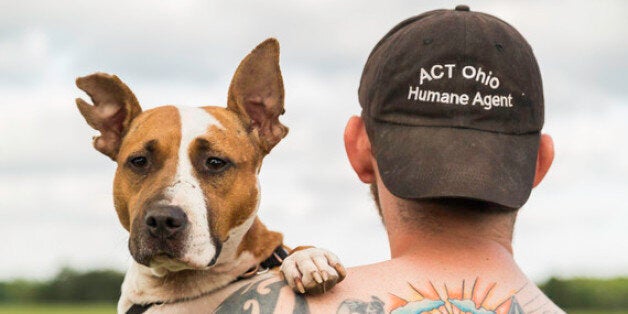 I never intended to be a voice for pit bull-type dogs. Never in a million years.
A dog lover, I'm the guy at the party that would rather play with the pups all night instead of forcing small talk with people, and it doesn't matter if they're 10 pounds or 110 pounds. I can't help but gravitate to them and I have all my life.
But I have no fascination with pit bull type dogs in particular, or even an intense love that goes beyond my love for dogs of all shapes and sizes.
Yet there I was, just a few months ago, sitting next to the infamous mixed martial arts fighter Gordon Shell (and others) who starred in the documentary, The Dog Fighter, as we both spoke at the 1st Annual Ohio Pibble March at the steps of the Statehouse in Columbus.
After being honorably discharged from the Army almost a decade earlier, I began a career in nonprofit administration that eventually led to a move from California to Ohio and an opportunity to lead a local County Humane Society that boasted a placement rating of 91 percent and "never euthanizing an animal for time or space." With a love of dogs, a family of dog trainers in my past and several years of nonprofit administration, my passion and my experiences seemed to align perfectly.
The honeymoon phase lasted about a week at my new job. One morning, I was walking through the kennels when I stopped at a particularly wiggly-butted dog's cage who caught my eye. With a huge smile and a tongue that would give Gene Simmons a run for his money, you couldn't help but stop and smile right back at this dog. If you weren't careful, your butt might start wagging in-sync with the dog.
That was the day that I learned that the Humane Society I took over did not adopt out pit bull type dogs. They got around talking about the issue by listing them as "unadoptable due to behavior." Regardless of their actual behavior.
You see, according to state law at that time, all pit bulls were inherently vicious upon birth. The predicted behavior of a general group of dog breeds and mutts, was already determined at conception according to Ohio.
Some progressive shelters had "bully breed" programs, some did not. How many absolutely wonderful dogs were put down because of a liability concern, statewide? More than I can stomach thinking about.
I tried over the years to reverse my shelter's position on adopting out pit bull type dogs and was always met with resistance. Eventually, I was allowed to send the dogs to reputable rescues.
Ohio did finally end the statewide discrimination of pit bulls however, being a "home rule" State, local municipalities can still enforce their own dangerous dog ordinances, creating a confusing hodgepodge for Ohio citizens to navigate through if they happen to own a dog with a blocky head and a wiggly butt.
In the meantime, a divorce at home led to extra time on my hands and new opportunities. When the position of Humane Agent became open at my shelter, I jumped at the chance to spend my evenings and weekends out in the field, checking on animals in a more hands-on way than my job as Director allowed.
Despite being a rural county with a low intake on pit bull type dogs (less than 10% at the shelter) I was shocked to find that almost 80 percent of the canine neglect and abuse cases I investigated were about pit bull type dogs.
The more calls I went on, the stronger I believed in the importance of being a proactive, animal cruelty investigator.
With animal cruelty investigations rising and the pit bull numbers increasing subsequently, it became difficult to find local, reputable rescues with available space, and euthanizing a healthy animal was not an option for me. For one pit-mix I reached out as far and as wide as I could, until a home was found with Best Friends Animal Society -- 1,600 miles away in Utah. Needless to say, I drove Odette to Best Friends myself, complete with her favorite green ball that the staff insisted go with her.
After returning from Best Friends, the board and I sat down to talk.
It seems I was bringing too much attention to animal cruelty cases than the board apparently felt comfortable hearing about and I was bringing in too many pit bull-type dogs. It was simple, really. Hang up my Humane Agent hat and remain on as the Director, or I could leave.
Three days later, I returned to my board and announced my resignation as the Director and proclaimed my intentions to form my own nonprofit organization, the Animal Cruelty Task Force of Ohio, which became the second County Humane Society in my County with an ancillary, statewide role to provide support services to Humane Agents/Societies in struggling, rural Counties.
Determined to make a difference, I hit the road in a rusty pick-up truck to travel the State helping whoever I could, wherever I could, however I could.
Since then, the Animal Cruelty Task Force of Ohio has prosecuted animal cruelty cases in our County with a 100 percent success rate. From livestock and equine to companion animals. We have helped rescue and rehabilitate over 350 animals coming from cruelty and neglect situations in over 15 rural Counties, traveling over 100,000 miles in my old Dodge.
We continue to take in primarily pit bull-type dogs, who find themselves to be unwilling participants in both human stupidity and ignorance, as well as outright cruelty and neglect. We've pulled dogs chained to floors in basements and turned them into family dogs and we've rehabilitated dogs taken from dog fighting areas with their entire bodies torn to shreds and turned them into ambassadors. Dogs that have been shot by police officers as strays for perceived aggression that have become Canine Good Citizens. Dogs that have been found tethered to heavy chains in the dead of winter and turned them into loved pets.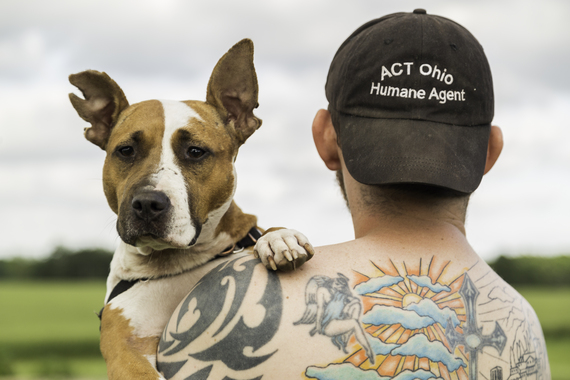 Belle the Bait Dog healed, photo by Brian Batista Photography

Oh, and did I mention, all of those dogs that thrived despite their background were pit bull type dogs?
This year, a group of us got together that met through the Animal Cruelty Task Force of Ohio and formed the Political Action Committee known as the Ohioans Against Breed Discrimination. It is our goal to make Ohio the 20th State to BAN breed specific/discriminatory legislation statewide and we're gaining quick traction with the politicians we are working with.
At home, I rehabilitate younger, pit bull-type dogs that would be otherwise euthanized at shelters for nothing but over-exuberance that doesn't translate into good behavior during shelter assessments.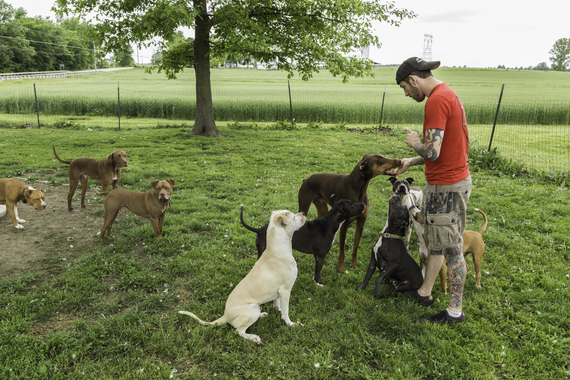 My life has quite literally gone to the dogs over the years. And while I never intended to be any type of voice for pit bull-type dogs, this is why I care so much and will never stop being a voice for them, either.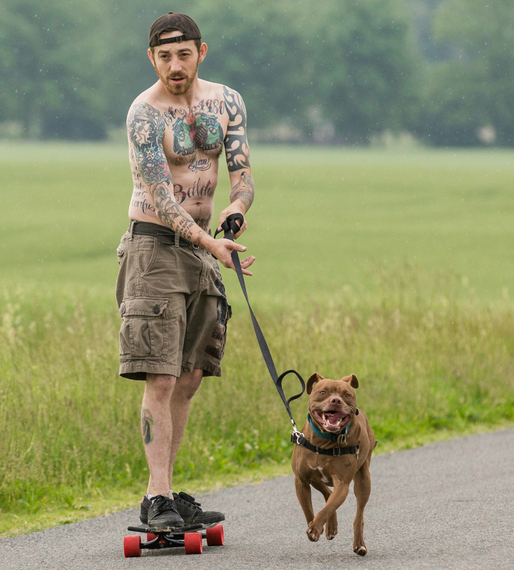 Chesty today, going on one of his daily longboarding runs with me. Photo by Brian Batista Photography
Through all of this, I've learned that there are three types of people that are passionate about pit bulls. Those that fight them. Those that fight against them. And those that fight for them. Which one are you?
For the second year, The Huffington Post is holding a week-long, community-driven effort to bust the myths and raise awareness about pit bulls, a maligned "breed" that often bears the brunt of dated, discriminatory legislation that can make it near impossible for these dogs to find a forever home. You can follow along with HuffPost Pit Bull Week here, or on social media where we'll be using the hashtag #PitBullWeek.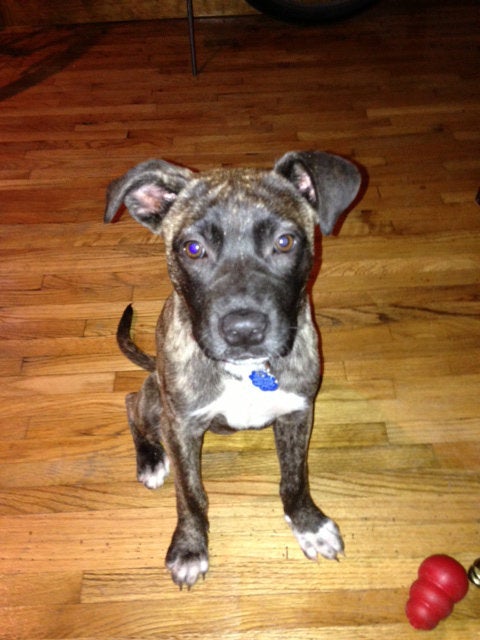 Your Pit Bulls
Related