I resent the word "alimony." Today, and for a few more years, my main income is from this "arrangement," part of the settlement after my 23 yearlong marriage ended. Thanks to this payout over time, I am able to maintain a relatively comfortable standard of living while raising three almost adult sons and seeing them through college. It also allows me to teach as an adjunct at the nearby college and university, keeping me close to home, something I would not be able to "afford" had I not already had the bread for the butter (working as an adjunct - even with a Ph.D. - pays peanuts and offers zero benefits), as well as dedicate time to develop as a writer. However, I don't think of this primary income as "alimony" or some generous handout from the ex-husband, but rather as my honestly and hard earned dividend from over two decades of solid investments.
The term alimony comes from the Latin word alimona and means "nourishment or sustenance," and historically has had as its purpose the continued nourishment of the divorced wife, presumed to be lacking the ability to support herself. Women were, after all, the property of their husbands. Today, alimony is commonly granted the spouse that has the lesser income, regardless of gender. Unfortunately, "alimony" has the resonance of "alms," synonyms of which are gift, handout, charity, and largesse. Hearing the word, it suggests the receiving spouse is getting a kind, bighearted offering from the ex. Sometimes, this is how I feel about it when I hear the traditional vocabulary and gender-role ideas surrounding the complex topic of all that.
But it was when one of our teenage boys recently said to me "Pappa works hard; he supports all of us," that I felt compelled to make a statement. If nothing else, for my boys: the next generation. Yes, their dad owns a business and that is hard work, no question about it. But a comment like that doesn't fall easy on a writer and teacher's ears, or heart, as if the work I do now, not to mention did while married and also running the household, is a walk in the park. Is not hard. A quarter century dedicated to creating and keeping a home, developing a business together and raising a family was the most challenging work of my life. I invested dearly in this enterprise, and I loved it. It was gratifying and exhausting. (I was raised as a latch-key kid with a career mom, so staying home with the kids while they were young felt like a privilege to me.) Pursuing an advanced degree when the kids got to middle school felt almost self-indulgent - I "worked" in the library all day -and I got to exist in my head for 8 hours a day, sometimes more, away from the chaos, unpredictability and physical labor of running our family and home. Of course, with mom gone all day, too, forces had to be hired to mind the gap.
Could we use the term "severance package" perhaps? I was, after all, C.E.O. of The Lichtenstein Family Household, consisting of a wife (me), a husband, three children, two dogs, a ginormous house, two cars and an above average yard. The third floor of our house was originally built for "the help," back in the day when someone living in this size house would typically have a cook, a nanny, a gardener, a couple of servants, and a driver. When we would ring the antiquated buzzers still wired on the walls of our home, nobody showed up. I was it. That was our family joke.
So, as much as I appreciate having my financial freedom as a result of the return of my investment, I look forward to times when the majority of my livelihood is no longer attached to a word whose stigma may be all in my head, but most likely is the result of the complex history of marriage and divorce laws, stubborn (and lazy) traditions of residual nomenclature, and the revolutionary changes in women's roles in our modern society. As I have begun forging a professional and vocational path (writer, teacher and AirBnB host) that can sustain me when the dividend payouts come to end, I also find that I still have to remind myself that I have gotten to where I am not because I'm lucky or unlucky, but because I have worked hard, won some, lost some, and tried to embrace change.
I say let's come up with a new term for alimony that makes the recipient feel less like a charity case and more like a free agent paying her/his bills with returns from wise and hard earned investment. Marriage is the biggest venture if there ever was one, and the lucky ones get to feel the satisfaction by having it last a lifetime; those of us with a long marriage behind us and who had to "cash in the chips" should feel gratified that the mission yielded unique results (life-experience, your children, assets - think "dividends" in the largest sense of the term) hard earned anywhere else.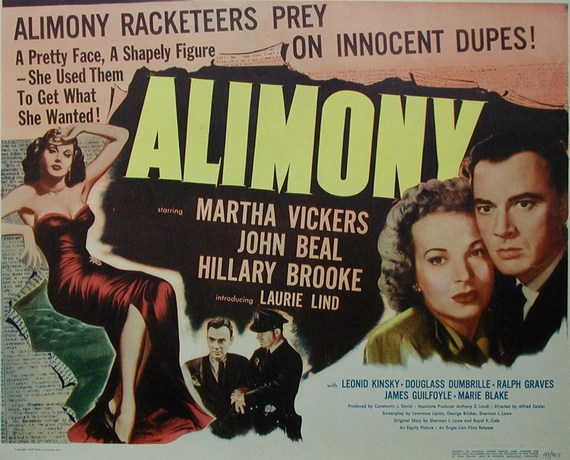 Related