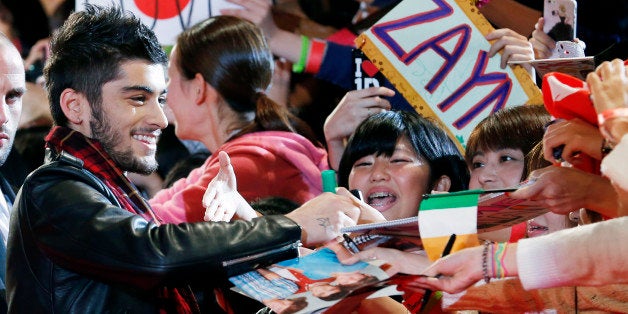 This week, Directioners received heartbreaking news that their favorite mysterious, man-bun wearing, Aladdin-twinning member, Zayn Malik, has decided to leave the group.
The band released the following statement on March 25, 2015 from Zayn, leaving fans binge-listening to their music in hopes it was all a lie:
My life with One Direction has been more than I could ever have imagined. But, after five years, I feel like it is now the right time for me to leave the band. I'd like to apologise to the fans if I've let anyone down, but I have to do what feels right in my heart. I am leaving because I want to be a normal 22-year-old who is able to relax and have some private time out of the spotlight. I know I have four friends for life in Louis, Liam, Harry and Niall. I know they will continue to be the best band in the world.
While Zayn has received a lot of criticism for his decision to pursue a normal life, it's a decision that is not only rare, but worthy of respect. For a moment, let's be placed in Zayn's (expensive) shoes. His whole teenage career has been dictated by the whims and antics of the media, where they thrive on exploiting his every move. I don't know about you, but I feel overwhelmed just walking in the overcrowded hallways on my way to class. He probably didn't get the chance to go to prom or graduate with all of his friends. Although he pursued the career of his dreams and got to have many experiences many of us will never have, he missed out on the joyful simplicities of being a teen.
It takes courage to put your needs above others. We function in a society that prides itself in "stress competitions," as we argue with one another about who has more of a right to be stressed or tired. We fill our schedules with meaningless activities, our resumes with empty words and our work with the penmanship of living a life without significance. Paradoxically, we encourage healthy living and exercise, yet we forget the importance of being mentally well. To take care of others is a lovely task, but to take care of yourself is a task beyond merit.
I love One Direction, and it broke my heart to know that Zayn would no longer be a part of the band. Yet, whether you're watching the American Music Awards from your living room with a box of pizza, or actually winning the awards as a platinum artist, nothing is more important than our mental health. Whether you walk in the halls or on the red carpet, promoting our mental well-being is a priority that needs to be taken more seriously. Zayn will always be a part of the One Direction family, and he surely won't be forgotten as the group trickles down to four members. Yet, as the night changes, a new tide is turning where Zayn (and hopefully others!) can be warmed by the fact that they are finally doing something for themselves.
PHOTO GALLERY
7 People Who Could Replace Zayn Malik On One Direction's Tour
Calling all HuffPost superfans!
Sign up for membership to become a founding member and help shape HuffPost's next chapter