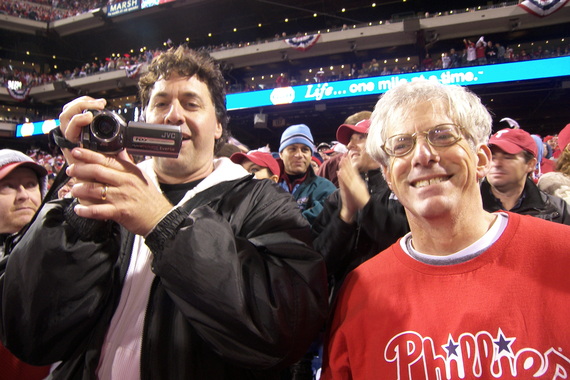 Last Saturday, I attended Shabbat Services for the first time in about four months. At our temple, the men all dress in white and sit on one side, the women on the other. Most of us cover our heads with baseball caps instead of yarmulkes which are prone to falling off, and I was wearing my white Philadelphia Eagles baseball cap.
My friends were glad to see me, but spotting the Eagles cap instantly made me a target.
"Steve, you live in South Florida now, how can you still root for these bums? The Eagles have never won anything!"
No, I didn't bring up the Eagles 1960s championship. First, I was only a year old at the time, second, this is the Super Bowl era; and third, despite the dialogue in the movie, Invincible, Philly fans don't reminisce about Steve Van Buren and Tommy McDonald.
Still, my reply surprised even me. "Why are you still Jewish? Our people have been persecuted for 6,000 years. Being a Philly fan is like being a Jew; you learn to live with the misery and hope we draft a messiah who can lead us to a Superbowl."
I was born in Philly (well, technically Haverford Hospital, right outside of Philly) and I was raised in Philly, growing up in the Greater Northeast. Philadelphia is a city of neighborhoods; you've got your Black sections, your Italian, Jewish, Irish, German, Chinese, Korean... but on Sundays during football season we all bleed green.

My first recollection of watching an Eagles game was a 21-20 victory over Kansas City. The Eagles quarterback was a guy named Pete Liske (or maybe it was Rick Arrington, I forget) and he kept hitting Harold Jackson on long TDs. It was a rare victory -- the Birds finished the season 2-11-1. It didn't make me an Eagles fan just yet, but the seeds of misery were planted.
In high school, every morning during "Advisory Class" which was the first twenty minutes when the role was taken, my buddies and I would talk sports. Maxine Schector, our "advisory teacher" hated it so much she flunked all us! Who the hell flunks advisory? Such is the curse of the Philly Sports fan.
Back then, the original Eagles number 5 QB was Roman Gabriel. When he upset the hated Dallas Cowboys, he became our messiah. That lasted until the next season when he crossed the NFL picket line and his teammates crucified him.
It hasn't all been bad; in fact, we've had some great runs. I was a teen when the Broad Street Bullies won two Stanley Cups in a row and were the only NHL team to beat the Soviet Union. At one point, the Russian coach pulled his team off the Spectrum ice, until Ed Snider, the Flyers owner let him know that if they didn't finish the game, they wouldn't be paid.
Ah, capitalism... it's a great thing.
The Phillies -- the most losing team in the history of team sports won the championship during my junior year at Penn State. Happy Valley was indeed happy that night. The Fightin' Phils won it again in 2008. My best friend, Art who I've known since 6th grade and still lives in the area, had tickets for the potentially deciding Game 5 vs Tampa. I flew up that afternoon and arrived at Philly International at 6:30 PM -- greeted by 35-degree temperatures. I took a cab to the ballpark and met my friend by the stadium as planned.
We had twenty minutes before the first pitch to stow my suitcase in his car -- only he couldn't find his car! We walked the parking lot for a half hour until one of Philly's Finest was kind enough to drive us around the lot in his squad car. We got to our seats at the bottom of the first inning. Great seats, an amazing evening ahead... until it started raining.
Rain? This was sleet -- I've never been so cold in my life. With the wind howling through Citizens Bank Park and the Phils up by a run and about to win their second World Series, no one was leaving. Major League Baseball refused to stop the game -- until Tampa tied the score. My buddy and I made it back to his house three hours later. The next day I flew home; two days later the Phils took the series.
The Sixers may be miserable now (tank you very much) but in 1983 we got Moses Malone and the man led us to an NBA championship. The next year we drafted Charles Barkley, and a few years later we had the top pick in the draft. So what did the Sixers management do? They traded Moses and the pick for two bums and Jeff Ruland, who had bum knees.
The Sixers have wandered in the desert most of the 30-plus years since (Iverson's MVP year excluded).
I had a dream this morning... not an MLK dream, but one where I was asked by Angelo Cataldi, a W.I.P. Talk Show host, who I felt were the greatest five Philly players during my time as a sports fan. My list: Julius Erving, Moses Malone, Bobby Clarke, Mike Schmidt, and Chase Utley. Each of these athletes, in my opinion, represented Philly in the noblest of fashion.
Smokin' Joe Frazier deserves to be on this list as well.
Missing from the list is a Philadelphia Eagle. Wilbert Montgomery came close, but we lost Superbowl XV. Randall Cunningham could have been that guy -- he was an amazing talent but we had him during his "flaky" years. Had that defense been blessed with the Randall who quarterbacked the Vikings, the Iggles would have won at least one Superbowl.
Until then, we Philly faithful will keep an eye on the Flyers, pray to the Almighty that the Sixers get the #1 ping pong ball in the lotto, and see what the Iggs do in the draft.
Baseball season begins this week... God help us.
REAL LIFE. REAL NEWS. REAL VOICES.
Help us tell more of the stories that matter from voices that too often remain unheard.