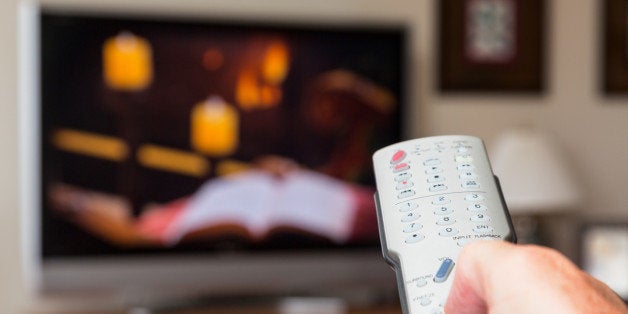 My latest telenovela addiction, "Celia," the story of the legendary Cuban singer Celia Cruz, wrapped up this week. I'm off the 'crack' for a while, though secretly waiting for the next story to reel me in.
People can say whatever they want about telenovelas, but I love them. They are as much part of my culture as rice and beans.
I must have watched hundreds of Spanish-language telenovelas in my lifetime, from the cheesy ones like "Los Ricos También Lloran" to the badass "La Reina del Sur" to my beloved "Betty La Fea," which I've seen at least ten times. It's crazy. I know.
But there is no better love story than the one of Betty and Armando Mendoza. In fact, more than a dozen versions were made around the world, including the American version "Ugly Betty" starring America Ferrera.
Now, my own kids sometimes watch telenovelas with me. "Celia" sparked their interest in the genre, even if they only understand 20% of what they are saying in Spanish. You see their Spanish is not very good looking. Yet they can't stop saying 'Azucar' and are fascinated by the music and the characters.
I blame my abuela for getting me hooked to telenovelas at an early age. I have fond memories of watching "Leonela" with her in the Dominican Republic back in the 80s.
Telenovelas get a bad rap. Everyone knows how most of them will end. Telenovelas, unlike their American counterparts, end. They are mini-series versus 30-year sagas. An NPR article nails it - writers always have an ending in sight and it is almost entirely predictable. This is what I love about them - we get closure.
We want to see our protagonist rescued by her knight in shining armor or have her find her long lost father or better yet get revenge on her cheating husband like Kate de Castillo did in la "Reina del Sur."
Though we know what will happen next, we still can't stop watching what the clueless characters will do.
The storylines are usually the same - the protagonist is a poor beautiful girl who plays the maid, then finds out she will actually inherit tons of money and then eventually marries her wealthy and gorgeous employer. There is always so much melodrama and the infamous bad actors that make you cringe at their lines. But the actors are gorgeous and you can't seem to let go of that remote control.
Many criticize the genre, including some of my very own friends. They can't believe I would waste my time, but in my defense, if you are watching "The Bachelor" or "Keeping Up With the Kardasians" you aren't any better. The bottom line is that I'm not the only one watching.
Telenovelas attract the demographic that advertisers covet most-- those in the 18-34 and 18-49 age brackets. The numbers speak for themselves and often telenovelas ratings outperform American shows.
Spanish-language telenovelas paved the way for shows like "Scandal," "Jane the Virgin" and now Eva Longoria's "Telenovela." Jane not only explores her Latina identity, but also dives into the different facets of what it means to be Latino in America. Additionally, "Telenovela" is moving in the right direction and showing America a bit of our Latin culture.
There is a lot to be said about the impact they still have on our culture. They are also very entertaining and they connect us to our people.
There's nothing like calling my best friend in New York and recapping the previous night's episode on my morning drive. Telenovelas give us shared experiences and they are here to stay. And, now they are inspiring shows and creating buzz on primetime TV. My abuela would be proud.
REAL LIFE. REAL NEWS. REAL VOICES.
Help us tell more of the stories that matter from voices that too often remain unheard.