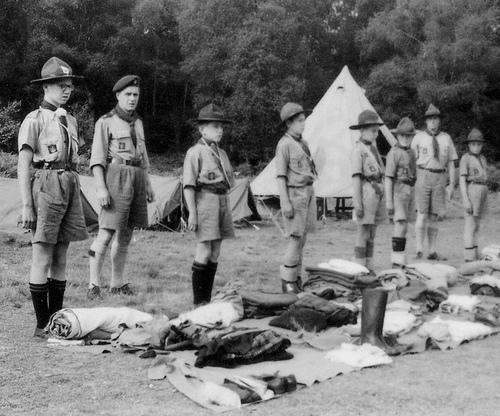 Photo credit: At camp with the 23rd West Ham Scouts via photopin (license)

The Boy Scouts of America has had a tumultuous start to our current millennium. It began with a Supreme Court decision on June 28, 2000 upholding the B.S.A.'s First Amendment right to deny membership to any potential member -- youth or adult -- who was incompatible with their mission. That decision's impact, along with a massive shift in social acceptance for gay rights, brings us to 2016. The BSA has almost reversed its stance. Gay Scouts are now allowed along with gay adult leaders. Almost.
I was an Assistant Scoutmaster of a local Troop at the time of the Supreme Court's decision. I was an Eagle Scout with a Bronze Palm, earned my religious medal, had previously served as a Junior Assistant Scoutmaster, repeatedly reelected Senior Patrol Leader, and been a proud member of the Scouting movement going back to my days as a Cub Scout. Shortly after the war in Bosnia, I even helped rehabilitate a Scout group there while visiting my cousin who was a social worker. I was a Boy Scout. I supported the Supreme Court's decision: a private group should be allowed to make its own choices.
August 2001 saw my resignation from Troop 392 and the entire Scouting organization. The Supreme Court may have been right in its result, but the Boy Scouts were wrong in their attitudes.

'The Boy Scouts of America has a long-held value for traditional American family values,'' said Gregg Shields, a spokesman for the Scouts [in 2000], ''and we believe that an avowed homosexual just isn't a role model for those values. And that's the basis for our policy.''
In other words, how could a gay person be a moral person? Unfortunately, their discrimination extended to atheists as well. Lacking religion equates to lacking morality in the Boy Scouts of America. Catholic church sex abuse, the rise of militant Muslim extremists, and the polygamy and child abuse of the Fundamentalist Latter Day Saints might go to show that religion may not be a foundation -- much less a guarantee -- of morality. This inconvenient truth is not mentioned by the Boy Scouts.
No shirt.
No shoes.
No hetero sex.
No religion.
No service.
These discriminatory attitudes were left to simmer for over a decade. My 2001 resignation letter didn't send shock waves through the BSA and lead to a huge swell of rebellion in support of equality. Who knew?
The simmering turned to a boil in 2012 when Den mom Jennifer Tyrrell was removed from her son's Cub Scout den because she is a lesbian. The B.S.A. had proclaimed that part of their reasoning for denying access to gay adults was a means of protecting the young boys in their care. But Ms. Tyrrell's removal proved that reason to be an excuse. She was a woman interested in other women.
It was this event that led to the creation of Scouts For Equality. S.F.E. was founded by Zach Walls, the Eagle Scout who first gained notoriety for his defense of L.G.B.T. rights at the Iowa legislature. It has been a massive motivator for encouraging the Boy Scouts to change their stance. Fortune 500 companies, actors, politicians, corporate leaders, religious sects (such as Episcopals and Jews) and Scouting troops around the world have publicly stated their opposition to the Scouts discriminatory policy.
Due to the significant and far-reaching efforts of S.F.E., the outcry from current and former Scouts, and the leadership of former Defense Secretary (and B.S.A. President) Robert Gates, the Boy Scouts ended their total ban on gay involvement, but with a major exception: religious preference.
According to the new policy, sponsoring organizations are allowed to make their own rules regarding gay youth or adult participation. That is quite an exception when some estimates state up to 70 percent of packs and troops are sponsored by religious organizations, with as many as half being sponsored by the The Church of Jesus Christ of Latter-day Saints (Mormons). How can the Boy Scouts claim to be inclusive while fully authorizing discrimination?
This type of religious autonomy has caused problems for the Boy Scouts before. The Mormon Church nearly landed themselves and the B.S.A. in federal court in 1974 when the N.A.A.C.P sued. Two 12-year-old black Scouts were denied leadership roles in Mormon-sponsored troops specifically because they were black. At the time, Mormon rules required that senior leadership positions be held by the "deacons quorum president": a role in the church priesthood. Blacks were denied all roles in the church priesthood, thereby making the two youngsters ineligible to serve. The policy was changed just before the federal trial was set to begin. It is also worth noting that Church policy no longer discriminates against black people serving in leadership roles.
So the Boy Scouts allowed racial segregation until 1974 by way of religious autonomy. Now they want to allow gender orientation segregation by way of religious autonomy. Forty-two years later and lessons seem to be ignored.
Boy Scout discrimination does not end at homosexuality. The Boy Scouts have stated the following in their Charter and Bylaws about religious beliefs:

The activities of the members of the Boy Scouts of America shall be carried on under conditions which show respect to the convictions of others in matters of custom and religion, as required by the twelfth point of the Scout Law, reading, 'Reverent. A Scout is reverent toward God. He is faithful in his religious duties. He respects the beliefs of others.'
All of this leaves me in the unfortunate position of telling my son that although his father is an Eagle Scout, he cannot enjoy the camaraderie, outdoor adventure, or life skills enjoyed as a Boy Scout. I cannot hypocritically look my son in the eye and tell him I believe discrimination is wrong yet pay for him to participate in an organization that discriminates.
The Boy Scouts have my full support to make whatever discriminatory decisions they see fit. But as I try to teach my son every day, decisions have consequences.