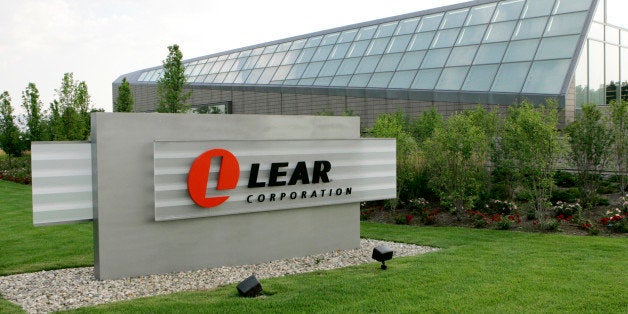 It's not every day that someone like me, making $12 an hour in a small town in Alabama, confronts the CEO of a major auto parts manufacturer, right in his own corporate headquarters. But last week, that's exactly what happened.
For nearly 10 years, I've worked at a plant in Selma, Alabama, owned by Lear Corp., a major supplier to many leading auto companies including Hyundai, Mercedes, and BMW. My coworkers and I are worried about what we know are low-paying and often dangerous jobs at the plant. But despite hearing our concerns, management has refused to do what it takes to make the plant safer or provide decent pay.
After nearly a decade of seeing many coworkers lose their health, their savings, and their hope for a decent living, I decided that I couldn't stay silent any longer -- and that it was time for me to take our demand for good jobs and a safe workplace directly to the company's top leadership.
Last week I traveled from Alabama to Southfield, Michigan, to protest alongside other Lear workers from plants across the country at the Lear shareholder meeting. Lear is one of the biggest auto part suppliers in the country -- last year alone, they raked in revenues of over $17 billion.
Lear should be setting an example for the rest of the industry, but instead they are paying us barely enough to make ends meet. Lear can afford to treat their workers with respect. By choosing not to, Lear is forcing my family, and others like mine, to live from paycheck to paycheck.
In the decade that I've worked at Lear, frequent alarms warn us that levels of the toxic chemical TDI are dangerously high. Instead of taking responsibility for protecting our health and safety when people got sick, Lear has ignored safety issues to the point where the federal government had to step in on three separate occasions to cite the company for breaking health and safety laws. In fact, just last month, a senior federal safety official said in sworn testimony, "Respiratory exposure to the levels [of TDI] found here can cause health problems such as asthma."
When I look at my two young kids, I worry about what will happen to them if I get sick. When the U.S. Occupational Safety and Health Administration found last fall that others at my plant have developed work-related asthma, it was clear that the problems at our plant were as serious as we thought. I knew then that we needed changes at the company, even if that meant fighting a long battle for better treatment on the job.
I grew up thinking that manufacturing jobs were safe and stable, expecting that working for an auto company one day would help me to afford a middle class life. After starting my job at Lear, I watched that dream gradually fade. I hoped that a job like mine would help me support my kids, and save enough to provide for their education. But on $12 an hour, those dreams will never come true. If I'm lucky I can pay all of my bills, but there's never enough money to put into savings. I don't know what I would do if I got sick; my budget has no room for extra medical bills.
I traveled to Michigan and joined a protest with hundreds of other auto workers last week because the decisions made at the shareholder meeting will have a huge effect on thousands of other workers, and on our whole industry. Workers marched outside the meeting because we need to start a direct conversation between the company and people like me who work hard every day to fuel their profits. I know that having a union will allow us to stand together with one voice and make sure that Lear takes responsibility for the wellbeing of their workers.
If we're going to rebuild the middle class in this country, manufacturing companies like Lear need to start respecting workers, and bring back the wages and working conditions that made America's automotive industry so great.
Letasha Irby is a production worker at Lear Corp. in Selma, Ala.
Related
Popular in the Community