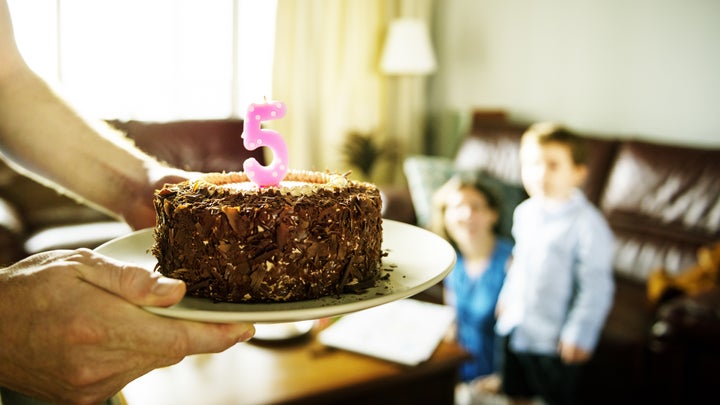 I don't remember my first birthday party, but I remember my last. I was 13, and a bunch of my friends crammed into my family's tiny living room to watch movies and have a snack. I remember my mother sitting on a stool in the kitchen complaining, and one of the guests stealing a bracelet, but outside of that, nothing about the event rings any bells. I'm also pretty sure I only remember it at all because my mom was adamant that I never have a party again.
For every birthday party I can't remember, however, I have one that remains steadfast in my mind. When I turned 12, my mom picked me up early from school and while we were in the car, she gave me a rosy gold swatch watch with a robot on it. She congratulated me on turning another year older, and she took me to the mall for a treat. This birthday was my most treasured, and the one I'll always remember. And, if I'm being honest, it's also one of the main reasons I decided to stop having traditional birthday parties for my kids.
Now this doesn't mean that we don't celebrate our kids' birthdays. Starting on our eldest's sixth birthday, we asked him to pick an event as well as two friends and we celebrated his special day by taking the three kids on an epic adventure. Henry picked Ripley's Aquarium, and his best girl and boy friends, and we bundled up and headed downtown in a snowstorm for a day of adventure.
With tickets, transit fare, lunch, and a small gift from the gift shop, I ended up spending around $120 dollars, far less than I spent on the party we had for him the previous year. Why haven't we always done this?
After the day trip, we had cake with the kids and sent them on their way, having a family dinner together. It made me realize that a big birthday party, with a house filled with kids was just not worth it for us. We decided to take this idea further, and have a not-quite birthday party for our younger kids, too.
Lachlan and Angus share a birthday (they are not twins), and instead of having a party, we did a playdate with a few friends, and a bouncy castle and cake. No muss, no fuss, no clean up. And no fighting over presents (the literal worst).
I'm not going to pretend that after every party my kids go to, they don't say, "Next year can I have a birthday party?" Nor am I going to say we will never have a party again. For now, we're enjoying treating our kids to fun experiences and adventures, and not having five to 10 small children wreck our house. As the kids get a little older and more independent, we'll host slumber parties, movie nights and more, but never relegate them only to birthdays, because what's the fun in that?
This piece was originally published by Kat Armstrong on Mommy Nearest. Kat Armstrong got her start writing for popular Canadian mom site YMC before venturing off on her own. Since then, she's written for Today's Parent, Brit+Co and Redbook, just to name a few. Her three kids under age seven keep her busy when she's not typing 80wmp.