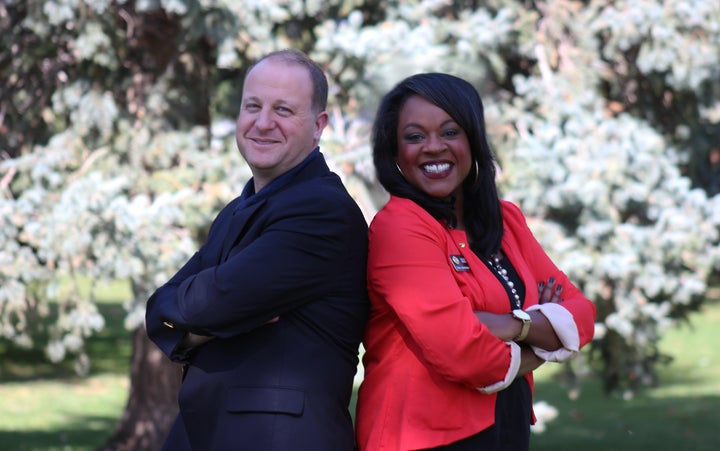 There's a dangerous narrative circulating about the future of LGBTQ rights in America. Some believe that as long as Donald Trump is president and Republicans control Congress, our community will have to give up on progress and limit our focus to defending against initiatives that will take us backward.
Next year, my home state of Colorado will have a chance to counter this thinking by electing Jared Polis, who is well positioned to become the first gay governor in our nation's history — in a purple state, no less.
It's hard to overstate the power of making someone like Polis the chief executive of a swing state at a time when the Trump administration openly boasts of its brazen bigotry as an electoral asset. Electing Polis will prove that the LGBTQ community remains a force at the highest levels of government. It will also show that, in spite of the endless chatter about the role of "identity politics" in the Democratic Party, we don't need to choose between leaders who will champion social justice and those who will champion economic opportunity. Polis will champion both.
Polis was the first openly gay candidate ever elected to Congress and was also the first gay parent ever to serve there. The Obama years were filled with historic victories for the LGBTQ community, and Polis played a part in virtually all of them. His career has been defined by taking bold ideas that once seemed unthinkable and making them a reality.
For example, Polis was instrumental in the passage of the first-ever inclusive hate crimes law. He was one of a handful of lawmakers who shepherded into law the legislation to get rid of "don't ask, don't tell." He was a driving force behind the Obama administration's decision to implement comprehensive guidance on the rights of transgender and gender non-conforming students at school. (Sadly, Betsy DeVos and Jeff Sessions quickly reversed this guidance.)
Together with then-Representatives Tammy Baldwin and Barney Frank, Polis launched the LGBT Equality Caucus, which elevated LGBTQ identities in the halls of Congress Polis helped launch the Transgender Equality Task Force, declaring that in spite of the great strides for LGBTQ equality in recent years, "too many times, the 'T' in LGBT has been an afterthought."
Polis also understands the importance of intersectionality. He pushed back against President Obama when he didn't believe the administration was doing enough to protect LGBTQ immigrants. Prior to serving in Congress, he founded nonprofit schools for underserved students like homeless youth, pregnant girls and the children of new immigrants. In Congress he speaks about education as an issue of basic civil rights.
Given this background, I know that when Polis speaks about building an economy that works for everyone, he means it. His campaign platform reflects inclusivity at every level.
Of course, we the LGBTQ community must always be prepared to play defense, but we cannot give up the fight to move forward, especially today when too many in our community are facing daily violence, discrimination, and hardship. Polis has a track record of winning the hard battles. Let's seize the opportunity to elect a governor who will fight for an America where everyone matters – regardless of one's race, gender, religion, economic background or who you love.
Calling all HuffPost superfans!
Sign up for membership to become a founding member and help shape HuffPost's next chapter