Patriotism is about standing up,
or taking a knee, for what is right.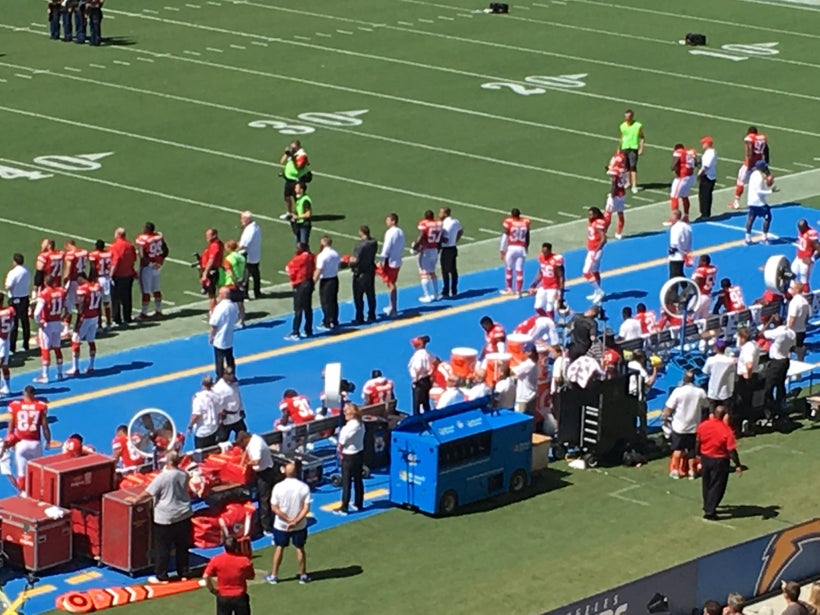 "Are they booing?" my husband, John, asked me as we watched the beginning of the Texans v. Patriots game on television Sunday morning. (Yes, here on the West Coast, the early NFL games begin airing at 10 a.m.!)
"Sure sounds like it," I said.
Shortly afterward, we were headed to Carson, CA, the temporary home of the Los Angeles Chargers, formerly of San Diego, to watch our beloved Kansas City Chiefs.
Later I would read that New England fans were indeed booing the Pats, apparently for their display of solidarity in the aftermath of President Trump's Friday night tirade against protesters in the league. A number of Patriots knelt during the singing of the national anthem, while many—including quarterback Tom Brady—stood linking arms with their teammates.
The linked arms and kneeling were common sights at games Sunday across the country. In addition, many players chose to remain seated, a few raised their fists in the air—a longtime symbol of support and solidarity in the black community—while the Steelers, Titans and Seahawks stayed in their locker rooms until the anthem was completed. These were all quiet, respectful and peaceful forms of protest.
As the color guard marched onto the field at StubHub Center in Carson, and the soloist took the field, my husband and I took a knee in the tight space in front of our seats. We rarely even kneel in church, so we definitely noticed concrete floor, which was cool and hard.
Because those in front of us were standing, I didn't have a panoramic view of everything happening in the stadium, but I could see that many Chargers players stood with linked arms.
The San Diego Union Tribune reported later that Chargers defensive end Melvin Ingram knelt, as teammates Casey Hayward and Adrian Philips raised their arms, hands clasped together. Five other Chargers players sat on the bench.
The Chiefs players were all over the place. ESPN's Chiefs reporter Adam Teicher noted, "Many Chiefs protested the national anthem by sitting before the game against the Chargers. I counted 11 players standing for the anthem along the sideline, where the team usually gathers. Some players, including quarterbacks Alex Smith and Patrick Mahomes, stood, but behind the bench."
A number of Chiefs players remained on the bench, while several knelt, including tight end Travis Kelce, who is white.
Across the aisle from us, I saw 10 or so fans who did not rise to their feet for the anthem. Since my view at that point was mostly the rear ends in front of us, I have no idea if others in the stadium remained seated or if any other fans took a knee.
No one said anything to us directly about our genuflection, but thunderous voices throughout the stadium hollered, "Stand up!" repeatedly during the anthem.
That was bizarre. How is firing off orders throughout the singing of The Star Spangled Banner respectful? How is it that silent protest is so abhorrent but shouting during it is okay? Who's really being disrespectful here?
Since President Trump tossed his S.O.B. grenade on Friday, the reaction on social media has been staggering—a real face-off between two kinds of patriotism. On one side there appears to be a group that worships the flag, but can't see past the red, white and blue to the ink of the constitution and the bill of rights that gives us every right to peaceful assembly and free speech, not to mention life, liberty and the pursuit of happiness.
The flag itself is not our freedom! Idolizing a piece of cloth means nothing if we don't honor the rights it stands for.
Despite the insistence of some, these protests are not in any way anti-USA or anti-military. This movement is not about that, so please stop hiding behind the stars and stripes, as if all they stand for is what happens on battlefields far, far away.
The battle is here. I've seen countless vets on social media in full support of the athletes who are taking a knee. They know what they fought for and it wasn't for a symbol, it was for our right to protest and organize and do whatever it takes to ensure racial, economic and social equality for everyone.
These peaceful, respectful "Take a Knee" protests began last year when Colin Kaepernick had the courage to do something—to take a stand, by taking a knee. It was and continues to be about raising awareness of racial inequality and police brutality toward minorities.
Why is it that the folks who claim to be the most "patriotic" don't seem to get the most fundamental rights we have as citizens? It is not about standing up for a song, it's about standing up for what's right, once and for all.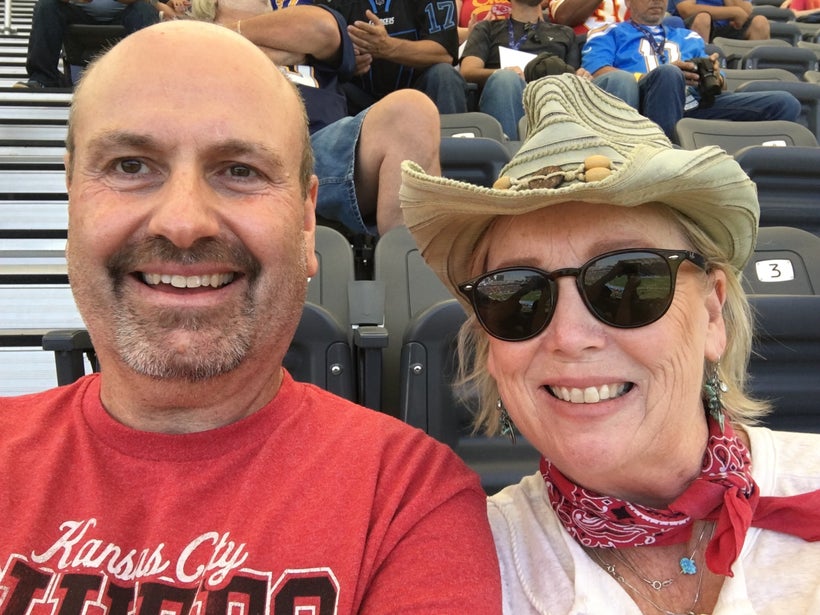 Calling all HuffPost superfans!
Sign up for membership to become a founding member and help shape HuffPost's next chapter
This post was published on the now-closed HuffPost Contributor platform. Contributors control their own work and posted freely to our site. If you need to flag this entry as abusive,
send us an email
.