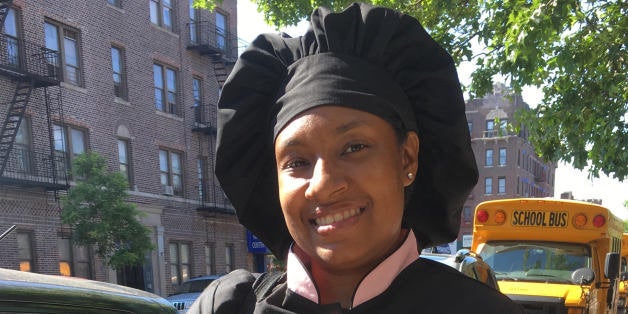 When to Jump, an independent media partner of The Huffington Post, is a curated community featuring the ideas and stories of people who have made the decision to leave something comfortable and chase a passion.
I cried nearly the whole month of January. I had quit my job at Sunrise Senior Living at the start of the year to launch my own catering business. I was excited and eager to be my own boss and to establish a business that could be passed down to my children. But I had no orders my first day. The self-doubt quickly sank in. What was I thinking? Would I have to go back to my old job? The following two weeks were not much better. I finished the second week with only five orders. I kept reminding myself why I decided to take the "jump." I started working in the food service industry at 14. I worked at Perkins, Sylvia's Restaurant of Harlem, Applebee's, and IHOP. I cooked in assisted living homes such as Lawrence Nursing Care Center and Sunrise. I was a server at catering events at night and on the weekends. I loved customer service and I was good at it. I knew how to listen and make customers feel comfortable. I taught my co-workers the "stand back," a technique I coined that allows a server to watch all their tables at the same time and quickly respond to every customer's needs. I enjoyed the work, but something was missing. I looked at the food I was serving or the recipes I was following and knew they were not my own. It wasn't "my food" and the customers I was serving were not "my customers."
I have always loved cooking for my family and friends. Cooking for them was a second job, one I would leap out of bed to do. I developed different recipes in my home kitchen and enthusiastically asked my friends for feedback. The kind of honest feedback one only gets from a mother who doesn't sugar coat anything. Fortunately, it was all positive feedback! My friends raved about my food and would ask me to cook for their parties. In December, one friend asked me to cook and cater a wedding. It was a hit! Guests reached out asking if I could cater future events and if I ever did "hot plates" or ready to eat meals for lunch. The glowing reaction, coupled with my uncle's booming encouragement to "go for it," provided the confidence to turn what I thought could only be a hobby into my full-time career the following month.
While the first few weeks were tough, everything came together on January 27th. It was my daughter's 8th birthday. I was cooking for her Dora the Explorer themed birthday party and for an Elmo themed birthday party down the street for another family. All of a sudden, I was receiving calls from three different groups asking for hot plates. I panicked. I didn't think I could do it all, but I didn't waste time worrying. I rushed around my kitchen, completed the orders, and dropped them off. I was exhausted at the end of the day, but happy. I wasn't sore like I remembered feeling after a long shift at a restaurant. I did start to cry again but it was because I knew this was only the beginning.
My business has significantly grown over the last six months. My clientele now extends well beyond my network of friends. My regular customers have branded my weekday lunches, "Hot Plates in Harlem." I'm also catering several events a week. Next spring, I'll showcase my custom barbecue sauces at various trade shows and I'm working with distributors to place my sauces in grocery stores. But running a food business is not without its challenges. Cooks in New York are limited in what they are allowed to cook out of their home kitchens and how they can sell that food. I started cooking to order, and providing healthy food to friends and neighbors. But despite willingness to work with the city to find a way to do this compliantly, none exists. While I've built a sustainable business, starting small was essential to my success. In the early days, renting a commercial kitchen space was too expensive. While I've been fortunate to gain access to a few, this continues to be a barrier to entry for me. This is a problem not only for my business, but all my fellow aspiring cooks. Moreover, customers have endless options in a city like New York which is why so many restaurants don't last their first year (90%). The days when these hurdles seem too high to overcome, I look at my children and remind myself that I'm doing it for them. By taking a leap of faith, I've shown them that they can take charge of their own careers and if they want I'm ready for them to join the family business.
When to Jump, an independent media partner of The Huffington Post, is a curated community featuring the ideas and stories of people who have made the decision to leave something comfortable and chase a passion. You can follow When to Jump on Facebook, Instagram, and Twitter. For more stories like this one, sign up for the When to Jump newsletter here. (Note: The When to Jump newsletter is not managed by The Huffington Post.)
Calling all HuffPost superfans!
Sign up for membership to become a founding member and help shape HuffPost's next chapter