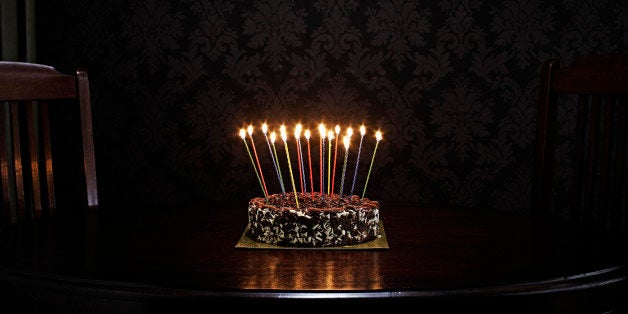 During my daughter's birthday celebration last month, I took an unconventional approach and introduced another way to commemorate her special day. Turning 9 meant that my little girl had her own ideas for a birthday party. For a month, she compiled a comprehensive list of all the activities she hoped to do for her sleepover with some of her closest friends: 1) paint nails; 2) design shirts with fabric paint; 3) belt tunes from her karaoke machine; 4) watch movies; and 5) eat s'mores for dessert. Her father set up a makeshift tent in her room out of sheets and kitchen chairs so that the girls could enjoy their "apartment" with their American Girl dolls.
I admit that by the time her birthday arrives, she has experienced the thrill and excess of receiving gifts during Christmas. Even though we are practicing Hindus, we still enjoy placing ornaments on the tree, hanging stockings on the bannister and leaving cookies for Santa. On Christmas morning, Santa delivers gifts from my daughter's wish list. While I understand the spirit of the holiday, I know that her birthday arrives eight days after the New Year and again, she will enjoy gifts from grandparents, aunts and uncles, as well as friends. She experiences the consummate honeymoon period for young girls by all of the attention, gifts and a party that she enjoys.
Balancing her need to celebrate and also recognizing this overindulgence caused an internal tension. I know that luck, circumstance and hard work offers a comfortable lifestyle that she enjoys. It is a place of happiness, but also rattles me. Part of this discomfort arises from comparing my childhood with hers. I did not have access to the resources, opportunities and luxuries that she assumes are a given. That doesn't mean it isn't my responsibility to show her how hard times and bad luck can lead to very different circumstances.
The morning of her birthday celebration, we volunteered at an homeless emergency center. This opportunity arose from a friend's concerted efforts. She asked for volunteers and I agreed, along with my daughter, to help. We arrived early at a warehouse in downtown. We walked into a a wide room with office cubicles pushed to the perimeter, while in the middle there were eight cafeteria tables. When we entered, the director asked us to start decorating the tables with tablecloths, streamers and banners that said "Happy Birthday." A volunteer asked, "Whose birthday is it?" I will never forget her response. The women replied, "It is everyone's birthday. Most of these families don't celebrate birthdays because of their personal situations." I let that statement sink in for a moment and juxtaposed it with the reality that my daughter lives. She always has a birthday celebration. I used this opportunity to offer a teaching lesson to my daughter as she asked the same question that the volunteer asked earlier. I explained that many of the kids do not have sleepovers, gifts or even a cake to commemorate their special day.
She looked surprised, but in her gaze, I recognized some sense that she realized this wasn't her norm. Although she didn't understand the underlying subterfuge of the what's and how's, she expressed interest in trying to help sing "Happy Birthday" to the children and also interact with them by playing games, engaging in crafts and having conversations with them. For two hours, my daughter and I helped by wrapping gifts, decorating tables and interacting with the children and adults over food, games and cupcakes. Several people showed their gratitude by thanking us and one little girl kept holding on to my daughter's hand like she discovered a special comfort in a new best friend.
After volunteering, we headed home and we had a conversation about what we experienced. My daughter exhibited an interest to help. I know it isn't enough, but maybe the first step is popping the bubble.
Related