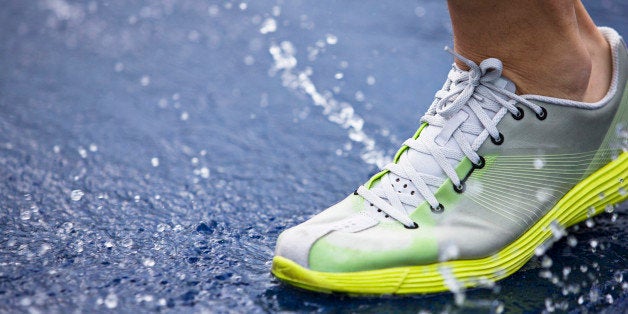 I gather the fall season has prompted me to have several recent newfound interests, including layering, and most excitingly, jogging in the rain!
Within the past several months I have challenged myself in ways I would have never ever imagined. I have taken on roles and responsibilities I would have once feared, never beckoned to ever consider. As part of this personal challenge I have been layering-up and heading out in the rain for a refreshing and energizing jog! I have always taken an interest in exercise, but normally I go the gym and hop on the treadmill because it always seemed like it was easier to measure my results. While exercising on the treadmill can feel equally rewarding as running in the rain, I have a new appreciation for nature and the cooler outdoor temperatures the fall season has to offer.
Perhaps because I'm a mom of three and I see the world with a whole different perspective, or because i'm about to celebrate another birthday and I recognize the importance of exercise and it's multiple positive effects on the human body and mind.
After all, I did find myself pounding on the treadmill when I drafted the manuscript for my very first novel and If it weren't for building exercise into my weekly routine, I am not sure I would have ever made it to publication!
I have a theory on being properly equipped and how being equipped can help with accomplishing any task. Some items i've found useful in jogging in the rain are an older pair of running sneakers, a visor or a cap to shield your eyes from the rain drops, a water-repellent hooded jacket and, don't forget to find your favorite play station on Pandora radio!
Lastly, a personal running story about a recent run in the rain and why it made me feel proud and fulfilled. As I was layering up last Saturday for my run in the rain, with great excitement, my 10-year-old daughter slipped on her rain coat and fastened up her laces to join me. Our first real jog together, we ran over one mile without stopping, in the drizzling rain.
Unbeknownst to me she had an upcoming physical fitness test in her physical education class at school that coming week. Her teacher approached me after school one day in the parking lot during afternoon pick-up and shared with me how proud she was that my daughter finished her running assessment in record time. It made me feel incredibly proud to not only get outdoors and run in the rain myself, but to emulate the importance of physical education to my child, and to witness the benefits and the results!
I highly recommend squeezing into those lycra leggings, dusting off your cap, and slipping on a slicker with some upbeat tunes and going out for a jog in the rain! You too may feel refreshed and energized!
For a much different mother-daughter tale, please check out my first book, S.W.A.K., a novel of ultimate betrayal, please visit swakthebook.com!