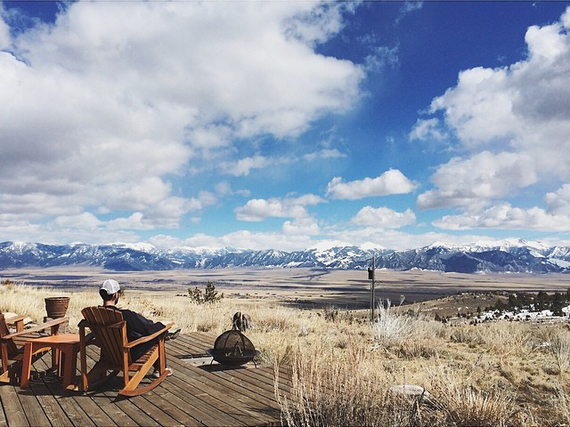 Image courtesy of Liz Song Mandell
In October of 2013, I quit a job I'd had for the better part of a decade at one of the largest software companies in the world. I was earning, with bonuses, stock awards, benefits, and salary, close to $200,000 a year. Not a bad sum for an unmarried 28-year-old with no children.
Then one day something shifted. I was struck by how quickly my years in the corporate world had passed. I thought back to how long high school and college felt, and how much I'd changed and (hopefully) matured over the course of them. Here was a similar time period, and what had changed? Where had the time gone? Who was I and who was I becoming? That's when a soft clear voice inside said, "Samuel, this work isn't it." So, why did I stay for another three years, changing teams and roles before finally accepting I needed to leave not just the company, but the engineering field entirely?
It turned out my fear of failure was greater than my fear of not having a meaningful life. My fear of making the wrong choice was greater than my fear of missing out on some experience life had to offer. My fear of not having enough money was greater than my fear of numbing my soul to make it. I thought I was being responsible, but it turns out I was just being afraid.
We as humans are wired to avoid pain much more than we are to seek pleasure. Economists called this phenomenon "loss aversion," which explains our tendency to strongly prefer avoiding losses than acquiring gains. This is how we've survived, it's more important to avoid eating the poisonous berry than it is to risk and maybe find a tasty one. Without realizing it we've continued this process into our modern lives, and have managed to rationalize our fears under the guise of responsibility and maturity.
It was only until something horrific happened that I was finally liberated from that kind of fear forever. My mother began to die from cancer. Over the course of six months, I learned to fear something greater: death. Death, I learned, is the most accurate mirror of our life, because in facing death we cannot escape who we are. You can be rich, poor, funny, perverted, hateful, generous, or alone, and death will still come with a single-mindedness that's almost pure. Though we often forget it, we all die at the end. Regardless of how you get there, your story ends with you dying.
We can only get a glimpse of how short life is by being in contact with its end, otherwise it seems infinite. We feel like we have an infinite amount of days. We spend days cheaply, let them pass us by. Soon days turn into weeks, weeks into months, months into years, years into decades.
In being face-to-face with death every day, I got to ask a lot of questions of myself. Did I want to die a coward, having hidden from myself my whole life? I realized that with the way I was playing it, I would look death in the eye when he comes and say, "Look, see how safe I played it? I never got hurt during my life! I still have the coins I started with." What I realized I wanted to be able to say was, "Wow, Death, that was a rush! I have no coins left, so I guess that means game over huh?" I wanted to have spent it all.
I quit my job and my wife and I moved to Montana to start a new chapter of our lives. One year after I quit my job, I'd earned all of $200 as a freelance writer, writing a biography for a wedding photographer's website that she never put up, and helping a woman who was turning 50 write some speeches for her birthday party. Then I began to help others find clarity through their fear of failure and say yes to a meaningful life. Do I make 200 grand a year? Hell no. Most of the time I'm hiking, writing, watching a sunset, relieved and happy that when death comes, I will have spent all those precious moments exactly the way I wanted to.
The funny thing is, even when I was making $200 a year, I considered myself a success. I was more lost than I'd ever been, sure, but I was in a more honest place than I had ever been also. I might have had to re-learn how to live, but I was also learning for the first time what it meant to be alive. I'm spending my coins. From now on, I will let death be my main fear, not a fear of the afterlife, but a fear of this life, and of wasting it. It is only when the end is in sight that we realize how short the game really was.