Why do I do volunteer for others when I should be focused on growing my business? Because I'm selfish.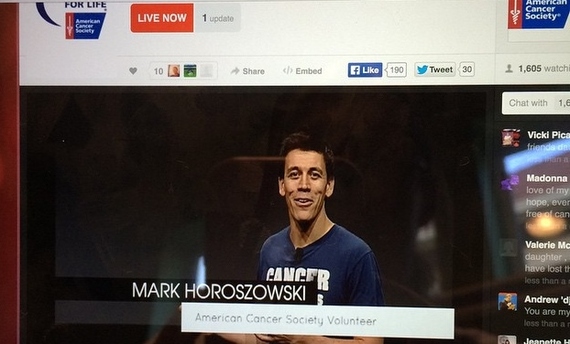 This past week, I dedicated one day of work, and half my weekend, to speak at an American Cancer Society event in Wyoming. Over the year, I'll commit at least one workday a month, plus additional evening and weekend hours to volunteer activities like this with the American Cancer Society, as well as supporting a volunteer-led symphony that supports Seattle Children's Hospital. And I've been doing this for years.
But, how can I justify spending time on things other than my growing organization? Simply put, volunteering makes me better, and it makes my team better, too. (I should note here that my business has nothing to do with cancer or children's health).
How Volunteering Makes Me Better
I recently published an article in Forbes that highlights the 5 surprising benefits of volunteering, but this post if more of a statement about why volunteering is so important for business leaders.
As any manager or executive knows problems roll uphill. Everyone's problems -- whether they come from my team, our shareholders, our customers and/or our partners -- immediately become my problem. Sometimes, especially during year-end with reporting, taxes, insurance, budgeting, planning, etc. I'll go weeks at a time thinking that I've accomplished nothing of value. I love my team and our business, but sometimes that constant problem-solving can burn you out and make you feel like you're doing a lousy job. It's no surprise that many CEO's admit "imposter syndrome".
So, while things like exercise, mindfulness, and quality time with friends can help you get through those tough stretches, there is something truly powerful about volunteering that gives me more energy than any other activity. When volunteering in roles where you can really make an impact, you see that, no matter who you are, people are grateful for your presence. And no matter your quality of work, people appreciate your efforts. It's a way of reconnecting to the fun of doing meaningful work.
In addition to emotional strength, volunteering provides something even more valuable: effectiveness. When you engage in skills-based volunteering projects, you get to see how other leaders lead. You get to problem solve in new environments. You get to work with different teams in different ways. All of these make you better at doing your own job. I have read about leadership tips in HBR on Monday, tried them in volunteer activities on Tuesday and started implementing them into my own work on Wednesday. Volunteering allows me to learn from others, try new techniques and be more innovative by immersing myself in other work environments.

How Volunteering Makes My Team Better
We're not a huge company, but we are growing and that means the contribution of every member is of vital importance to our sustained growth. But I'm not the only one taking time off to volunteer. Derk, my co-founder, advises startups, Nafessa, our Director of Global Engagements, sits on a Young Professional Board for the American Indian Foundation and is a mentor for StartingBloc. Farrin, our Director of Engineering, lead's Seattle's NodeSchool and PJ volunteers with the American Alpine Club and Access Fund... The list goes on. Everyone on our team has their own passion, and we all support each other in pursuing it. We actually screen for volunteer activity when we're hiring people and sourcing contractors, and even our interns volunteer.
Sometimes, it's really challenging when you realize all the time your team spends volunteering -- just imagine how much better your own business would be if all that time was dedicated to the business! But that is short-term thinking. Just as I know volunteering helps me hone my skills and makes me a better leader, I know it's doing the same things for my teammates. I've seen how it makes them more confident, more creative, more efficient and better problem solvers in resource-constrained environments. It's better than any leadership program they could join.

How Volunteering Improves Our Business
At the end of the day, business is about your network. The right connections can help you hire the best people, identify new opportunities and close more sales. MovingWorlds is not a healthcare business, so we don't earn any new clients through our volunteer work. However, when you volunteer alongside other people you meet professionals from across industries that have diverse skills sets and experiences, and this network can be of immense value when you least expect it. Over the past few years I've consistently called upon people I volunteered with for advice, connections, and support. Sometimes it's as simple as making a connection on LinkedIn, or sometimes its getting advice on a strategic decision.

Volunteering Helps Build the World I Want to Live In
Even if volunteering didn't help my business, I'd still do it. In fact, I started volunteering long before I ever knew I'd have my own business. Volunteers are a proven force in global development, helping solve one of the leading challenges facing development: a lack of access to expertise. Through my work, I've seen how the right volunteer at the right time can truly accelerate the work of social impact organizations.
But more so than solving problems, volunteering does something more important, though less tangible. Volunteering makes me proud to be part of the human race. It creates connections across geographic, cultural and racial borders that helps me see beauty in more places.
Volunteering creates and spreads love and empathy, and helps people realize their true potential. When I think about the kind of world that I want to be living in 25 years from now, I want to live in an equitable, empathic and loving civilization that cares more about its people than the health of its economy, and that is not something that simply giving money can accomplish. This better world can only be realized by people coming together and giving the best of themselves: their time, their minds and their hearts.
Calling all HuffPost superfans!
Sign up for membership to become a founding member and help shape HuffPost's next chapter