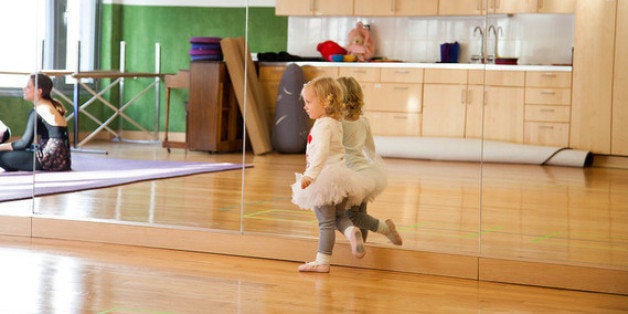 I am so excited for my 3-year-old daughter to start ballet class next week. She has been wearing her ballet shoes and leotard around the house and practicing her twirling in anticipation of the big day. She's excited because she adores dancing and pretty outfits. I'm excited for different reasons.
I was a ballet kid myself. I begged for classes when I was her age too. According to my mom, I was a bit of a flibbertigibbet who wanted to do everything, then, after one class, gave up. She expected that ballet would be like the rest of my desired hobbies -- soon forgotten and a waste of her hard-earned money to outfit me for one class.
A year of begging wore her down and I started ballet. Much to my mom's surprise, it turned into a life-long love, a hobby that I stuck with and never outgrew. While I never honestly aspired to become a professional ballerina, ballet was so rewarding in my own life that I am so excited to introduce it to my daughter's for the following reasons:
I'm hoping that we can bond over ballet and that it can be something we both enjoy together over the course of our lives. I would adore taking her to see The Nutcracker and then more contemporary pieces as she gets older. I hope we can always have our ballet dates as a common love between us, even as she moves into adulthood and her life takes its own path.
2. The value of hard work
Ballet might look dainty and pretty, but it's intensely hard work. Even to take classes as a hobby, you need to be both physically and mentally tough. Ballet asks our bodies to do unnatural things -- to turn out in ways it's not meant to, to balance on the tops of your toes in hard shoes. It's constant hard work to teach your body to be able to perform such difficult steps. While I have no aspiration for my child to be a professional ballet dancer (unless that's what she wants, of course!), I think learning ballet will teach her a strong work ethic that will help her in life, no matter what path she decides to follow.
Watching a ballet performance is magical. The dancers seem to float in the air and skim the surface of the stage. They appear to be able to move in impossible ways. Mastering these difficult steps teaches the importance of persistence, and teaches that if you work truly hard at something that seems impossible, you will be able to master it.
4. The importance of a strong foundation
Great ballet dancers all start in the same place -- at the barre, turning their feet out in first position. All ballet students learn the same core technique that has been passed down for generations. Without learning the foundations, a dancer is unable to add their own elements and flair to the steps. All subjects we wish to master begin in the same way: Learn the basics. Master the foundations, then make them our own.
A ballet class is highly regimented. The teacher directs pupils in their moves, which are usually the same moves every class in different variations. There's no room for interpretation or distraction. There is only watching, learning and following in order to perfect the movements. Ballet requires great mental focus, which is also a great asset to apply to one's life in any field.
Have you ever seen an unfit ballet dancer? I thought not. The physical benefits of taking ballet class are not just immediate fitness, either. Long-term benefits include great posture, grace and poise.
What types of lessons do you hope your children gain from their extracurricular activities? Let us know below!
Popular in the Community