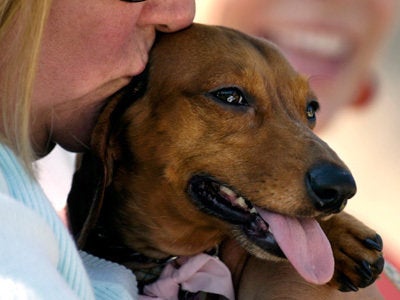 It was a chilly April day when I arrived at the Fishkill Correctional Facility in Fishkill, New York. The officers in charge pointed out where to park in the lot across from the Administration Building. The producers and camera crew from The Oprah Winfrey Show had arrived earlier, allowing time to get their gear through security. We were all there to help tell an amazing story: The story of Roberto Rodriguez and Sergeant Allen Hill. Due to an organization called Puppies Behind Bars, that I had gotten to know through my blog on Fetchdog.com, these two men were going to meet for the first time, brought together by a little, female, yellow Lab called Frankie.
Roberto has been in prison since he was seventeen for taking a life. He is now thirty-three and due to be paroled in June. Sergeant Allen Hill is a 41-year-old veteran of the war in Iraq. He has been in the Army/National Guard for a combined total of 20 years and is still on Active Duty orders. He was injured in November 2007 and came home from Walter Reed Hospital in March 2008, suffering from acute Post Traumatic Stress Disorder (PTSD) and Traumatic Brain Injury (TBI), the signature injuries of the two wars in which we are now involved. From being the life of the party before he was wounded, loving to wrestle with his boys and engage with his family and community, Allen Hill came home a terrified recluse, unable to leave his house or relate to his devastated family.
Roberto has been involved in Puppies Behind Bars for four years. Frankie was the third dog he has trained. The PBB program is rigorous, demanding that the inmates take responsibility for another living being 24/7; that they learn how to be team players; that they become proficient in the training techniques that will turn their charges into effective service dogs, able to respond swiftly and consistently to at least eighty different commands. The puppies arrive at the prison when they are eight weeks old and are in their training program for 18 months. They sleep in crates in the inmates' tiny cells and are exercised in a prison yard. Needless to say, an amazing bond quickly forms between the inmates and the dogs they train. For most of the men, it is the first time they experience love, certainly the kind of unconditional love that only a dog can give.
Six months ago, Gina Hill, Allen's wife, came across the Puppies Behind Bars website and became convinced that Allen had a great need for one of their dogs. The Hills made it through PBB's rigorous vetting process and eventually heard that they would be getting a yellow Lab called Frankie -- Roberto's Frankie. They met Frankie in Colorado where they went through a two-week training period together. Then Frankie went home to Kansas with them.
When I met the Hills and Frankie at Fishkill, she had been with them for only two months, but Gina said that Allen had made more progress towards recovery in those two months than he'd made in the one and a half years that he'd been home. Gina said that Frankie had brought Sergeant Hill back to his family. He was even able to go out of the house again. Frankie has quickly become Allen's closest friend, literally his palpable link to reality when he is paralyzed by debilitating flashbacks.
So I went into prison to witness the meeting of the inmate and the soldier: The man whose crime cost him his freedom, but who has learned how to give back by training service dogs like Frankie; and the warrior who is beginning to be released from the prison of his wounds, by the dog raised and trained in Fishkill. It was a privilege to be in the company of these two men whose lives have been profoundly changed because of the love and talent of a yellow dog. You can see the footage that was shot that day on Friday, May 15th on The Oprah Winfrey Show.
The 24 inmates in the Fishkill Correctional Facility, who are presently training dogs for Puppies Behind Bars, embraced Sergeant Hill and his wife. Frankie's main trainer was Roberto -- when she saw him she leapt into his arms and covered him with kisses -- but the entire community helped to raise her. Frankie obviously knew where she was. In the yard, she amazingly went to each inmate, greeting him with wags and kisses. And then someone threw her a soccer ball and she proceeded to joyously bump and ricochet it off the red brick walls, with the agility of a World Cup player.
Do yourself a great favor. Check your local listings and tune into The Oprah Winfrey Show on Friday, May 15th.