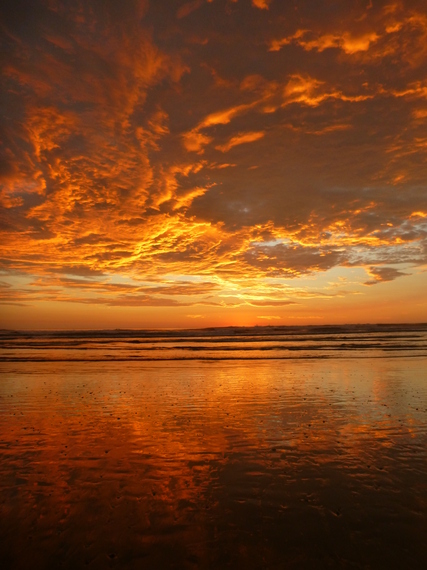 Every time I told someone that my husband and I were packing our bags and moving to Costa Rica with our 15-month-old daughter and 9-year-old Brittany spaniel, I got the same reaction: a blank stare, typically followed by, "wow, that's crazy" a long pause, and finally "You're doing what everyone else wants to do."
No joke, every time. Costa Rica is paradise, so the idea of living there seems easy, but we were doing what most people fear -- change, big change. My husband and I both had great careers at a fortune 100 company. We made good money (not to mention the benefits), and it was scary to walk away from that. Our jobs were like a warm blanket of comfort, and we were hesitant to crawl out from under it. But we realized like so many successful Americans, we were stuck. When we thought about how we wanted to be spending our days, our cushy jobs didn't feel like such a good fit anymore.
In November 2014, we went on a family vacation to Costa Rica and loved it. We have traveled a lot over the years and visited many places we'd love to go back to. Costa Rica was different. We thought, "we could live here"; and just like that, the seed was planted. We returned home and came to grips with our growing discontent of our current lifestyle. My husband's job was dictating a schedule change that meant less family time and more time for our daughter in daycare. The signs were there; it was time to act.
We sat on the couch with a glass of wine and crafted a plan. We created a vision and discussed the risks and benefits. We treated it like a business decision. We documented monthly goals and committed.
In January 2015, my husband took a leave of absence. I resigned from my job altogether, choosing to focus on my Women's Leadership Coaching business. We sold more than $2,000 worth of stuff in our house -- down to unopened bottles of shampoo! We sold our cars and bought our plane tickets. We secured a place to live in Costa Rica and filled the six largest suitcases we could find with what would become our only possessions. Four months later, we boarded a plane to Costa Rica.
Why did we do all this? It's hard to put into words sometimes. For our daughter. To have flexible lives. To surf more. To try something new. There really are a million reasons. It isn't always easy; too many bugs, hot days with no A/C, power outages, water outages, illnesses, migraines, flat tires, and a language barrier were all challenges we have had to face over the last year. But it was worth it, and we will never live a "normal" life again. We have seen how simple it really is to do something extraordinary.
Our time in Costa Rica is coming to an end and I have experienced more memories with my family than I could possibly have imagined. I have watched my daughter grow and begun to mold her into the person she will become. I like to think that person is different -- better -- thanks to our decision to make a change.
If you have been thinking about making a big change in your life, do it. Don't regret not doing it later. Take some time now to reflect on where you are and where you want to go. Set goals and talk to others about them. And when someone looks at you with that blank stare and says "you're crazy," just smile and be thankful you took the leap.