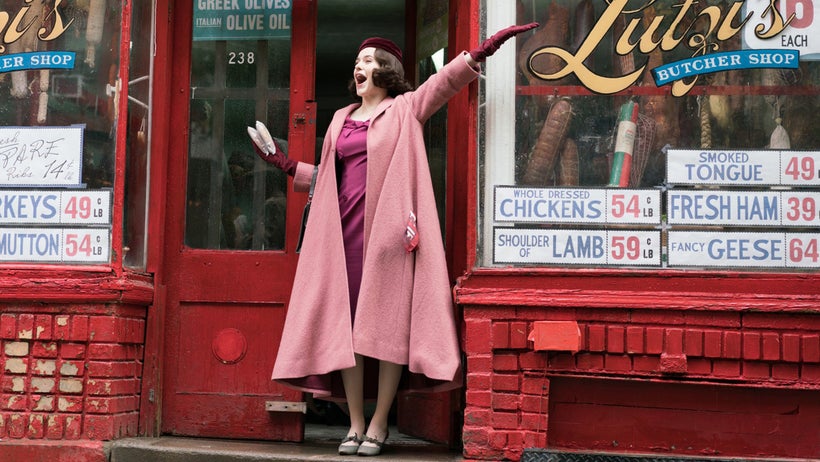 It was the pretty 1950s coat and hat that caught my eye, probably while I was ordering something pedestrian like probiotics or a pair of socks on Amazon, and sucked me irrevocably into The Marvelous Mrs. Maisel. I hit pause and took a deep breath after the pilot's opening sequence, featuring a newly married Mrs. Maisel where she shines—in front of a microphone.
Maisel had me at pink Pyrex. With the show's attention to period detail, pitch-perfect soundtrack, and Woody Allen-esque rhetoric—I'm a huge sucker for Borscht Belt humor—I was hooked, blissfully unaware that the series would go on to win Sunday night's Golden Globe for best musical/comedy series, with its lead, the luminous Rachel Brosnahan, taking best actress.
Not that, a couple months ago, I had exactly plucked this thing out of obscurity—Amazon touted its baby big-time. But I did text a friend and implore her to watch: This is an ORDER.
She did, and later texted, No wonder you like. She is you, and you is she.
I wish. And, then again, I don't.
Why is Miriam Maisel, an Eisenhower-era housewife who sets her sights on being a "comedienne," a heroine for our time—and… not so much?
Miriam is a breath. Of fresh air, that is. It's fun to watch Miriam, or Midge for short, figure out—and use as fodder—all there is to be pissed off about, from punishing undergarments to getting the book thrown at her for using off color-language while female. Think of it as a lighthearted approach to time travel—destination: the land of cuckoo gender inequalities, some subtle, some not. Creator Amy Sherman-Palladino, of course, has the vantage of hindsight. Nonetheless, it's something to listen to Midge's stand-up, where she explores for herself the birth pangs and basics of Feminism 101. On stage, Midge uncovers, among other things, that one shouldn't need to wear trousers to be taken seriously, pursue a career—or have all the fun. It's a refresher course, not just on how far women have come, but on how far we have to go. (I'm talking to you, Spanx.)
She's not overly angry. Midge doesn't have the benefit—and the burden—of looking around to find an outspoken woman on her left, then her right. She's making this thing up as she goes along. She packs poignancy in many of her stand-up observations, wondering through offhand remarks if biology doesn't automatically require women to worship at the altar of motherhood or defer at the dinner table to Papa's choice for presidential candidate. Midge's sparkling sets aside, she can seem pretty thick in her less interesting, actual life. Which brings me to…
… She's not angry enough. Years of being told to just sit there and look lovely take their toll. And so Midge's comedy is in the vein of: It has to come out somehow. One can hope that in season two, she'll learn to live as bravely as she jokes. Until then, we witness Midge measuring her thighs as if the Upper West Side depends on her staying trim. And we cringe when we see Midge regressing from strong, single woman with a dream—and on the brink of potential stardom—to rolling in the hay with philandering husband Joel, in her childhood bed, no less.
Duh—she's wickedly funny. Midge's manic, sharp-witted stream-of-consciousness plus a microphone—any microphone—equals magic. Even when she bombs, she draws in the audience—at the Gaslight as well as streaming—with her conversational style and quirky mix of edginess and compassion. To boot, she proves it's not just boys who have a flair for locker room talk.
She's kind, if a bit thoughtless at times. In an overflow of good cheer, she chats it up with the deli owner and the doorman. She listens with empathy to the romantic woes of her make-up counter co-workers. She puts up with her "wants everything to seem perfect" mother and just plain nutso mother-in-law. But most of all, we want Miriam to be good to her manager, Susie, the gal we're really rooting for—Alex Borstein's portrayal of the misfit character's combo of tough and vulnerable is priceless, and scenes between Brosnahan and Borstein are chemistry Au.
She is never, as she says, more than three feet from a tube of lipstick. Call me retro, but this is a quality I'm going to go ahead and say I admire on several levels, one of them being neither nude lipstick nor clear gloss do much for anyone. (Case in point, Brosnahan's washed-out, severe look at the Golden Globes.) And, in a world where athleisure wear is airplane-okay, Mrs. Maisel reminds us that marching down Fifth Avenue looking marvelous isn't a bad way to feel like you can conquer the world. Male or female or anywhere in between, there's something to the psychology of dressing up and having a day. Now that's a movement I can get fully behind.
REAL LIFE. REAL NEWS. REAL VOICES.
Help us tell more of the stories that matter from voices that too often remain unheard.
This post was published on the now-closed HuffPost Contributor platform. Contributors control their own work and posted freely to our site. If you need to flag this entry as abusive,
send us an email
.