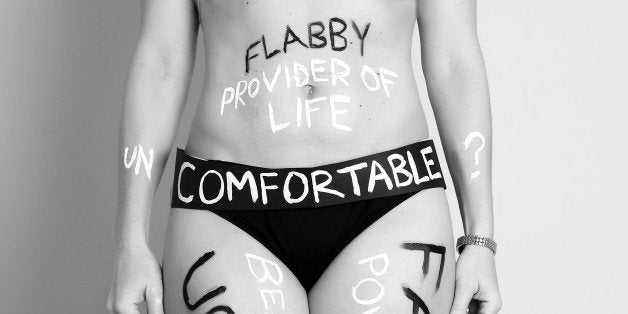 I heard a really amazing quote the other night while watching SuperSoul Sessions on OWN that struck me. Paraphrased "if you are looking for your story and can't find it, you might have to write it yourself."
I realized [currently] don't see my story-anywhere. I am a curvy woman-overweight by industry (and BMI) standards-with a lot extra on my hips, thighs and butt.
The funny thing is I have no interest in conforming with what society says I should look like.
I absolutely want to work on my body, make it stronger, lose some pounds, but at the very same time I'm okay with my body. It's a thin line between wanting to be a bit thinner and staying exactly where I am today. At the end of the day I love my body-yet it's a struggle to stay in love and body positive when all I see in the blogosphere is perfect bodies, meal plans and "I did it" stories.
My mom had her annual New Year's Day dinner and my aunties couldn't stop talking about how amazing my booty was. Legit. I'm not kidding. This was a very serious discussion. I may have flipped my twists and nonchalantly replied "thanks" or "I do a lot of squats" or "I plan to insure it like Jlo did". I was loving every minute.
I don't fit anyone's stereotype. I am not the next fitness star. I have no interest in becoming a thin girl. My end goals are not to be in a bikini. My end goals are just healthy. My doctor tells me I'm in perfect health every single visit-so why should I let a magazine tell me how to feel?
Yet I LOVE working out, it feels like breathing to me. I love heavy weights and race distances that seem pretty much impossible. My whole reason for this blog is to get people even just a little excited about working out. As an African American female, there aren't a lot of "us" in the fitness blogosphere and I can count on one hand those that look like me. Yet, when I look into my community the women all look exactly like me. So why can't we learn to love our bodies while making improvements?
This post is for the woman who can't stand to look at herself in the mirror. It's about the woman that is too afraid to step inside a gym. It's for every woman that has been called fat. For every woman who has felt inferior next to a thinner counterpart.
In 2016 we will celebrate EVERY body. Perfect or not.