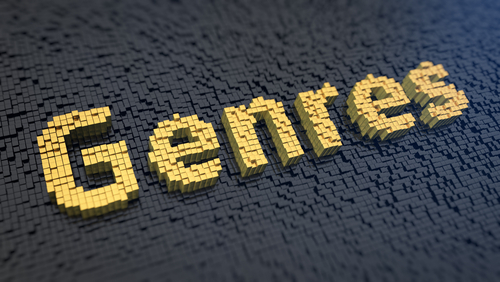 As the author of over fifty works of fiction, people have asked me why I don't concentrate my work and pursue a single genre. They point out that genre writers, especially those who specialize in serial genres, reap the greatest commercial rewards. They have a point and the evidence is clear.
I have never been singularly focused on writing traditional genre novels and by that I mean adhering to the formulas that underline their production. I cite here stories that are told primarily within specific subject matter and for specific age groups. In that category are science fiction, horror, fantasy, zombies, young adult, erotica, historical fiction (by specific periods and conflicts), and on ad infinitum. This is by no means a put down of all those extraordinary writers who work solely in those creative vineyards.
Each of these has different rules and boundaries, but they are essentially dubbed by the publishing industry as genres. Publishers categorize certain descriptive material like suspense, for example, as a "genre." But the very term "suspense" can be construed as a definition of all well-told stories. Without suspense, there is no motivating force in any story. It is not a category by itself. What happens next is the reason all people turn pages or watch movies/TV shows without turning away.

With the exception of my Fiona Fitzgerald series, which on the surface does slip into the category of the mystery genre, I strive to avoid writing to genre rules of the road. My agenda was and continues to be only to use the format as an opening wedge to hone in on the inner world of our nation's capital. When I wrote the first book, American Quartet, I had never tackled the mystery genre before. My agent at the time persuaded me to take the plunge and, since I lived in the Washington metropolitan area, I decided to use the police department that covered the nation's capital as my venue. In casting around for a knowledgeable female who could give me some insight into the inner workings of the department and her own psyche I was lucky to find an experienced homicide detective, Judy Roberts, who led me deep into the entrails of the mindset and procedure of police work as seen through a female perspective.

Fiona is different. I have fallen in love with her. She has become my eyes, ears and throbbing brain that assess the characters I have observed in our nation's capital where I have spent more than half of my working life. To me, she is the voice of truth about our capital's hardcore power junkies, sinister manipulators, three-faced politicians, uncaring and inefficient bureaucrats, discouraged idealists and hardcore believers in the goodness of man. The Fiona series allows me to dig deeper into the complexities of this ménage.

In some genre formulas like romance fiction, the plot, however formulated by period, occupation, age, country, occupation, environment and other considerations must always end in parity between the characters, especially in heterosexual romances. The same is true in the mystery genre where every denouement in all the various forms of mystery fiction must end in revelation whether in a single book or series where either the main character or supporting characters must interact to find the perpetrator. In that category I have expressed myself in terms of the Fiona series.

Of course, my definitions are not precise, and there is lots of room for conflicting views. Nevertheless a vast number of readers have been acclimated to accept the premises of specific genre formulas and can be disappointed if the rules are not followed to the letter.

The fact is I do not believe I am suited or have the capacity to apply myself to any of the aforementioned categories. Although my mind is always buzzing with story ideas, the obsession does not extend itself to anything but reality-based stories that don't seem to fall into any one traditional genre category. I am often amazed at the breadth of imagination employed by writers who can turn out stories in so many of these categories.
As for the readers I know, I have one friend, a highly educated and enormously successful high-tech executive addicted to novels about zombies. I can understand a science fiction fan but I am truly baffled by, for example, an assertion by the late lamented Anwar Sadat of Egypt who was cited in a newspaper clipping saying that he is a self admitted junkie of romance fiction. Go figure.
I have other friends and acquaintances, some with acknowledged super achievement in science and the arts, who proudly admit to spending their precious leisure time pouring over graphic novels and some who confine their reading choices only to horror stories and novels depicting dystopian themes and super heroes as well as a smorgasbord of fantasy genre offerings.

Believe me, I am hardly a snob about such obsessive reading choices. The stories of Sherlock Holmes were and still are my choice of sickbed reading and my mystery reading habit goes through periods of great excess.

As a boy, I admit my own addiction to such series as Bomba the Jungle Boy, The Boy Allies, The Hardy Boys and many other series produced by writing factories that churned out these books en masse for its young readership. They truly enhanced my love for reading and probably helped plant my obsession for writing that led to a lifetime career that continues to occupy and enthrall me on the cusp of my dotage.

But as an obsessive, full-time, seven-days-a-week writer, I have shied away from the conventions and restrictions of any genre. I have talked to other writers of equal obsession who are totally immersed in formulaic genre and have made a spectacular living out of the practice. I congratulate them for their discipline, persistence and focus. It's just not, as they say, my cup of tea.

Perhaps I am conditioned by the influences of the great English, Russian and European novelists and certain twentieth century American writers, which motivates me to find ways around genre restrictions. To do so is definitely a handicap commercially, but it is hard to beat in creative satisfaction.

Note I have avoided loftier explanations of why I write, why I must write, and what motivates me to penetrate, through storytelling, the complexities of the human condition. After all, I am only one half of the equation. The other half constitutes the reader and their engagement in my work.
Warren Adler is the acclaimed author of The War of the Roses, a masterpiece of macabre divorce adapted into the BAFTA and Golden Globe-nominated hit film starring Danny DeVito, Michael Douglas and Kathleen Turner. Adler has also optioned and sold film rights for a number of his works, including Random Hearts and Private Lies. Adler's works have been translated into more than 25 languages, including his staged version of The War of the Roses, which has opened to spectacular reviews worldwide. Adler has taught creative writing seminars at New York University and has lectured on creative writing, film and television adaptation, and electronic publishing. He currently has a number of film/TV adaptations in various stages of development with Grey Eagle Films including The Children of the Roses. His novels are now available as audiobooks through Audible.
Popular in the Community