"If you ask women about their clothes, they tell you about their lives" -- Delia Ephron
Should I or shouldn't I -- a friend would lend the black BCBG, hanging on my closet door lifelessly as the safe, backup option. She implored: don't wear the wedding dress.
But I followed my gut. The indescribable feeling was what led me to love and to heartbreak, and... the broken engagement.
I had said yes to the proposal and yes to the dress I bought on a whim and still admired for its creamy, textured floral pattern. It was me, without alterations.
Getting ready last minute for a Friday night gala, I wasn't sure what to wear, when a girlfriend walked into my studio/closet. She was wearing a white silky number. It was a sign.
"So why not?" I exclaimed inside with some nervous trepidation following me into the venue. "Is that a wedding dress?" a girl asked curiously. "Did you just get married?" some buzzed guy joked. An older gentleman remarked I looked fantastic. A fabulous woman said the dress was pretty.
Of course, there were some stares. Some so plainly obvious, following you up and down the stairs at the venue. Admiration from afar could be flattering; staring could be rendered rude.
A few weeks ago, another friend advised to sell the dress and spend the cash on something else. I wasn't ready to do that. The dress was pretty and mine and the opportunity arose -- I would wear the heck out of it for a few hours.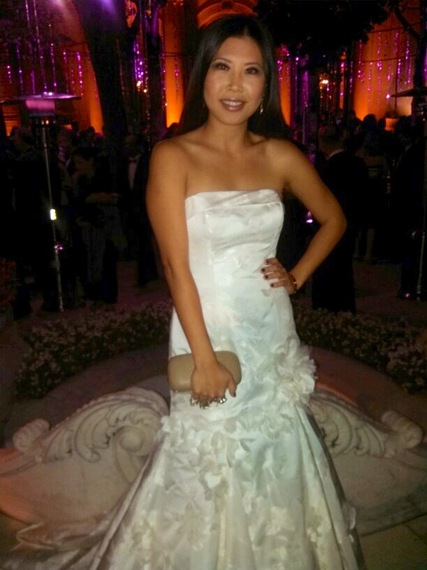 I tried not to care about the whispers and instead gave compliments to the others daringly dressed in the crowd. I headed to my imaginative state of a little flower girl, thinking this could be my wedding reception and they could be all the guests. Let the champagne flow! I would have cake, mousse and macarons -- eat them all, too.
I was supposed to get married this month. Well, that had been in an early save-the-date plan, anyways.
"I don't care; I love it!" blared the speaker system.
"I don't care!" the women on the dance floor echoed to the anthem by Icona Pop. Then Lana del Ray's "Summertime Sadness" slowed everything down and I was reminded it might be time to call it a ball.
By midnight, I returned home and unzipped.
Who knows if I showered myself with some sort of bad luck -- I had borrowed my friend's shoes, donned the dress and alas, had midnight blue nails by coincidence. My lips curled upwards as I flipped through pictures on the iPhone.
I keep pinning wish-lists on my "wedding" board. I still believe in everlasting love. Someday.
The question is for those who have walked down the aisle before me: *now what do I do with the dress?!
Maybe I'll keep it as a keepsake, show my future daughter one day that mommy was brave and beautiful to wear a white dress on her own and it made her very happy.