I'd like to introduce you to Daniel Cords. I don't know Daniel, but we had an email exchange recently that made me want to know him and, more, made me want to tell others about him. Daniel Cords loves to sing, loves music, loves men and loves his gay brothers in the Seattle Men's Chorus. He also attempted suicide in 2006.
Daniel came out to his parents when he was 14. Blindsided, they set out to fix him and enrolled him in a course of religious-based reparative therapy treatment. When that didn't work they kicked him out of the house when he was 17 and still a senior in high school. He didn't graduate with his class. He fought depression. And one day, despite Daniel's love of music and the support of the loving environment of the Seattle Men's Chorus, Daniel took an entire bottle of Ambien.
It turns out he was one of the lucky ones, however. He wound up in intensive care and, after his release from the hospital, saw that he had been given a second chance at life. He grabbed it. But, rather than me paraphrasing, I'm reprinting the email chat we had -- with his permission, edited for length -- that answers the question I was asked to answer here: Andrew, why did you write I Am Harvey Milk?
Andrew,

I had the fortunate opportunity to sing Harvey's solo with the Seattle Men's Chorus in Seattle, in Germany, and finally, in Cleveland for the Gay Games. I have performed in and around Seattle for several years and have been a featured soloist in the Seattle Men's Chorus for many of my past nine years with the chorus. Harvey however, was and will probably be, my absolute favorite role.

Words do little justice to express the impact this role has on my life, but what I can say now is that this production has reached and touched every audience we brought it to.

My two favorite moments in this performance were in Berlin and Cleveland. As we finished the final 'come out' we raised our fists in defiance. There were about 8,000 in attendance and many of them raised their fists with us. I have goose bumps just remembering this.

The gay games, which hosted thousands of athletes from all over the world, was especially powerful. It wasn't the standing ovation, rather the sheer fact that an entire city came together to host the LGBTQIA community. It shows what we can do when we 'come out.' But in the spirit of Harvey, this song is relevant because Ohio does not yet have marriage equality and still maintains conversion therapy for minors. It touched us all.

Thank you again, Andrew. Thank you from the bottom of my heart.

With great respect and love,
Daniel Cords
Dear Daniel,

I'm very moved by your email. I've told the story of this piece's genesis several times, and you may have heard it, so forgive me if it's repetitive. Briefly, Tim Seelig emailed me from The San Francisco Gay Men's Chorus, asked me to write a five-minute piece, and I answered immediately 'I don't want to write a five-minute piece, I want to write a 60-minute piece.' I didn't quite know why at the time but I know more now.

I wrote it for you. I wrote it for anyone who has ever had to hide or keep secret their true nature. I wrote it for me so that I might get a step closer to understanding my own gay life, my own gay wounds, my own gay joys. I wrote it for that 21-year-old woman who, after a performance in San Francisco, went outside the auditorium, took out her phone, and made 'that call' to her parents.

I wrote it so that we -- all our gay brethren -- can have something to celebrate, to sing about, to revel in.

In this Age of Google I hope you'll forgive me seeking a bit more information about you online. I read the story about your experience with your parents, the scholarship money, your suicide attempt, your recent college degree, your partner. It was quite an article. How much joy it gave me knowing that you now can, with all your broken pieces being put back together the way YOU want them to be, sing at the top of your golden lungs, give voice to some of the feelings you've surely felt, face 'them' and declare 'I'm tired of the life I used to lead.' What a triumph it must have been for you and your loved ones. What a joy it is for me to share in it.

I send you, with all the love I can, my very best for your growth and success in life. I am so grateful you wrote to me.

Love,
Andrew Lippa
Andrew,

I am glad you Googled me and found my story. A part of the story not shared: When I was kicked out of my parents' home, I left high school -- I was a high school dropout. I lived that life of shame, self-doubt, and intense guilt. It was the role models I found in the Seattle Men's Chorus who told me to befriend myself, teaching me that I am worthy of life and that our collective stories can change the world. Their overwhelming support helped me return to school, graduate high school, and this March I will receive my Master's in Adult Education with a concentration in Organizational Behavior. I now work as an activist for nontraditional students (primarily adult learners), and of course, sex and gender diversities (primarily with the pending ban on conversion therapy in Washington State).

I am so happy I could share my story with you as it provides a great sense of completeness and closure to this incredible production.

On a side note, I am incredibly excited to hear Kristin Chenoweth sing with you in October at Lincoln Center! The musical theatre fan within is going absolutely crazy.

Thank you,
Danny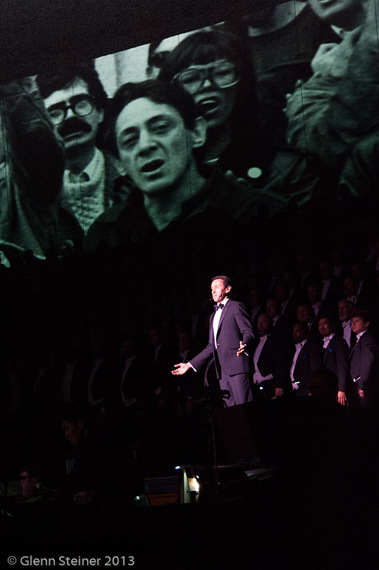 Andrew Lippa as Harvey Milk in I Am Harvey Milk