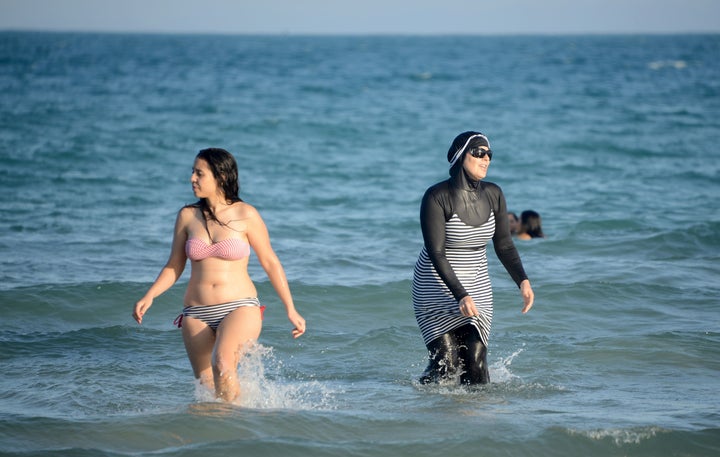 The mind-boggling French burkini ban got me thinking: If I had to choose a burkini or a bikini, which would it be?
I don't like bikinis. It's not that I am ashamed of or insecure about my body. For some reason, I evaded that particular scourge of Western womanhood. I never understood why I should pay a small fortune for triangular scraps of fabric, connected by straps if not string, to cover my breasts and buttocks. That these strings could easily be yanked or untied by another gave me pause. How could I fully relax at a beach knowing that a prankster or even a wave, coming at a certain angle or a certain speed, could expose me?
Speaking of exposure, what about the sun? When I was a teenager, while my peers slathered on baby oil, Coppertone and Hawaiian Tropic, my concerned Jewish mother lathered my consciousness with the dread of carcinoma. As my friends worked on their tans, making sure both sides were evenly baked, I worked on not feeling the burn. Often, I wore a T-shirt over my bathing suit when lying at the beach. Did I look cool? Heck no. Was I comfortable? Yes.
"If a bikini doesn't offend the wearer herself, then it shouldn't offend, let alone threaten, anyone. Ditto for the burkini."
In a culture where wearing tiny triangles connected by string is considered by many to be a symbol of freedom or sexual liberation, to don a bathing garment that covers more than a few square inches can invite the label of "prude" or "uptight" or even the well-meaning comment I've heard many times:
"You'd look great in a bikini, so why don't you wear one?"
The subtext in America is this: Strapping on the aforementioned triangles is a prize or privilege reserved for the young, slender and/or firm of flesh, and who in their right mind wouldn't want to enjoy that privilege for as long as possible?
Not everyone prizes strutting their stuff in public, even if they have stuff to strut. Not everyone goes to a beach, pool or lake to see and be seen. It is not every woman's ambition to "rock a bikini," yet it is certainly every woman's right to wear what she wants. Which is why, when I visited Rio de Janeiro years ago on business, I was delighted to see women of all ages, shapes and sizes wearing "fio dental," the thong so skimpy it's named after dental floss.
That the culture seemed to celebrate the female body, no matter how saggy, wrinkled or laden with cellulose, came as a relief. At a minimum, Brazilians were not wasting time in useless debates over who "should" or "should not" wear a bikini, or whether it's "offensive" for certain women to wear them. If a bikini doesn't offend the wearer herself, then it shouldn't offend, let alone threaten, anyone.
"It is not every woman's ambition to "rock a bikini," yet it is certainly every woman's right to wear what she wants."
For those who instinctively equate itsy-bitsy-teeny-weeny bikinis with freedom, the burkini might seem oppressive at first glance simply because of the yardage of fabric. But a burkini, along with other forms of modest dress, can offer the wearer the spiritual and personal freedom to enjoy her own company without being stared at, evaluated or engaged in unwanted conversation. As an introvert, I can identify with wanting to protect my inner life and to share myself with those who are attracted first and foremost to my energy and personality rather than my cleavage.
While I did not grow up in a religious household, I did absorb Jewish teachings about modesty. Contrary to what many might think, these teachings are not prescriptions about hem and sleeve length; they're about transforming the outer layers of oneself into an expression of what is inside, so that the superficial doesn't eclipse who we really are. Anyone can strive to live according to such principles, regardless of religion or observance.
As a result, over the years I've come to embrace a middle ground represented by the two piece tankini. As an open water and distance swimmer, I like that tankinis are designed for the ease of my movement rather than to be easily removed. I can enjoy feeling the wind and water on my midriff while still having enough fabric to protect hard to reach places from the sun. On scorching days, however, I'll wear a long sleeve rash guard to keep those rays away. When the water is cold I'll wriggle into a wet suit, a contraption that makes a burkini seem like a cozy bathrobe.
In reality, I don't have to choose between a bikini and a burkini. But if I had to, I'd pick the privacy and protection offered by the burkini, no question. Some even come in cute colors, too.
Before You Go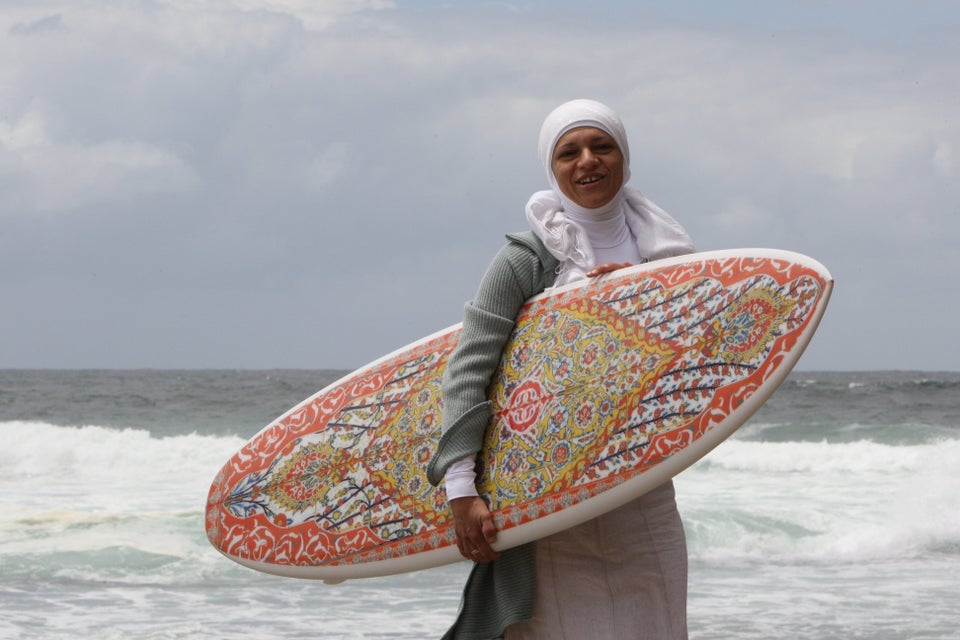 Burkini Styles Are Varied And Awesome