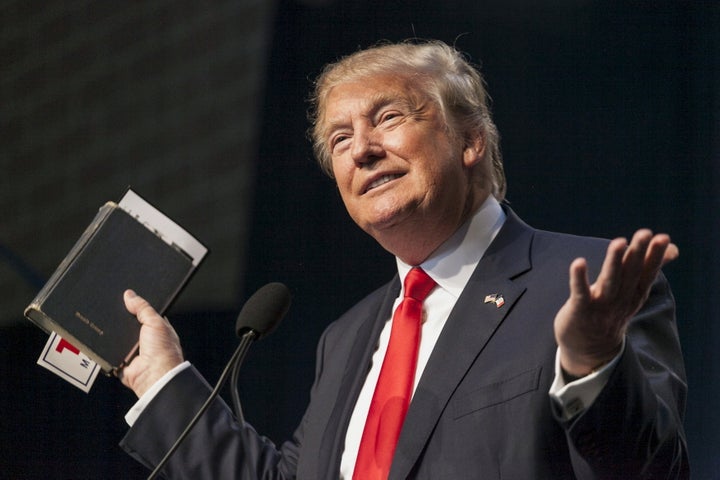 "When you're a star, they let you do it. You can do anything."
And while Donald Trump said this of women, it's been more true of his relationship with the Religious Right.
In short, Donald Trump has treated the bride of Christ just like the other married women in that disgusting audio recording. Yet unlike more honorable brides, some evangelical leaders have done nothing to resist his self-serving advances.
This, indeed, is a profound mystery. But I am talking about Trump and the church.
To be honest, I thought I'd written my last post on this subject.
Then came the audio of Trump bragging about his sexual assaults. And yes, that is the proper word for it. (You just "grab them by the p—y; you can do anything!")
So here we are. Once more unto the breach.
In past posts (for newcomers):
This post, however, is about a different topic.
The Religious Liberty Argument
As many of my Christian friends more-or-less concede, Donald Trump is a lecherous braggart with no serious proposals, the temperament of a toddler, and a penchant for racism and misogyny.
But… they say… we still must vote for him, because if we don't, we'll lose our religious liberties. And that "trumps" everything.
I respect people who say this.
And indeed, one of the things I like about academics is that we often disagree (even in print), not because we dislike one another, but because critique brings clarity, and that helps us all.
In fact, amongst esteemed professors, the way you honor someone is to gather their friends from around the globe, and publically critique their work. And while that may seem strange, there is something beautiful about it too, because it says that even severe disagreement need not sever friendship.
The Grain Of Truth
As best I can tell, the logic of the "religious liberty" argument runs as follows:
Christianity is under attack. And if we don't elect this admittedly horrible person, we will face further marginalization in the future.
(Note: I toned down the prior sentence in the editing process. Originally, it read: "orange-tinted sexual predator," but I will not say that. Many others are saying it. I will not.)
And to be honest, there are bits of the religious liberty narrative to which I'm somewhat sympathetic.
It concerns me that our culture has confused "tolerance" with "agreement" (see here). And there are areas in which liberty has been eroded.
The problem, however, is not just that the threat is sometimes exaggerated.
The deeper issue is the assumption that Christians should publicly join themselves with truly horrible individuals (and ideas) in exchange for promised "favors."
That's not prophetic witness. It's closer to prostitution.
The Evangelical Future
And my fear, which is rapidly materializing, is that American evangelicalism will suffer permanent damage for its shameful part in Trump's doomed and degenerate campaign.
We will increasingly be seen as a "White's only" movement – and if you don't believe that, just ask my black and Latino students.

We will increasingly be known as a misogynistic movement, which has been a concern already, given the way certain evangelicals have tried to keep women from serving in leadership roles.

And we will increasingly be an "over sixty" movement, because one needs only to look at the stats to see that my own generation has little stomach for Trump, or for those who try to force us into supporting him in the name of Jesus.
That is not the extent of the kingdom of God.
But it is in danger of becoming the reality of "American evangelicalism."
My Personal Opinion
So what's my personal answer to the religious liberty argument?
As a Christian, and a father of two girls, I would rather lose every shred of my religious freedom than align myself with this truly vile human being.
In fact, I would rather have Christianity assailed from without (by liberalism) than corrupted from within.
As history shows, we can survive being marginalized. We can even survive persecution (though the "p-word" is sometimes overused by the Religious Right).
But we cannot so easily survive brazen complicity with the worst elements of human behavior. Nor do we deserve to.
So, yes, I still care deeply about abortion, the Supreme Court, religious liberty and everything else.
But as Christ's bride, I will not be treated like that married woman whom Trump took "furniture shopping" in an effort to buy her body.
"I did try and f— her. She was married. And I moved on her very heavily."
Because some things are more important than "furniture."
And some things are more important than political favors.
That's my opinion, and I'm sticking to it.
REAL LIFE. REAL NEWS. REAL VOICES.
Help us tell more of the stories that matter from voices that too often remain unheard.
BEFORE YOU GO
PHOTO GALLERY
Evolution Of Trump's Muslim Ban