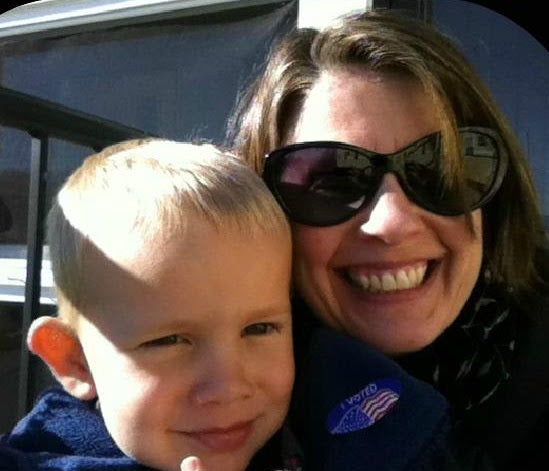 My sons and I have a big date tomorrow morning. We're going to get up bright and early, hit the polls when they open at 7:00, and vote. They will walk away with "I voted" stickers, and I will walk away with great pride (and great anxiety).
Hopefully, the breakfast outing that follows will give me enough fuel ― and caffeine ― to get through the day. It's going to be a nail-biter.
My boys are no strangers to the polls. Now 7 and 4, I've brought them with me many a time. One year I even held my squirmy 30-pound toddler in one arm while voting with the other, which was no small feat.
It's important to me that they know what it means to vote. How to vote. Where to vote. Why we vote. The fact that there was a time not everyone in this country was even legally allowed to vote.
I want them to stand in line waiting our turn, like everyone else. Watching friendly neighborhood faces making small talk, political candidates seeking a handshake and last-minute votes, community members gathering signatures for a new referendum in the next election.
I care that they see the inside of our local polling place (a Catholic church), what a ballot looks like, that they feed the ballot into the machine, and are with me when I proudly state my name to be checked off.
They may even experience the boredom and impatience of waiting in line, the frustration at trying to remain still and quiet while their mom votes, perhaps even hunger or a full bladder.
It's all part of the experience.
I have voted in every major (and most minor) election since I turned 18. It means everything to me ― always has.
I believe my vote matters. Actually, I KNOW it does. No level of disenchantment with our system will change that.
I'm sure my sons are well aware that I am a bleeding heart liberal ― an idealist, a pacifist, a humanist, an agnostic, a gun-hater, a lover-of-all-people, a woman who believes in equal rights for all. I may not have talked a lot about the candidates and which one I support, but they sure know what matters to me in this world.
What I hope they take away is the fact that they have a voice. They have a right that is not known by all – or even many – in this world. They have a say in what happens.
My wish is that once my sons turn 18 and their first voting-age election approaches, they look forward with great anticipation to casting their vote. I want them to register as soon as they're able, to march into their polling place with pride and hope, and to know that they are joining the ranks of other adults who appreciate what it means to be an American citizen.
That is my wish as a mom, and this is why they will be with me tomorrow.