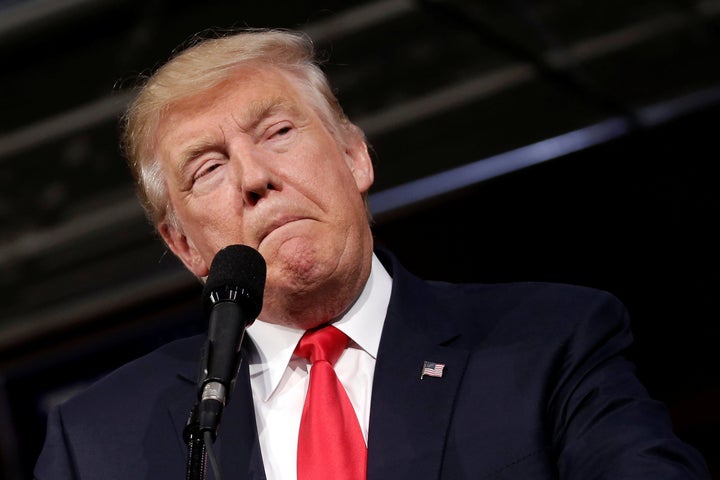 My first job out of college was with Mitt Romney's 2012 presidential campaign. He was the kind of candidate staffers dream of. Kind. Passionate. Hardworking. Honest. Decent. He is what you would, for lack of a better term, call a good man. And though I worked for his opponent, I felt the same about Barack Obama.
When Mitt Romney lost the election the night of November 6, I shed a few tears for the hard work that hadn't paid off. Then I dried my eyes, packed up my office, and moved on with my life. Sure, there were many things I didn't agree with when it came to President Obama's campaign and his personal political beliefs, but I never felt scared. I never once — not even for a second — feared for myself, my family, my friends, or my country. Such a thought was foreign to me.
That is, until Donald Trump was announced as the Republican nominee for president of the United States of America.
While I no longer work in politics, I consider myself politically savvy. In the know, if you will. As I watched throughout the past year, as Mr. Trump came closer and closer to clinching the nomination, I felt a pit in my stomach. While those around me lived in a blissful state of denial, repeatedly stating that there was "no way" he would ever become our party's candidate, something in my gut told me otherwise.
I am ashamed of my party for allowing this to happen. ... It is a mortifying time to be a Republican. And that is why I'm out.
Having worked in Republican politics, I've seen the good, the bad, and the ugly. There are extremists on both sides, that I know. Personally, I've only been privy to those on the right side of the aisle. While the majority of Republicans I know are good people — ones who believe in the Party of Lincoln and all that it represents — there are also, well, nuts. There are sexists. There are bigots. There are racists. I know this because I've met them.
And that is why — when Donald Trump began gaining momentum — I knew he would ultimately be the nominee. He panders to a very small, very specific crowd of Americans: Americans who hate women or members of the LGBTQ community or racial minorities. Americans who might just hate all three. Certainly there are many Donald Trump supporters out there who don't fall into this narrative, but there are too many who do.
For so long, it has been a shameful thing to admit that you are a young, female Republican. My friends who are Democrats couldn't wrap their minds around how I could associate with a party that "hates women." But I never saw it like that. I believed my party represented most — though certainly not all — of my ideals. A free market economy. Lower taxes. Less government oversight. A strong national defense. My party's stance on abortion and LGBTQ issues (among many others) admittedly bothered me, but I felt confident that the Supreme Court rulings of Roe v. Wade and Obergefell v. Hodges would always be upheld. My personal liberties never, to me, felt threatened. And so I stayed with the Republican party. I defended it. I tried to counter the extremists. I worked and volunteered for candidates. I made phone calls and knocked on doors and donated money and did all of the things you do when you believe in something greater than yourself. And that is something I truly believed: I believed that the Republican party was great.
When it was announced that Donald Trump was officially the nominee, I made the decision then and there to vote for Hillary Clinton. To me it wasn't even a choice. I could either vote for someone who was qualified or I could vote for someone who is not even fit to lead a bar crawl.
I am ashamed of my party for allowing this to happen. Ashamed of Reince Priebus for not taking the threat of a Donald Trump presidency seriously. Ashamed of Victory efforts to meticulously prey on uneducated voters. Ashamed of Donald Trump staffers who made the decision to go after the worst the Republican party had to offer — the sexists and the bigots and the racists — and proudly display their pure, unadulterated hatred.
I can no longer defend a party that pushes such vitriolic, vile, disgusting hatred and inequality.
It is a mortifying time to be a Republican. And that is why I'm out. I can no longer defend a party that pushes such vitriolic, vile, disgusting hatred and inequality. I can no longer defend a party that thinks sexual assault is "locker room banter." I can no longer defend a party that tells young women the only thing they have to offer in this world is their looks. It is 2016 and we should be better than that.
Unlike the election just four years ago, I do fear what will happen to our country if one candidate wins. I fear that hate speech will consume us. That women, members of the LGBTQ community, and racial minorities will be at the mercy of a man who lacks compassion. I fear that we will lose the respect of our allies, chastise world leaders, and eagerly and aggressively insert ourselves into international conflicts. I fear that we will lose what is good about this country. And there truly, really is so much good.
Donald Trump does not want to make America great again, he wants to ruin it. And we cannot let him.
REAL LIFE. REAL NEWS. REAL VOICES.
Help us tell more of the stories that matter from voices that too often remain unheard.
BEFORE YOU GO
PHOTO GALLERY
Republicans Who Have Withdrawn Their Support For Donald Trump