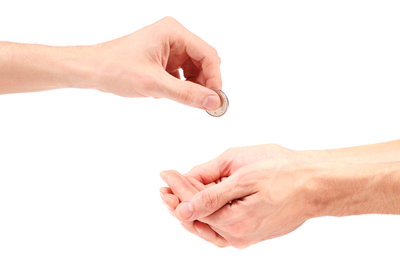 The number one cause of bankruptcy in the U.S is medical debt. It's a dismal statistic that many of us have heard before. There are many reasons for this: the high cost of medical bills, the lack of transparency with how hospitals charge (like a surprise bill for an assistant surgeon that the patient didn't even know would be in the O.R.), and the high cost of medication. It's frustrating and disheartening. The obstacles along the road to changing our broken healthcare system are many, but today I want to focus on something we can do right now, because, as it turns out, we are not entirely helpless.
The growing trend of crowdfunding healthcare expenses has begun providing much needed relief for people with unexpected and mounting medical bills. Put simply, crowdfunding is the act of soliciting donations from many people (the "crowd") to raise money for an end goal. It's been used for everything from funding creative projects, new inventions and startup businesses to helping people mitigate personal loss from illness, disaster and hardship.
There are many crowdfunding websites available for personal fundraisers--at the top of the list are GiveForward (my personal favorite), YouCaring and GoFundMe. All of these sites have helped people collectively raise millions of dollars to cover medical-related expenses. These sites give people the opportunity to share their stories and ask for help, but they also provide an easy way for friends, family, and community to contribute, even if it's just a little bit.
Everyone gives for a different reason. For me, it's all about paying it forward. If my network of family and friends hadn't come together in the first six months after my daughter was diagnosed with cancer, we would likely have lost our house. Our out of pocket medical expenses amounted to thousands of dollars because we had a very high deductible insurance plan. Both my husband and I are self-employed and couldn't work much in those early days of our daughter's diagnosis. She was either in the hospital or needed round-the-clock care when she was home.
We raised money online and local fundraising events also helped alleviate our staggering expenses.
I will never forget how my family, friends, and extended community reached out to us and pulled us from the brink of financial disaster. The experience taught me a lot about what it means to truly accept a gift (many gifts). It was humbling. But it also taught me a lot about giving. By receiving so much support, I became hyper sensitive to people who needed help. That's when I started giving to medical fundraisers mostly for families struggling with childhood cancer, but not always. There was the friend of a friend who was diagnosed with ALS, the local family whose house burned down around the holidays, and the old work colleague who was in a horrific car accident.
I gave, I shared and, in one case, I sent a care package. It felt so small, really, but I stopped worrying about the size of the gift after a while. Giving a little and sharing a lot--that has become my approach to contributing to personal fundraisers.
Giving fills a kind of void within me. I know it's not solving the bigger problem--the lack of a safety net, the rising costs of medical care, the lack of resources for those who can't work due to medical hardship (and on and on). But it feels like something.
Something is better than nothing, you know?
When I donate to people who have experienced a hardship, I feel that in my own small way I'm bolstering them up and helping to fortify them against the long hard road ahead. There is a special place in my heart for families dealing with childhood cancer, and this is where I give the most, contributing to one or two fundraisers a month (on average). I always share the fundraiser on Facebook in hopes that I can generate a few more small donations.
I've also been known to use my email auto responder as a way to highlight a fundraiser. That out of office message is the perfect opportunity drive some awareness about someone's story and link to their fundraising page.
I know there are pitfalls with online fundraisers--stories about fraud and deceit abound--but I'm willing to lose $10 on one false cause if it means giving $100 to ten worthy ones.
There are so many stories of personal need out there, so very many. If you stepped away and looked at these stories as a whole, you would see a web of humanity that is all of us, reaching in and reaching out, needing help and giving it. Disaster can strike anyone of us at anytime, but there is strength in numbers. If we all get into the habit of giving a little bit on a consistent basis, then we will have created our own safety net.
We are at the very beginning of something big, I think. But it's also fragile and rife with pitfalls. For now, I'm content to donate to as many fundraisers as I can, ten dollars at a time, and continue to breathe a sigh of relief when I hear that someone else has been pulled from the brink of disaster by three hundred helping hands.
Calling all HuffPost superfans!
Sign up for membership to become a founding member and help shape HuffPost's next chapter