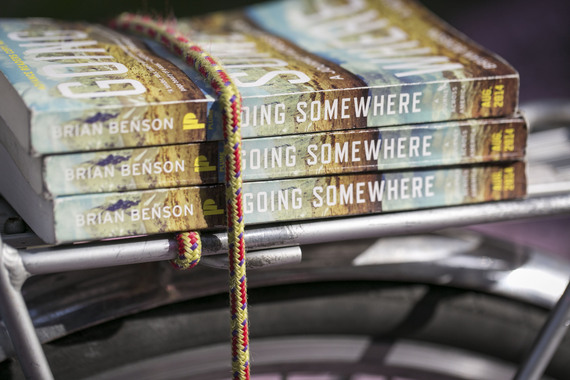 I'm one of those people who still goes to author readings. Lots of them. I don't have to try too hard: here in book-crazy Portland, literary events are happening always, everywhere. Just this month, I've drooled over a big-name superstar at Powell's, caught a dozen local favorites at a literary bar crawl and watched a brilliant, unpublished poet read from the engine room of a rusty old steamship.
Like I said: lots of readings.

Afterward, I'll buy a book. Sometimes I'll even get it signed. But mostly, I'm just there because I want to hear a writer speak from, and about, their work. I want to know more about this person with whom I've spent (or plan to spend) countless quiet hours. And most of all, I want to know that they know how totally bonkers it is that I, a perfect stranger, have chosen to spend said hours thinking about them and their story. My very favorite readings, on that note, are those where the author projects joy, wit, clarity and gratitude.
And that, more than anything, is why I'll be celebrating the publication of Going Somewhere -- my debut book about a cross-country bicycle trip and a search for direction -- by riding my bike from reading to reading: I want to be joyful, witty, clear. I want to be grateful. And over the years, I've found that I'm at my most grateful while bike touring.
It's kind of hard to explain, really. Because riding a loaded bicycle for hundreds of miles through heat and headwind and dump truck exhaust is... well, it's hard. And though I can't say I enjoy every moment out on the road -- I do get awful cranky during those slogs up seemingly endless hills, or while suffering the after-effects of eating a bag of candy corn for breakfast (not recommended) -- I do appreciate how the long days of riding make me feel, overall.
The endorphins drown my anxiety. The shifting surroundings pique my curiosity. The people I meet inspire me. The solitude gives me space to brood, such that I end each day eager for conversation. The aches and pains, sights and smells, pleasant surprises and minor epiphanies, they keep me attentive, grounded, grateful. And that's exactly how I want to be when I step into a room full of people taking the time to listen to me and my story.
And so over the coming month, I'll be riding back roads and bike trails from my northern Wisconsin hometown to the heart of Chicago, with stops for readings in Milwaukee, Madison, Minneapolis and a half-dozen more tiny towns and (sort of) big cities. Throughout my book tour by bike, I plan to swim in roadside lakes and sleep under the stars, wake up in strange places and eat candy for breakfast, see old friends and meet new ones and remember, day after day, why I wrote Going Somewhere in the first place.
As I ride, I'll be blogging about the places I visit, the people I meet, the random thoughts that drift in and out of my head during long days in the saddle. I hope I'll have some interesting stories to share with you, but I apologize in advance if the only thing I end up reporting on is the texture of gas station hot dogs and my inability to stop humming a Doobie Brothers song I don't even like.
I'll also be popping up on Twitter and Instagram, sharing sights and sounds and cries for help, and every few days I'll park my bike, put on something halfway clean, and step inside to read to (and gratuitously thank) the fives and fives of you who are excited to learn more about me and my book.
I hope you'll join me for the ride, whether by coming to a reading or following this blog or, even better, chasing me down and giving me some ice cream. And I hope you'll check back in next week, when I'll post about how to prepare for a book tour by bike (sneak peek: I have no idea).
Calling all HuffPost superfans!
Sign up for membership to become a founding member and help shape HuffPost's next chapter