I am clinically depressed. This is not the first time I've been clinically depressed. So I know what to expect. There's an order to my sadness. An escape route. Things leave, according to gravity.
The least important things leave first. Clothes. An old boyfriend once nicknamed me "Butterclothes," because my fashion sense was never keen, even when I was happy. That was cruel. When you're depressed, cruelty fuels apathy. It is a cool blue flame. You discover you could care less, and you do.
Last year brought sickness, then panic, then despair. The more time I spent in bed, the less I cared about dressing well, in and out of bed. When you're so listless that you spend every waking moment wishing you were already dead, looking "presentable" doesn't just feel impossible. It is impossible.
I'd stopped investing in my life, so I stopped investing in my appearance. At the same time, I developed a curious obsession with watching fashion shows on the Home Shopping Network. I couldn't believe there were people out there who could talk for hours at a stretch about shoes. They used words like "whimsy" to glorify a pair of pumps. They fascinated me and left me profoundly confused. I was worried I was going to die. Weren't these people worried they were going to die? If they weren't sick and dying themselves, didn't they love someone who was?
My illness peaked with the 2016 presidential election. Lying in bed with a sick liver, watching the DNC, I realized I still cared about politics. And, because I still cared about politics, I still cared about myself. Who I am (progressive, feminist, humanist) is what I believe, and that is important to me. As long as I live, I'm determined to live on the right side of history.
I realized I still value the image I project, just in a different way. So I ordered a shirt that says "I'M WITH HER" online. I actually looked forward to receiving it in the mail. I felt a little flutter in my chest when it arrived on my doorstep. I couldn't wait to put it on. Perhaps for the first time in my life, I actually wanted to step outside and make a fashion statement.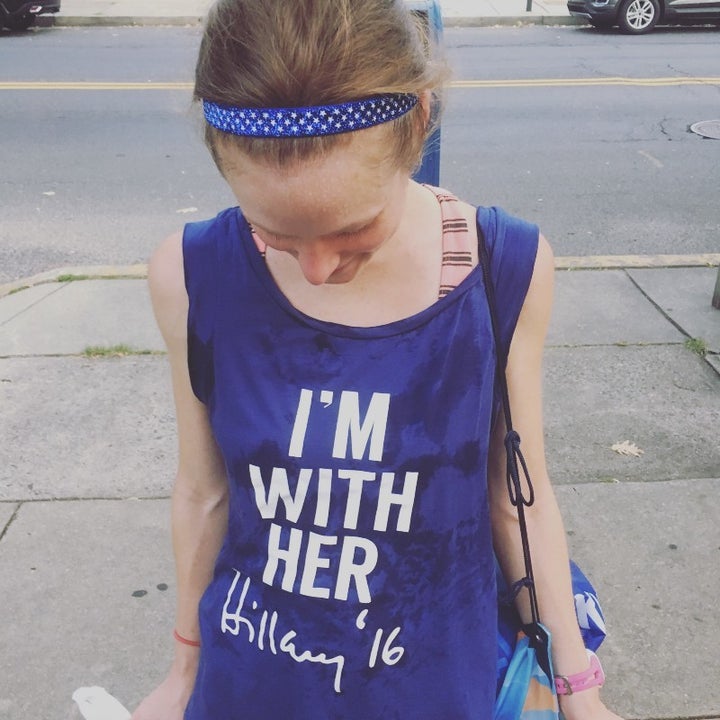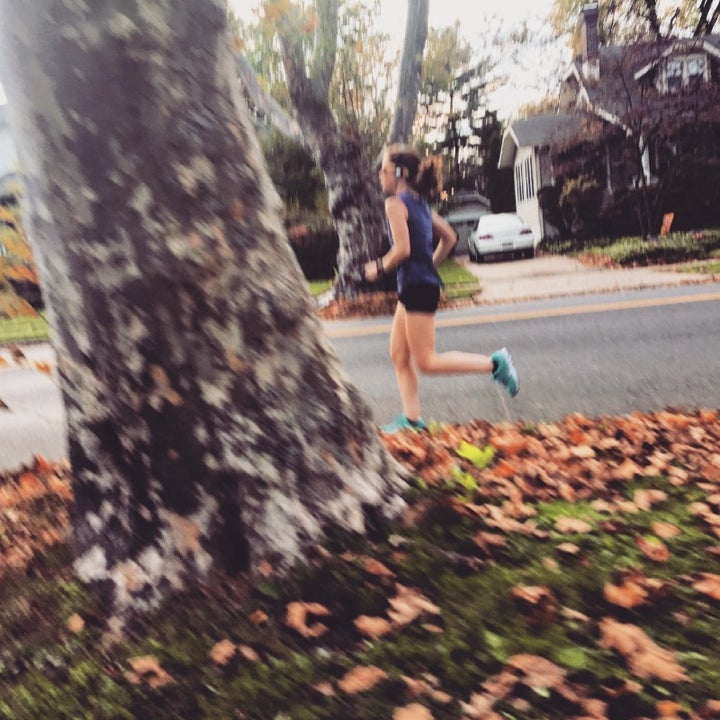 Each day, I made stern eye contact with my neighbor, who habitually overwatered the grass beneath his six Trump/Pence flags. I saluted the man who marched around the river in his Bernie Sanders shirt, long after Bernie Sanders lost the Democratic primaries.
When I wasn't running, I wore my shirt to the gym and lifted heavy weights. Nothing compliments a progressive t-shirt better than sweat stains.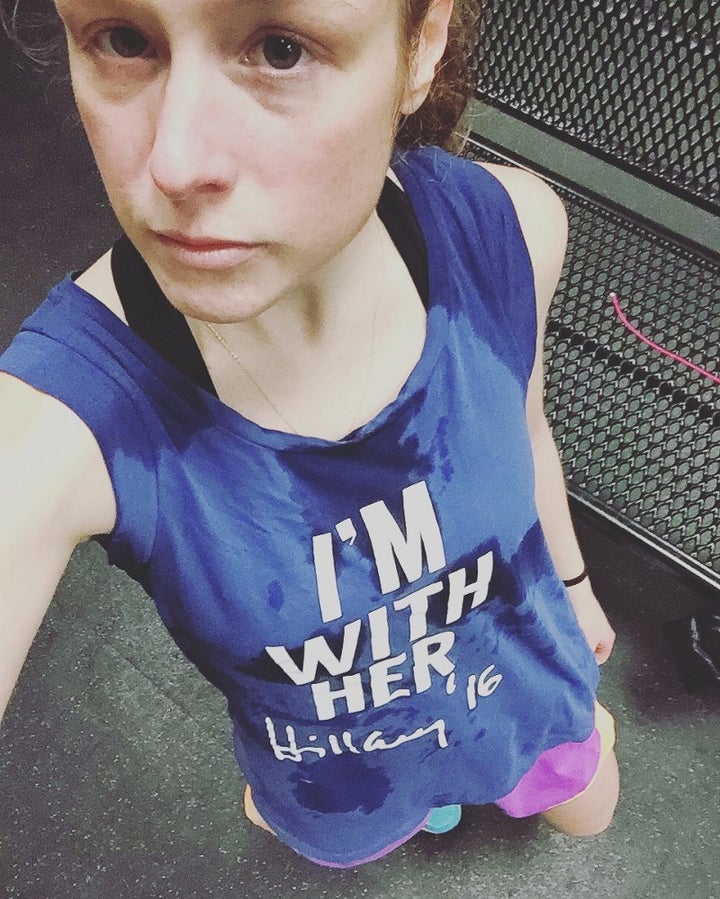 I became so passionate about my I'M WITH HER shirt that I decided to build an entire political wardrobe.
I'm meticulous about selecting my pieces. I purchase them from Etsy, to support local independent artisans. I'm scrupulous about color, grammar, font, and iconography.
For instance, searching for a "Nevertheless, she persisted" shirt, it was important to me that any potential garment's text included a comma after "Nevertheless." I was turned off by pink shirts and those that boasted the gendered Venus symbol, which I believe perpetuates the idea that women are and should be bound by their bodies. Flowers have no place on my feminist t-shirts. They may have a place on yours, and that's okay. This is the beauty of self-expression.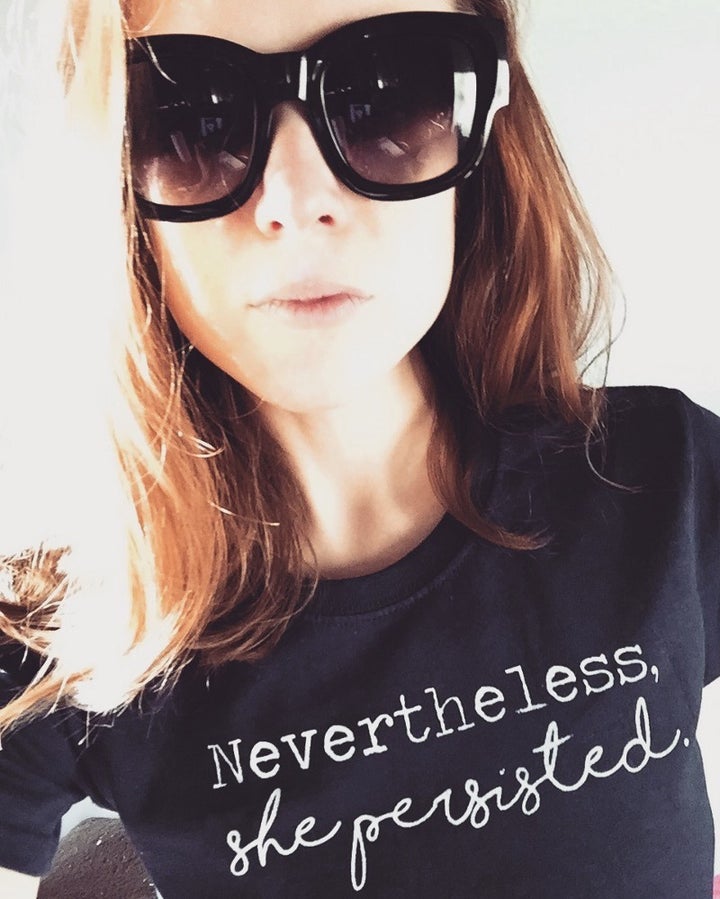 I post pictures of myself in my political gear to social media. I'm not looking for compliments on my eyebrows. I'm hoping others will join me in wearing their hearts on their sleeves and they are. Just yesterday, two athletic, creative, wonderful women messaged me to say they ordered their own "Nevertheless, she persisted" shirts, because they loved mine so much. My heart fluttered a bit, to know I'm playing a small part in the resistance. And, for a brief moment, I felt happiness.