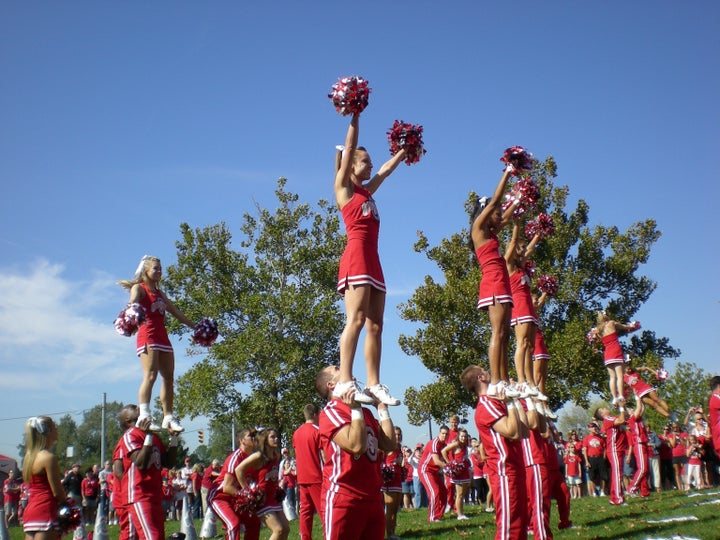 It's a sad cliché, I know. Movies like Romy and Michele's High School Reunion
and Choice Hotels' current "Should I stay or should I go" commercial remind me that I am far from alone in my ambivalence. So do the countless blogs and articles out there on why you should or will never go to a reunion. But something tells me that my trepidation about committing to attending my upcoming high school reunion is a bit different than most.
It has nothing to do with what you will think of me, and everything to do with how I feel about myself. And not in a judgmental, "I'm too fat " sort of way. It's not about my career ups and downs, money, bad Botox or not having aged gracefully enough.
It's that I feel like my life hasn't even started yet.
While many of my classmates are concluding one phase of their lives, and about to start another, I'm still waiting. Whether you are divorced, happily married, remarried, or unhappily (while gritting your teeth) married - most of you have kids. And those kids, nieces and nephews are getting older. Many of them are graduating. Most from high school, others from college. Some are starting their own careers and lives. A few are even getting married. Meanwhile, after all these years, I haven't even met someone I want to spend more than a few dates with, let alone start a family with.
Which would be perfectly fine -- if only I didn't want that.
I know I'm not supposed to admit this. Like some modern twist of the He-man Woman Haters Club, it's become some sign of weakness in our ultra-feminist world to acknowledge that love and relationships matter, but they really do. I'd even challenge that they are all that matters.
Women do not need a man or kids to be complete. Please know that I know this. We fought for equal rights (and still do) so that we would have the ability to make our own choices. To have options beyond marrying someone, anyone, to survive. And to control our own destinies without having to attach to a man for financial security. But this woman wants both, and always has. It hasn't stopped me from living my life to the fullest, but I truly believe everything in life - the good and the bad - is better when it's shared. I've had love and lost it enough to know the pros and the cons of both sides.
The reasons I'm still single can be as simple or complex as you want to get. But it boils down to the fact that I don't need a man, I want the right one. And I just haven't met him yet.
Because of this, I often feel like a failure, or at the very least a failure to launch. And now, on top of it, I am back searching for my next job (thank you advertising -- for always keeping it real). Which makes me wonder, in my darkest hours, if I've done anything right.
So as my 30th (yes, 30th) high school reunion approaches later this year, it feels like a marker of time passing that I really don't want to be reminded of.
I'm not ready to look back, not even close. I feel like I haven't gotten started yet.
I spent the evening at a lovely high school graduation party for my friend's daughter tonight. I enjoyed chatting with their very welcoming friends and family members -- each of them, either a parent or child of someone there. I was there alone, as I am at most events these days.
As I sat on my friend's couch, admiring her beautiful home full of pictures of her kids, trips to the Outer Banks with family friends, I felt happy for them -- and sad (not sorry) for myself at the same time. I want what they have. It's a feeling I've become way too used to. Before I left, I flipped through her daughter's yearbook, emblazoned with well wishes and quotes about how her future can be anything she wants to be.
I remember being at that turning point like it was yesterday. Because for me, it was. It still feels closer than my future. It's nearly impossible for me to comprehend that it's been 30 years since I walked across the stage in my white cap and gown at The Front Row Theater in Highland Heights, Ohio. My handsome boyfriend was there, along with my parents and younger twin brothers -- all of them cheering me on to my future. I was headed to my dream school in the fall: The Ohio State University. I had turned down both Syracuse University and Boston University because OSU looked and felt to me like what college was supposed to be -- and it was. My entire life was ahead of me, and I couldn't wait for it to start.
In many ways, I'm still waiting.
It's a lonely feeling, being single and childless for too long -- when you don't want to be. I actually envy my girlfriends of many ages who are intentionally happily single and/or childless. According to a 2013 Gallup poll,"more than half of Americans between the ages of 18 and 40 have children, and another 40% do not currently, but hope to have children someday. Only six percent of Americans aged 18 to 40 do not have, and do not want to have, children."
I wish I were in that six percent.
I wish I didn't ache for a family the way I do. Especially when I'm surrounded by examples of it. I've actually started avoiding baby showers and kids parties, something I never thought I'd have to do. They just hurt too much. I'm thinking a reunion with old friends sharing charming photos of their families and stories about their teenagers' misadventures might kill me.
Yes, I have taken advantage of my freedom and lived my life. I have travelled extensively -- with friends, cross-country in my roadster for a month with my mom, visited Europe, the Caribbean, Mexico, Hawaii, and even Paris for a week alone. Which was exhilarating. I have lived in three amazing cities, worked at some of the top advertising agencies in the world, loved several men and left them when it was clear that I had no other choice. I am grateful for all that I have.

But the older I get, the more sure I am of one thing: love is the prize. Love in all its glorious forms: of what you do, where you live, your dog or cat, children, grandchildren, friends, and if you're really lucky - someone special to share your life with. Someone who "gets" you.
I don't feel that I've done anything wrong. I have no regrets. I just don't have something important that I want in my life -- and it is just too damn hard sometimes to be at peace with it. On any ordinary Thursday, let alone at a reunion.
So dear classmates, if you see me this fall and I seem a little less interested in your 16-year-old's college plans or recent family trip to Prague -- please don't be offended. It's not you, it's me. And I'm doing the best I can.
REAL LIFE. REAL NEWS. REAL VOICES.
Help us tell more of the stories that matter from voices that too often remain unheard.