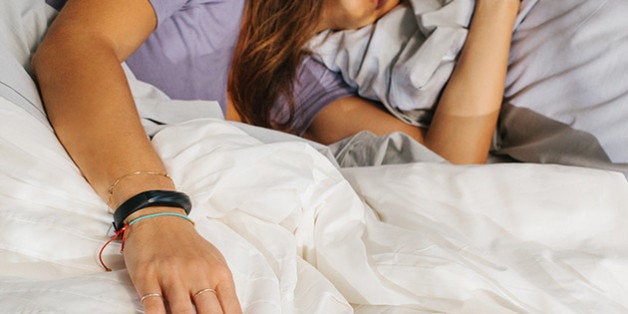 Living a healthy life is often easier said than done. Sometimes life's daily obstacles make it difficult to actually reach your goals. Different factors can impact the journey to a better you, but many people often forget that a healthy life always starts with a well-rested mind and body. Sleep is key to everyone's overall health. At Jawbone, we believe that a good night's sleep means a better tomorrow -- leading to a refreshed body and a sharp mind. Luckily, we are not alone. As we approach World Sleep Day on March 18, 2016, I'm thrilled to be working with The Huffington Post to promote the importance of sleep across the world.
Looking at the anonymized data of hundreds of thousands of UP users globally, we find that the average user sleeps about seven hours per night, while the recommended range of sleep for adults aged 26-64 is seven to nine hours. Getting less than that can put you at risk for various health issues ranging from hunger, sadness and forgetfulness, to heart problems and obesity.
There is no greater evangelist for sleep and its impact on wellbeing than Arianna Huffington and I am so happy to consider her a partner in our effort to improve people's lives. "We are living in a golden age of sleep science, in which new studies come out practically every day testifying to sleep's benefits," she says. "And Jawbone is already way ahead of the curve in harnessing the power of all this new science in order to truly add value to people's lives. So we are thrilled to be joining forces around our shared passion for putting a spotlight on all the ways sleep can transform our lives and make our world better."
Here are some of the exciting ways we'll be working together beginning today, and over the next few months:
Starting this week, The Huffington Post will be pulling aggregated data from the global Jawbone UP community for HuffPost RISE, their daily morning playlist devoted to solutions and wellness coverage. RISE is dedicated to creating possibility around your day, following research that proves how important it is to begin each day on an uplifting and positive note. The Rise/UP segment will share global stats around tracking bedtime, wake-time and total sleep duration, as well as marking major variations in cities around the world.
To highlight the importance of sleep in improving performance, productivity and happiness, HuffPost challenged a group of its editors around the world to track and improve their sleep. Those who joined the 5-Day Sleep Challenge committed to sleep seven-eight hours a night and were encouraged to do things like escort electronic devices (phones, tablets) out of the bedroom, set consistent sleep and wake times, limit alcohol before bed, and limit caffeine after the late morning. Each editor was asked to keep a sleep journal to record bedtimes and wake times, document testimonials and use a Jawbone UP3 to track their sleep stats. Some of these team members will be sharing their data on RISE as part of the Rise/UP International Sleep Challenge.
New Data Story: How Sleep Impacts Calorie Intake
Is a well-rested body less likely to generate cravings that lead to excessive snacking? Traditional advice on weight-management centers around a simple equation -- calories in, calories out -- although scientists suspect there's more to it and sleep might play an important role. Learn more from our team at Jawbone as we investigate if sleep curbs calories.
Just 30 minutes more sleep per day can work wonders on your concentration, complexion and memory. Join us in celebrating World Sleep Day by committing to go turn in 30 minutes earlier on Friday, March 18, 2016.