On a late Monday afternoon in Raleigh, North Carolina, most people are driving home from work, thinking about what they're going to watch on Hulu or Netflix that evening.
Not me, at least not a couple of Mondays ago.
Wearing a reflective vest with "NAACP Marshal" printed on the back -- and having just left a crowd of more than 800 people gathered for a Moral Monday at the state's Capitol Building -- I'd just watched Rev. Dr. William Barber lead the crowd in protest against NC's House Bill 2, which sanctions discrimination against transgender people in the state, in addition to making it impossible for residents to sue their employers for discrimination at the state level.
Usually the one on stage, being the musician that I am, that day I was a legal observer, there to jot down the information of those who were arrested for civil disobedience. It's a far cry from being under the lights and using my voice and guitar to sing about the things I can't talk about in normal conversations: love, heartbreak, loss.
Since the passage of the HB2, however, my microphone is now a megaphone, and instead of serenading bar regulars, my tune is now the rallying up of trans and queer protesters around me who also oppose what NC is doing to its vulnerable citizens.
I didn't plan on being an activist, though, but when Charlotte did the right thing and passed a non-discrimination ordinance that allowed transgender people to use the restroom that corresponds with their gender expression -- only to have HB2 take that away -- I knew that translating my life of performance to one of protest was something I had to do.
I needed to do it to protect my own life, as well as the lives of people in my community.
But in many ways, being a musician has prepared me for a life of activism. Like musicians, activists ride the flow of energy that only crowds can create. They spend countless unseen hours working on their cause, often late into the night. And if they're lucky, they're able to elevate conversation and disrupt the status quo with their voices and lives.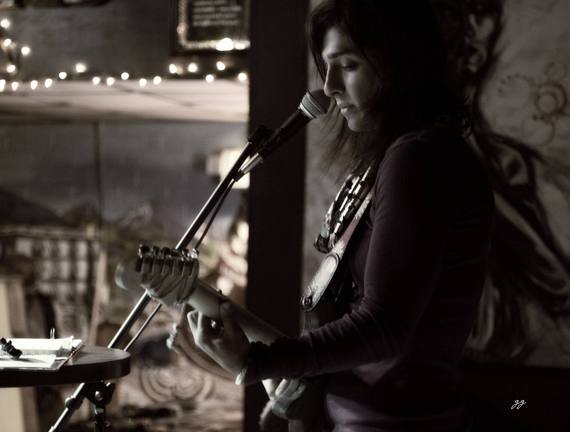 I remember one night playing with my band, JoRa, at a local dive bar in Charlotte. As my girlfriend, Joanne, screamed into the microphone whilst playing the drums, and as I bent hard chords on my guitar, it was clear that our music wasn't anything but typical.
We didn't sound like other bands, nor did we want to. We were abrasive, we were angry. And as two queer women on stage -- a radical move in itself -- we were a disruption to the status quo, there to express in song and lyric how outraged we were at society.
In a sense, we were already protesting.
Fast forward to the Capitol building in Raleigh last week, and there the world of music and protests met again.
After Rev. Barber's speech, the crowds followed him into the General Assembly for a symbolic sit-in in front of the Speaker of the House's office. Led by NAACP members, freedom songs like "We Shall Not Be Moved" filled the tops of the legislature's ceilings like a flowing, winding river. People clapped and chanted while the music united them, helping us all forget the potential of being arrested for civil disobedience.
But between lyrics that proclaim one's determination to stand with one's brothers and sisters, uniformed officers swarmed Barber, handing him a noise complaint. Like any punk rocker worth their salt, though, Barber encouraged the loudness and disruption, saying in a booming voice, "If the bill doesn't change, they will not have enough buses to arrest everyone!"
And like a concert go-er caught up in the rhapsody of the musical moment, I too was prepared to have my hands cuffed. My girlfriend, afraid for my safety, saw the moment differently - and rightfully so.
Being a transgender woman with an 'M' for male on her license meant I'd likely be put in jail with men. I could be hurt or much worse, and that wasn't a mosh pit I wanted or needed to be a part of. And so with the fear of being arrested, we rushed to our car where we'd feel safe again, reminded again that being transgender in NC means I'm no less safe for protesting injustice than I am for having to live with it.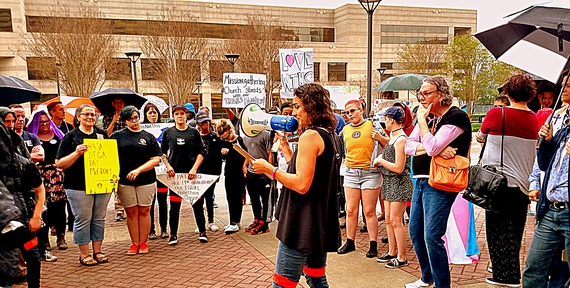 Since last week's events, and over the the last couple of months, I've come to fully embrace my role as an activist. I've spoken at rallies, given speeches to several mayors and city councils, and been the face of a Change.org petition, all with one message: transgender people are just people; we only want to be treated fairly and equally.
My protest-through-music hasn't stopped; in fact, the lines between musician and activist continue to blur. But with softening calluses and without a guitar in my hand, I've made a different impact on the Old North State, all with the earnest hope of reaching new listeners and making a positive change in the world.
I guess the tone of my guitar was never important as I thought it was. Let's just hope North Carolina listens.
Popular in the Community