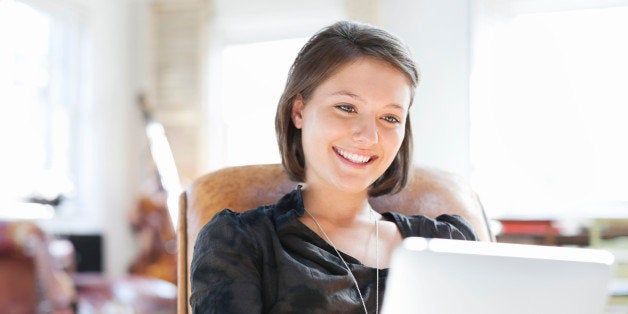 With blisters on my feet, shoes in hand and tears in my eyes, I painfully ran the two miles from the coffee shop to my apartment.
On my mind? Grumblings from a valued client. My growing list of tasks for the day. The pork roast I left in the oven. And, the overwhelming fear that I had just burned down my apartment.
After two miles of chastising myself for ruining everyone's lives in my apartment building, I arrived home.
Feet now even more blistered from walking barefoot on hot cement, I entered my apartment and ran to the oven. The pork roast was fine. In fact, it was perfectly cooked.
With no rescue to perform, there was nothing left to do but sit and cry. Or weep, if I'm being completely honest.
I'm 25. I have an amazing husband, a job I love at a company I started, hobbies I'm passionate about, friends and family that support me, and food to eat at every meal (whether perfectly cooked or not).
I have it "all"... and yet, I weep.
When I was growing up, girls (now women) like me were told that we could have it all -- the career, the marriage, the house, the kids. All we had to do was to simply be it all. Be smart and tenacious, caring and nice, sexy and pretty.
We bought in to this fantasy. And why wouldn't we? It sounds like a pretty perfect life.
So we put mounds of pressure on ourselves to attain it. Now, in our 20's and 30's, we're well on our way to having it "all" (or close to it). And we're crumbling under the pressure. We're blaming ourselves for failure and well, we're weeping over pork roast.
Feminism was meant to remove a fixed set of expectations; instead, we now interpret it as a route to personal perfection. Because we can do anything, we feel as if we have to do everything. In other words, women today face towering expectations: a pileup of the roles society's long heaped on us, plus the opportunities feminism created.
It wasn't until I was running through the streets of Pasadena crying over a pork roast that I realized I would never be perfect. That it wasn't healthy, sustainable or even possible to remain on that path. That part of having opportunities is making choices.
Just because we can be anything, doesn't mean we have to be everything. I'm not sure how this realization changes life for me today, but the first thing I can do is give myself permission to give up on perfect, to rid my mind of unreasonable expectations, and to dismiss any wonder woman-inspired dreams.
REAL LIFE. REAL NEWS. REAL VOICES.
Help us tell more of the stories that matter from voices that too often remain unheard.