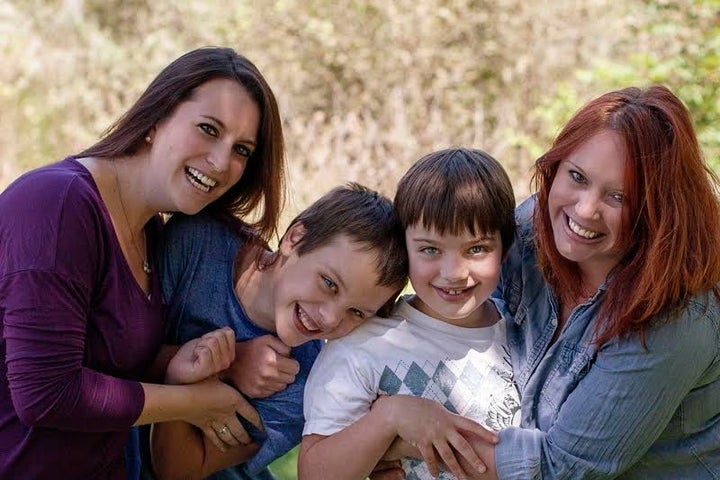 As part of our Blended Family Friday series, each week we spotlight a different stepfamily to learn how they've worked to bring their two families together. Our hope is that by telling their stories, we'll bring you closer to blended family bliss in your own life! Want to share your family's story? Email us at divorce@huffingtonpost.com.
Photographer and mom of two Lynsey Mattingly calls her ex-husband Joshua and his long-time girlfriend Erin "two of [her] favorite humans."
"I consider Erin to be a dear friend and the three of us have a wonderful relationship," Lynsey, who's now remarried, told The Huffington Post.
Still, the Colorado-based mom admits all three had to work to get to that place. Below, she tells us what went into establishing such a close co-parenting relationship.
Hi Lynsey. Please introduce us to your family.
In my house there are seven of us (yes, seven) when everyone is here. My husband Toby and I share our space with my two sons Maddox (11) and Nate (9) and his three daughters. At my sons' other house, it's both of my sons, their father Joshua and his long-time girlfriend Erin.
Joshua and I have been divorced for about five years. Toby and I have been married for a year and a half and together for just a bit more -- it was a whirlwind, spontaneous trip to the courthouse.
Tell us a little bit about your co-parenting relationship with Joshua and Erin -- and how you came to be so close with Erin in particular?
Having a successful relationship with my ex and his new love took a lot of time and admittedly, I wasn't as thrilled and kind as I should have been in the beginning. I wasn't jealous of Erin, I was just extremely jealous of Joshua having a partner when I didn't. It was the little things that were most upsetting: he had someone to run to the store in the middle of the night for Tylenol or someone to sit next to at the school play.
To Erin's credit, she never gave up and has gone out of her way to build not only a friendship with me, but a loving and compassionate relationship with my sons. I was concerned because she didn't have children of her own and is quite a bit younger, but to her credit she couldn't have been more mature or respectful, not to mention honest about the learning curve. I am extremely lucky for this situation and I know that.
What's the biggest challenge you've faced in your own home?
At my house, with five children, we struggle a lot with fair not always meaning equal. My sons are with us more than my husband's daughters and there is just no way to give everyone the same everything; often someone or several someones feel at a disadvantage!
What's the best part of blended family life -- and having such a close relationship with your ex and Erin?
I like to say that my ex and I didn't have a failed marriage, but rather a successful breeding project. And I mean it! Our DNA combined beautifully. We were together for over a decade and there was lots of good times and I am proud that we didn't sabotage all of those memories. Plus, I care too much about the father of my children to see him unhappy. Erin makes my ex-husband happy and that makes him a better parent. For my kids, they get these bonus grown-ups who offer a different point of view than their own parents. And often times, more energy.
What's your best advice for parents struggling to co-parent peacefully?
Every book or article I've ever read on blended families says to get along with the other parent and stepparent for your children -- I disagree. I do it for me. My ex-husband and I have spent five years doing every single thing we can think of to make our divorce easier on our kids. They are not suffering in the least. But when I am full of jealousy or hurt or anger, my life is hard. I think most people put too much pressure on themselves to do right by their kids but for me, this is an area I can be selfish in. I want my life to be easier and I need help with my boys. What better person to fill that role than the woman their father loves and trusts?
That said, I know I'm fortunate; if I met Erin on the street, I would want to be her friend. Even if I didn't, though, I don't have the time or energy to be upset with the situation. My boys have four parents that adore them, four parents that will chauffeur them around and four parents that do fun things with them.
My best advice to others, then, is to allow yourself to be just a bit selfish when the opportunity comes your way and to let go of divorce guilt. Guilt and shame are terrible emotions that often fuel these fights we don't really need to battle. I try to prescribe to the Elsa motto and "let it go."