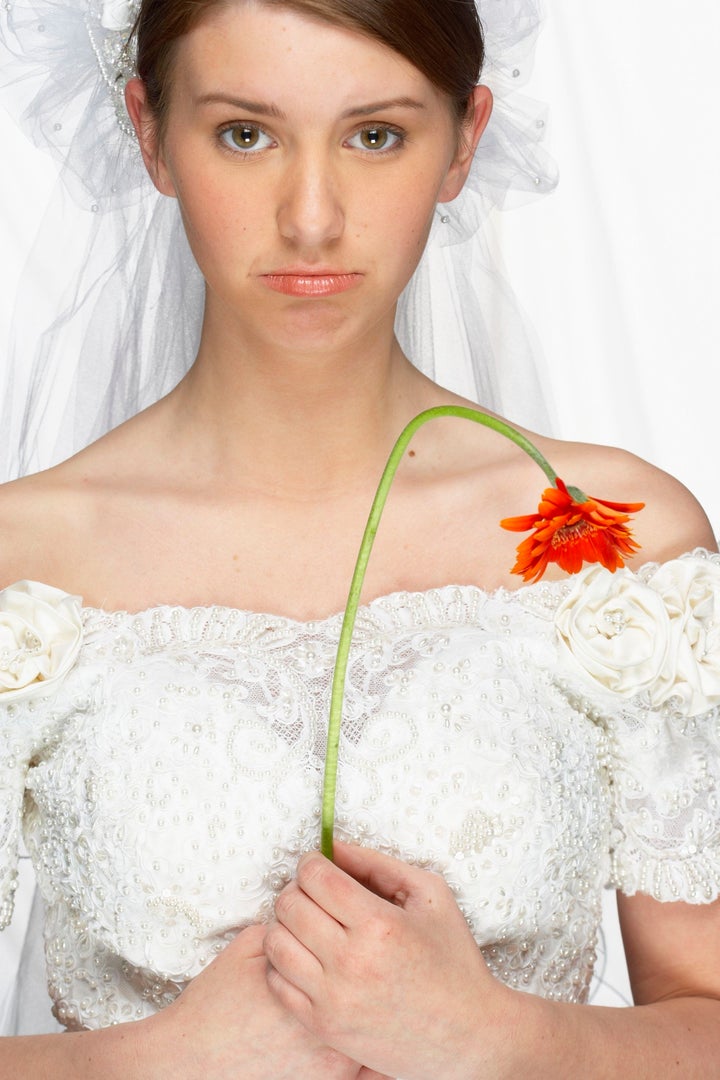 A friend of mine gave me some advice before my wedding that would prove to be prophetic. The advice? Something is bound to go wrong, but don't sweat the small stuff.
I reminded myself of this advice during the planning process while at the same time reassuring myself that I was not one of those brides. I wasn't some detail-obsessed bridezilla who couldn't see the forest for the trees. I was determined not to obsess over things like color palettes, napkin rings and wedding cakes. It was a destination wedding and we were all about making it fun, simple and romantic. Instead of embossed invites, we made mixed CDs that told the story of our relationship through music. Instead of a rehearsal dinner, we rented a catamaran and hosted a sunset cruise for our guests. Instead of a bridal party, we had only our brothers as the best man and man-of-honor. I did my own makeup and a friend did my hair. Heck, my fiancé and I even went snorkeling the morning of our big day. We were all about making it uniquely our own and prided ourselves on our casual approach.
But as I prepared to walk down the aisle and the music began, I suddenly exhaled and thought to myself, "Nothing has gone wrong. Everything went to plan. We did it." In hindsight, it was at that moment that I jinxed myself. With my friend's advice ringing in my ears, I suddenly realized that despite all my protestations otherwise, I had, in fact, been secretly hoping that my day would be perfect. That my day would be special.
This realization had barely formed in my mind when the wedding coordinator suddenly gasped, "Where is your bouquet?!" Oh god. The bouquet. That thing you're supposed to walk down the aisle with? I had forgotten it in my hotel room. In my excitement and emotion... and while my mom looked for her lighter... we had neglected my bouquet. But it was too late, the music had started already and the show must go on.
"Ah well," I thought. There it is. That was it. Something went wrong. Now I could just get on with the business of getting married. I decided to own this snafu and wryly announced to our family and friends as I reached the top of the aisle that yes, I had forgotten my bouquet. Ridiculous? Sure. But as I approached my handsome fiancé standing at the end of the aisle, I shook it off and focused on what was really important -- him.
I smiled at my fiancé and stared into his eyes. After nine years together, we were finally here. We were both incredibly happy, emotional and excited. I lost myself in the moment as the officiant started to speak. The moment lasted briefly. As his words began to sink in, my fiancé and I both looked to him and then to each other as we realized the same thing: this was not the ceremony we had planned.
Apparently, the rehearsal ceremony is not just for the bridal party but also for the officiant. A fact we had not considered. We had taken great care to write our own vows and sent them to our officiant along with some basic instructions: The ceremony was to be secular. I was not taking my fiancé's name. The officiant confirmed receipt, said it was beautiful and assured us he would do it exactly as we'd asked. Not wanting to hem him in, we encouraged him to freestyle if he wanted to add his own touch.
Well, freestyle he did. Not only had he forgotten to bring our lovingly crafted vows, he had a strange verbal tick -- the result of English being his second language. As if to confirm that we were, in fact, picking up what he was laying down, every sentence ended with "OK?" As he waxed on poetically, "... and I can see from the joy written on your faces that you will be together, forever and ever and ever... OK?" My husband and I shared a, "What do we do?" look, then shrugged it off and smiled. The vows were cookie cutter and lifted straight from Days of Our Lives, he made us say "Amen", introduced us as Mr. and Mrs. Martin and literally did not get one thing right, yet somehow the words still carried the same weight. And when he pronounced us husband and wife, the moment was no less meaningful.
In the end, still more went wrong. From a snorkel mask tanline on my husband's face, to my Dad almost having a heart attack during our dance because the song he chose was too uptempo, from a sudden thunderstorm in our outdoor venue to an inebriated MC -- the night was far from perfect. It did not go to plan and it was not at all how I envisioned it. But it didn't change the fact that I got to marry my best friend and celebrate with all my favorite people in the world. The rest of the imperfections just made our wedding real, made it ours and made for one hell of a story.