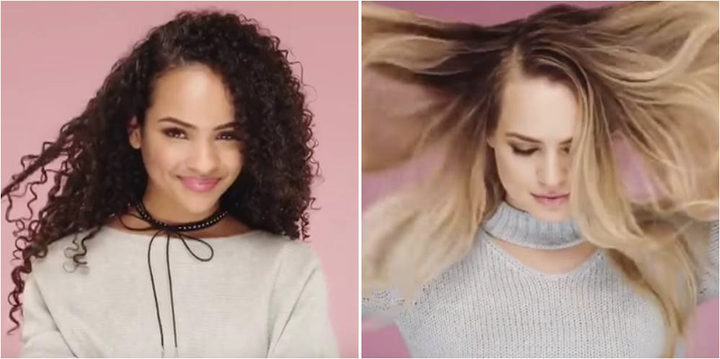 As a business owner of a hair care line geared to all textures of curly hair, I look to SheaMoisture as the industry leader in the natural hair space. While there isn't anything wrong with a black owned business looking to expand their reach by targeting a new demographic, the "how" plays a big role.
Since I began Wonder Curl, I always knew that I wanted this to be an all inclusive product line since my products would benefit anyone with curly hair (straight hair too). However, I am keenly aware of who my core and loyal supporters are. What angered so many black women is that it felt as though Shea Moisture is starting to turn their backs on the very people who helped them to become the over $200 million dollar a year company they are today.
I recently completed an online marketing research survey of women from all different backgrounds and it is clear that there are differences in how we communicate and shop. For instance, Black women are more likely to purchase products that are marketing specifically for their hair type and will purchase a niche product online if they feel it will work for them. On the other hand, most white women are more likely to purchase in a big box store and grab a commercial brand such as Pantene or Garnier. The words we use to communicate to each are also different. Black women looked for words like 'moisturized', and white women preferred words like 'beautiful'.
The survey helped to learn more about our buying habits, but what it didn't teach us are the deep issues as to why the natural hair movement started in the first place, and this is where the latest Shea Moisture ads are most troubling. For many years, as a black woman, I was told that in order to be accepted in society, I had to wear my hair straight. For me, and for many other women, this wasn't an option and so at ages of 13 and even younger, we were subjected to using damaging chemical creams to straighten our hair. If you had 'good' hair you got to use mild, but if you had kinky 'bad' hair, you had to use super, and with super, that also meant the possibility of chemical burns in your scalp, hair falling out and more. The damage from chemical straighteners can be so bad that they can cause pain and hospitalization. Because of these reasons and more, black women all over the country, and then the world, began to ditch these straighteners in favor of wearing our hair in its natural state.
The Natural Hair Movement, is a movement because it gave black women a voice that we didn't have before. We defined beauty in our own terms and put the rest of society on notice. We said that we accept ourselves the way nature made us and so shall you. Support groups were created in the forms of blogs, meetups and trade shows. While mainstream brands were trying to sell us cheap ingredients in brown bottles (to look like our skin tone) women were mixing up products in our kitchens using natural ingredients to nourish our hair. Soon, women, like me, were selling products and we created a lucrative industry. SheaMoisture was poised to be a leader in this movement. Black women in droves ran to Target and Walmart for those BoGo sales to buy SheaMoisture's products with ingredients such as shea butter and castor oil. Smaller brands like mine found a niche online and in small beauty supply shops as more black women were going natural and we started opening stores to cater to our products and hair types.
Now, the latest crops of ads and why so many of us are angry and calling for a boycott (for the record, I am not, but I will not invalidate anyone's anger) is that the conversation about hair hate was one black women in the natural hair movement started because we were taught by our family, our friends and society to hate our hair. While white women may not have always liked their curly hair or red hair, they weren't told that they could be discriminated against because of a hairstyle, nor were they thrown out of class for having hair that was 'distracting' or have a teacher cut off her hair in front of the class. Sure, you have girls being thrown out of class for having purple hair, but that is not the same as being thrown out of class for wearing your natural afro hair. Having a bad hair day or a bad haircut is not the same as being vilified for generations because of our kinky afro-textured hair. The idea of loving our natural hair didn't come out of some marketing ploy, but for our very survival. I love that this opened the door for other races of women and men to start embracing their natural hair. I love that more people are putting the flat iron down and wearing their hair curly. However, not loving your curly hair and being teased as a child can't be compared to being shut out of society as a whole.
For a long time, black women didn't have a seat at the table in the beauty industry, so we brought our own table and made our own products and created our own industry that suited our needs and wants. Shea Moisture as the market leader in this space should have known better. Having an ad that has white women discussing how they hate their hair on a bad hair day diminishes the struggles that black women have long endured and continue to endure. We still have a long way to go. I'm not saying there isn't a place for white women in the natural hair movement, I say the more the merrier, but how we market to them has to be different because their story isn't our story. Hair is hair, at the end of the day, but how we approach it is vastly different and for some of us, it comes literally with scars.
Related
Popular in the Community