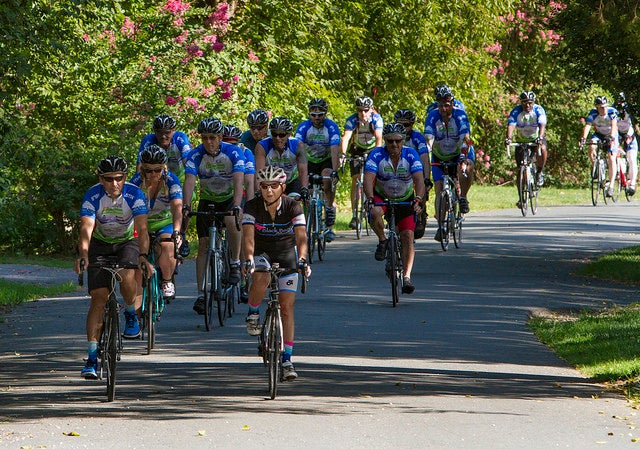 While recently touring through the scenic towns in southeast Maryland as part of the annual STIHL Tour des Trees, I couldn't help but notice the quaint downtown stretches in the various communities of Prince George's County. While picturesque, there was a common theme I noticed from one village to the next. It appeared the core of these small communities, where small businesses would typically be located, were depressed. From town to town – block to block – we encountered empty store fronts right next to new stores, abandoned lots and not much foot traffic. Discussing this fact with a fellow rider led to a discussion about the depletion of once-bustling "Main Streets" from coast-to-coast over the last several decades as a result of the increase in big box stores. I didn't make the connection quickly, but it was an interesting argument I had never considered.
I further probed the issue and was quickly educated. Working for a company like STIHL Inc., which only sells its products through independent servicing dealers and never big box stores, I didn't have to look far to find an organization with a focus on small businesses like the ones missing from those "Main Streets" in Maryland. I discovered a STIHL-sponsored initiative that empowers small businesses to educate their communities about the impacts of buying local. Independent We Stand gives a voice to mom and pop shops and all of the small, downtown businesses we remember from our youth. One of those initiatives is the annual Indie Award to recognize locally-owned small businesses nationwide that have gone above and beyond to deliver great customer service and community support.
Independent We Stand and its mission stirred memories from when I used to get my hair cut at the local barber. I was a regular there through high school graduation. Then there was our local pharmacy. Everyone knew my whole family and we knew them. I can still go in today to be greeted with a big hug and smile. My mom grew up in a neighborhood where, after living elsewhere for 20 years, she can still walk into Eddie's Grocer's in Baltimore, Md. to a "Hello Ms. Roope. How have you been? Are you here to get some things for Sara (her mother)?"
These memories inspired me to question my consumption habits and how they support or deplete the areas in my city that are filled with small, locally-owned businesses. I have lived in some of the best neighborhoods in the Hampton Roads area for locals to eat, shop and live. I could get coffee in the morning from a locally-owned coffee roaster, such as Elliot's or Java Surf, work out at a family-owned gym like Wareing's. For food, we lunch at a small deli – maybe the Sandwich Box, Taste Unlimited or Commune – do dinner at any number of our favorite restaurants – Mannino's, Fellini's, Luna Maya, Bangkok Garden, Pasha Mezze or No Frill Bar & Grill to a name few, then top it off with a movie at a locally owned independent theater, The Naro. If you're from where I live, you would know from the list, I've lived in both the Ghent area of Norfolk and at the Oceanfront in Virginia Beach. Both are great for enjoying your entire day without ever leaving a four-block radius.
These are businesses that pride themselves on both customer and community service. They are places where you can easily become a regular and where you're always made to feel at home. They're type of business that should be recognized and rewarded through contests like the Indie Award for the many ways they help shape their communities.
Fast forward to today. I now live in suburbia. The great in between where we can walk and bike and the big box stores are now more convenient. I get my coffee in the morning from the big coffee store on the corner with a drive thru. And yes, I shop through Amazon. I have a two-year old and it makes life easier. And even as I'm writing this I am questioning, "Does it make her life better?"
The answer is "no" and here's why: according to Independent We Stand, small businesses accounted for 66 percent of all net-new private sector jobs since the 1970's, employing more than 77 million Americans. Independent, locally-owned retailers return three times more money per dollar than national retailers to their communities. Independent, locally owned restaurants return two times more money per dollar than national chains. These are the hard facts.
What about the soft facts? These business owners live in the communities they serve. They are not detached from the people they serve. Their children live here; they are friends of mine and yours. They have a vested interest in the health of our communities.
I want my daughter to experience the familiarities I experienced growing up. So I am going to challenge myself to buy locally at each turn. I am going to engage in an experiment with my family and tell you all about it here. My wife has not agreed to this yet and I will share the outcome of our discussion on the next post. But what I'd like to do is question what we purchase by establishing some "buy rules" for our family and attempt to, as much as possible, buy from locally owned independent stores. Take the challenge with me.
Learn more about Independent We Stand and the Indie Award here. The contest kicks off today (September 12).
Calling all HuffPost superfans!
Sign up for membership to become a founding member and help shape HuffPost's next chapter
This post was published on the now-closed HuffPost Contributor platform. Contributors control their own work and posted freely to our site. If you need to flag this entry as abusive,
send us an email
.