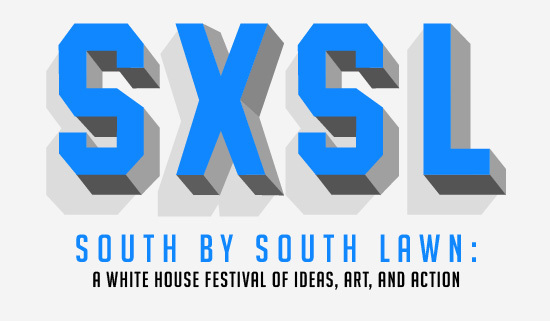 I just received my invitation to the inaugural South by South Lawn which will be held on October 3, 2016 at The White House. Yes, I'm stoked. Conceived by President Obama, SXSL is a festival of ideas, art, and action that brings together "creators, innovators, and organizers who work day in and day out to improve the lives of their fellow Americans and people around the world."
SXSL is thrilling not only for gathering creative thinkers and entrepreneurs in our nation's capital, but for its focus on doing good and inciting change. I'm honored to take part in this event that challenges us to make a positive difference in our country.
I'm not alone in my enthusiasm. As invitations went out last week, Twitter blew up with widespread excitement. I think award-winning social media marketing expert Carri Bugbee summed it up best in this tweet: "I am SUPER EXCITED to attend #SXSL! I literally get butterflies when I think about it."
When you look at the line-up that was just announced, you can see what all the fuss is about. President Obama, Leonardo DiCaprio and scientist Dr. Katharine Hayhoe will discuss climate change and screen DiCaprio's new documentary, Before the Flood. Panel discussions will tackle the realities of taking on big challenges like civil rights, sustainable agriculture and curing cancer. There will be live music, interactive exhibits, and films.
But to me, it's not just the mainstage events that have me most excited - it's the remarkable people that will be sitting to the left and right of me in the audience. People representing incredible organizations that are doing truly amazing things.
Just look at The Melodic Caring Project, which combines music with technology to stream live concerts to hospitalized kids. Or Enabling the Future, which uses 3D printing technology to create prosthetic hands and arms for people in need. Or Heartful.ly, which turns wedding registries into a vehicle for social good. These organizations know how to make an impact.
While there's no public list of who's attending, through a quick search on Twitter I found a few other organizations who will be there: NYC Veterans Alliance, advocating for the needs of veterans and their families; Life Anew, using restorative justice to build healthier communities; Dexterity Global, powering the next generation of leaders through educational opportunities; Black Girls Code, empowering young women of color to become builders and creators in the tech marketplace; Fish With a Man, supporting at-risk homeless youth; and Girlmade, equipping young women with the skills they need to succeed in business.
When you put this much passion in one place, the possibilities are endless.
Digital strategists, artists, technologists, creators and musicians will also add to the conversation, including Linda Ong, Chasity Cooper, The Lady Tech Guild, Gabi Talisman, Pindar van Armen, Kat Holmes, Mic Jordan, Aina Fadina.
As for me, I'll be at SXSL representing thousands of students, families, and faculty members who have worked with me on Situation Project, a 501(c)3 nonprofit I founded five years ago. Situation Project inspires and nurtures the students of high-performing, arts-deficient New York City public schools by supplementing their traditional educational curriculum with amazing cultural experiences including Broadway shows. Like the fantastic folks at Turnaround Arts, who will also be at SXSL, I believe wholeheartedly in the remarkable power of live experiences to expand the imaginations of children in our local communities.

I ultimately have one hope for SXSL - for the attendees to leave inspired. Inspiration is the fuel that drives social good. When we see and hear about the actions of other amazing citizens doing amazing things, it fills us with hope for a better future. It gives people the stamina they need to make the long haul effort that's necessary to become the change-makers of tomorrow. It pushes forward the causes that matter most. I have no doubt I will leave SXSL feeling motivated, stimulated and encouraged in 2016, 2017, and beyond.
Kudos to President Obama and his administration along with Jason Goldman, Chief Digital Officer of the White House, for making SXSL a reality. I look forward to an exciting day on the South Lawn and will report back to all of you after the event. Stay tuned!